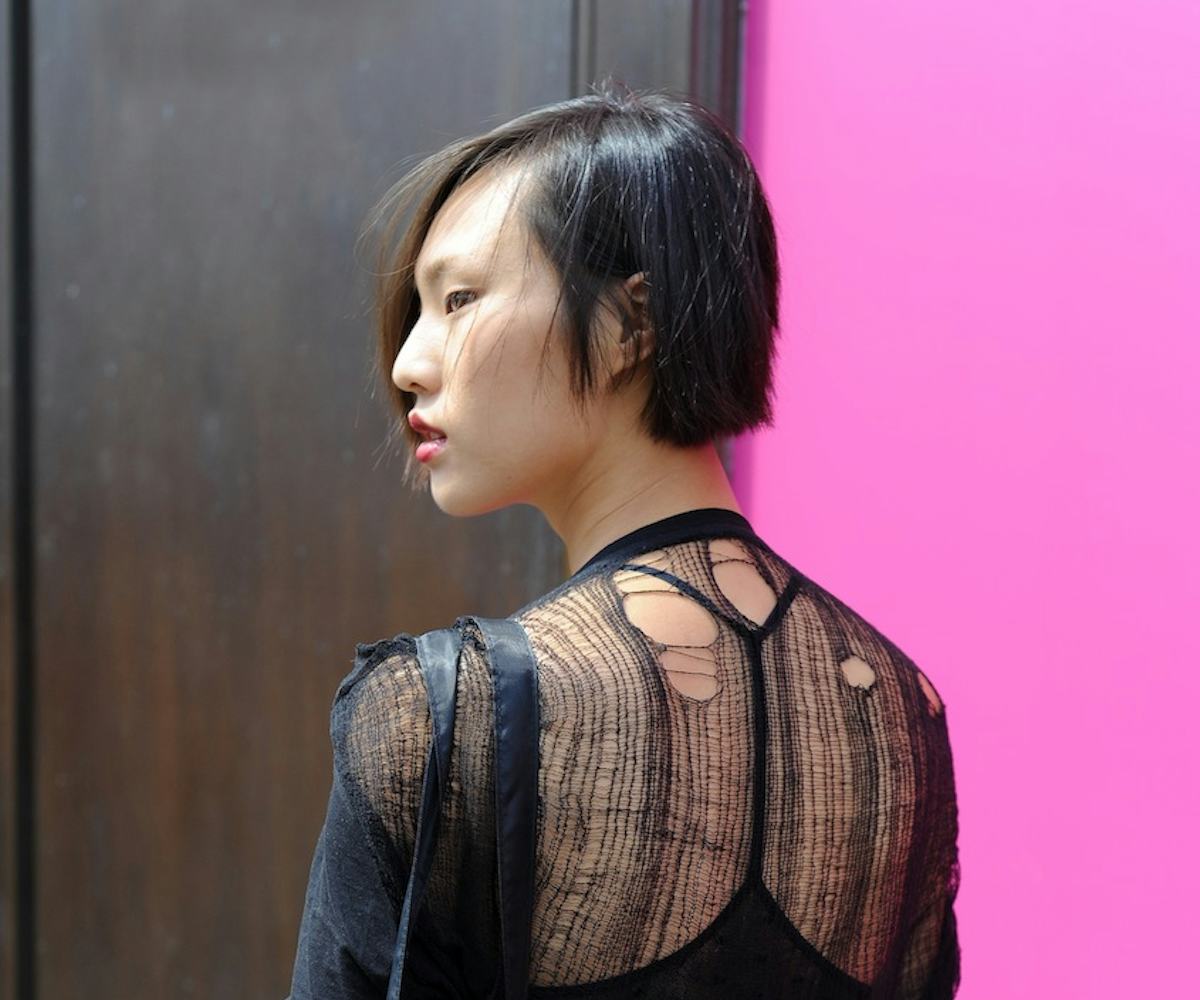 all street style photos by julia shutenko
london calling
the five best london street styles this week—plus how to shop them yourself.
Friday may be Indepence Day here in the US, but we still have an infinite amount of (non-monarchial) love for the UK. There's some comfort in knowing that the most creative sartorial style is just a hop, skip, and a pond away. But since we can't triple jump all the way over the Atlantic, we asked photographer and blogger Julia Shutenko to shoot the best looks she saw, from Camden town to Shoreditch.
For the second installment of London street style looks, we picked five of our favorite looks and made them shoppable—so you can get the London look right here in the states. Be sure to check back next week for more inspo!
Rosie Jones
Mango Dark Denim Jacket -- $70 http://shop.mango.com/US/p0/women/clothing/jackets/dark-denim-jacket/?id=33080081_96
SUNO Plaid Trouser -- $298 http://www.lagarconne.com/store/item.htm?itemid=21759&sid=428&utm_source=polyvore&utm_medium=cpc&utm_term=pants&utm_campaign=fw13pv
Dr. Martens Women's 1461 in Cherry Red -- $100 http://www.drmartens.com/us/Womens/Womens-Shoes/WOMEN%27S-1461/p/11837600
Kasha Clifford
Topshop Floral Print Jersey Bomber Jacket -- $100 http://us.topshop.com/en/tsus/product/floral-print-jersey-bomber-2821893
adidas Floralina Cropped Tank Top -- $45 http://www.urbanoutfitters.com/urban/catalog/productdetail.jsp?id=30575930&color=066&cm_mmc=SEM-_-Google-_-PLA-_-55042003864adwords_labelsW_APP_CAMIS&device=c&network=g&matchtype=&gclid=CjkKEQjwlcSdBRD3wva3-KOAo80BEiQAjNIhiUlHV7GAckMxUQNUatNE91M8rwKvlCsOV6xncPD3n77w_wcB
Line & Dot Structured Printed Mini Skirt -- $103 http://www.revolveclothing.com/line-dot-structured-printed-mini-skirt-in-paper-grid/dp/LEAX-WQ9/?&&utm_source=polyvore-US_CPC&utm_medium=affiliate&utm_campaign=mini%20skirts&cvosrc=affiliate.polyvore.cpc-us
Topshop Gold Ribbed Glitter Ankle Socks -- $6 http://us.topshop.com/en/tsus/product/gold-ribbed-glitter-ankle-sock-3011928?geoip=noredirect&cmpid=ppc_pla_US_found&istCompanyId=da794a11-99cb-4206-8e52-61037452aeeb&istItemId=witrpqrpr&istBid=tztx
Cari Jolaoso
Nasty Gal Just Female Dagman Convertible Leather Jacket -- $385 http://www.nastygal.com/clothes_outerwear_moto/just-female-dagman-leather-jacket?utm_source=polyvore.com&utm_medium=feed&utm_campaign=jackets
Everlane The Cotton U-neck in Salt -- $15 https://www.everlane.com/collections/womens-tees/products/womens-u-neck-tee-salt
American Eagle Front Slit Maxi Skirt -- $35 http://www.ae.com/web/browse/product.jsp?catId=cat6470533&productId=1313_1436_073&srccode=cii_17588969&cpncode=34-207235516-2&cid=AE_PLA_3370156
Nasty Gal Alex Bowler Hat -- $35 http://www.nastygal.com/accessories/alex-bowler-hat?utm_source=polyvore.com&utm_medium=feed&utm_campaign=fashion
Nasty Gal Shoe Cult Paradox Heel -- $98 http://www.nastygal.com/shoes_sandals/shoe-cult-paradox-heel
Ayako Tsunemoto
JOIE Rain Top New Moon -- $101 http://www.joie.com/rain-top-new-moon4
Oak Side Zip Harem Pants -- $253 http://www.shopbop.com/side-zip-drop-crotch-pants/vp/v=1/1549463726.htm?extid=affprg_CJ_SB_US-2205077-Polyvore-2687457
Topshop HYDRATE Two Part Pool Sliders -- $35 http://us.topshop.com/en/tsus/product/shoes-70484/flats-70513/hydrate-2-part-pool-slides-2621234?bi=1&ps=200
Cult Gaia Leather Turband in Black -- $138 http://cultgaia.com/products/leather-turband-black
Fox
Fox's details
Forever 21 Boxy Mesh Overlay Top -- $20 http://www.forever21.com/Product/Product.aspx?br=F21&Category=top&ProductID=2000120926&VariantID=
Joe's Jeans High Rise Cutoff Shorts in Lula Vintage Reserve -- $148 http://www.shopbop.com/high-rise-cut-off-short/vp/v=1/1549120229.htm?folderID=2534374302079172&fm=other-shopbysize-viewall&colorId=64507
Michael Kors 'Large Runway' Blacked Out Chronograph Watch, 45mm -- $275 http://shop.nordstrom.com/s/michael-kors-large-runway-blacked-out-chronograph-watch-45mm/3137779?cm_cat=datafeed&cm_ite=michael_kors_%27large_runway%27_blacked_out_chronograph_watch,_45mm:315935&cm_pla=jewelry:watch&cm_ven=Linkshare&siteId=J84DHJLQkR4-ArGp.F80z5lto9xmXUBFjQ
Nike Flyknit Trainer+ Unisex Running Shoe -- $150 http://store.nike.com/us/en_us/pd/flyknit-trainer-unisex-running-shoe/pid-724317/pgid-582109?cp=usns_kw_AL!1778!3!46106782665!!!g!!65829314145!c