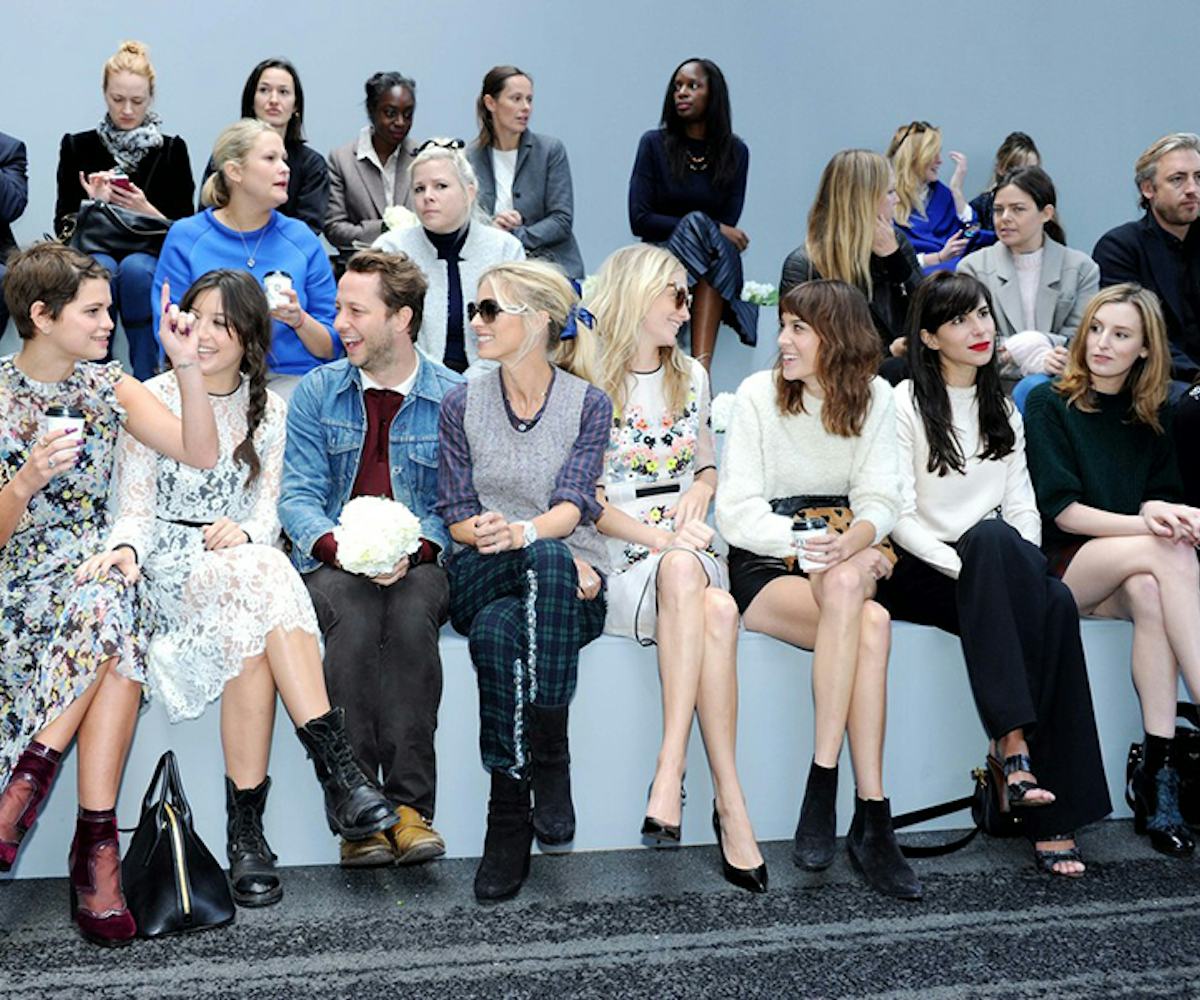 get the london look
a choose your own adventure guide to london fashion week's front row.
It's no wonder that London Fashion Week has the best of the best It Girls seated front row--some of the most popular models and muses of all time (Twiggy, Kate Moss, Alexa Chung... the list could go on and on) all call the English islands home. 
This season everyone from Poppy Delevingne to Daisy Lowe hit the Fashion week circuit in their coolest clothes, which led us to think about which It Girls' style we'd love to steal--or rather how we can go about stealing their style with ease. Consider this a crash course to finding your spirit It Girl. Just read on and click through the gallery to figure out which front row lady is your perfect match.  If You Love: Neutral colors, short skirts, and leopard accessories
Your It Girl Match is:Alexa Chung
Because: The girl who put the "it" in "It Girl" wore a selection of black or white, super-short and super-cute looks to London Fashion Week, where she sat front row at nearly every show, including Mulberry, Burberry, Christopher Kane, just to name a few. She gets bonus It Girl points because she's carrying the Mulberry bag named after her. 
If You Love: All black and form-fitting silhouettes
Your It Girl Match is: Daisy Lowe
Because: Lowe rocked a series of dramatic black outfits to London Fashion week, most of which were a little sheer and a lot sexy. During the day she kept it retro in lots of pastel pink ike at Topshop Unique, though out favorite look might be her white lace Erdem dress that she wore to the designer's show. 
If You Love: Super-short skirts and tousled hair
Your It Girl Match is:Ellie Goulding
Because: Show your legs off with style inspired by Ellie Goulding's miniskirts and short-shorts. Don't think that this trend is not fall appropriate! All you need is a big plushy sweater to wear on top, like Goulding did at House of Holland. 
If You Love: Skeleton prints and oversized jackets
Your It Girl Match is:Georgia May Jagger
Because: The bomber jacket Jagger wore to The Global Fund event is, well, the bomb. She also doubled up on skeleton prints at the Longchamp store opening and a costume party. 
If You Love: '70s style and Marianne Faithfull bangs
Your It Girl Match is:Suki Waterhouse
Because: The British model and actress has nailed looking like a '70s siren thanks to an oversized aviator jacket at Burberry and a feather vest at the Longchamp store party. She also gets bonus points for wearing the craziest costume we've ever seen to a (seemingly) circus-themed party. 
If You Love: Print mixing and bright blue
Your It Girl Match is:Pixie Geldof
Because: Whether it's a logo sweater with a printed skirt at House of Holland or a sacred heart-printed slip dress at an event, Pixie Geldof never shies away from a shocking sartorial choice, including her short and messy pixie cut. 
If You Love: Bright red hair, silver screen sirens, and long skirts
Your It Girl Match is:Paloma Faith
Because: Faith is all about retro silhouettes that evoke some Marlene Dietrich-style drama, like her latex pencil skirt at Burberry or her shimmery evening dress at Ashish.
If You Love: Black tights and wearing sunglasses inside
Your It Girl Match is:Kate Moss
Because: Though she limited her LFW attendance to only three events (the Topshop Unique show, Lonchamp party, and another party), Moss kept her style consistent, opting for all black looks that showed off her gams. You do you, Moss. 
If You Love: A quirky '50s vibe with a red lip
Your It Girl Match is:Harley Viera-Newton
Because: The London-born, LA-bred DJ loves a high waisted skirt with a cropped sweater or a party dress with a fitted waist. She has also mastered wearing red lipstick--she favors Ruby Woo by MAC, FYI.
If You Love: Everything! And can't decide if you're more into sexy or pretty
Your It Girl Match is:Anna Kendrick
Because: The actress swapped between a super-sleek black dress at Julien MacDonald and a floral tea dress at Temperley London with ease, furthering our theary that there's no role Anna Kendrick can't play. 
If You Love: Statement accessories and a good blazer
Your It Girl Match is:Poppy Delevingne
Because: Delevingne's sleek Burberry trench, flower-embellished sunglasses, and lace cat ears are just a couple of the awesome accessories she wore during London Fashion Week. Do you think her and Cara share closets?
If You Love: Fuzzy textures and bold prints
Your It Girl Match is:Sienna Miller
Because: Between her blue-ish furry looks at Matthew Williamson and Burberry and her floral Dolce & Gabbana dress at the Global Fund party, Miller knows how to make an entrance. She also knows how to pick out the best leopard coat--tell us your secrets, please?
If You Love: Schoolgirl dresses
Your It Girl Match is:Atlanta de Cadenet Taylor
Because: We spied de Cadenet Taylor at Topshop Unique looking perfectly prim in a Topshop black dress. 
Alexa Chung at Mulberry, Erdem, and Paul Smith
Alexa Chung at the Longchamp Store Opening, Burberry, House of Holland, a Fashion Week Party, and a Dinner at Balthazar
Daisy Lowe at a Dinner at Balthazar, Christopher Kane, the Longchamp Store Opening, and a Fashion Week Party
Daisy Lowe at the Tom Ford Party, Jonathan Saunders, Topshop Unique, L'wren Scott, and Erdem
Ellie Goulding at House of Holland, Topshop Unique, outside Somerset House, Jonathan Saunders, and at a Fashion Week Party
Georgia May Jagger at The Global Fund Event, the Longchamp Store Opening, and a Fashion Week Party
Suki Waterhouse at Topshop Unique, Burberry, the Longchamp Store Opening, the Mademoiselle C Premiere, and a Fashion Week (costume?) Party
Pixie Geldof at House of Holland, Erdem, a Fashion Week Party, Topshop Unique, and the Longchamp Store Opening
Paloma Faith at Vivienne Westwood, Ashish, Julien MacDonald, Matthew Williamson, and Burberry
Kate Moss at a Fashion Week Party, the Longchamp Store Opening, and Topshop Unique
Harley Viera-Newton at Topshop Unique, Burberry, the Longchamp Store Opening, and the Mademoiselle C Premiere
Anna Kendrick outside London Fashion Week, at Julien MacDonald, and Temperley London
Poppy Delevingne at Burberry, Erdem, a Fashion Week Party, Simona Rocha, and Pinghe
Sienna Miller at Matthew Williamson, a Fashion Week Party, The Global Fund Event, and Burberry
Atlanta de Cadenet Taylor at Topshop Unique