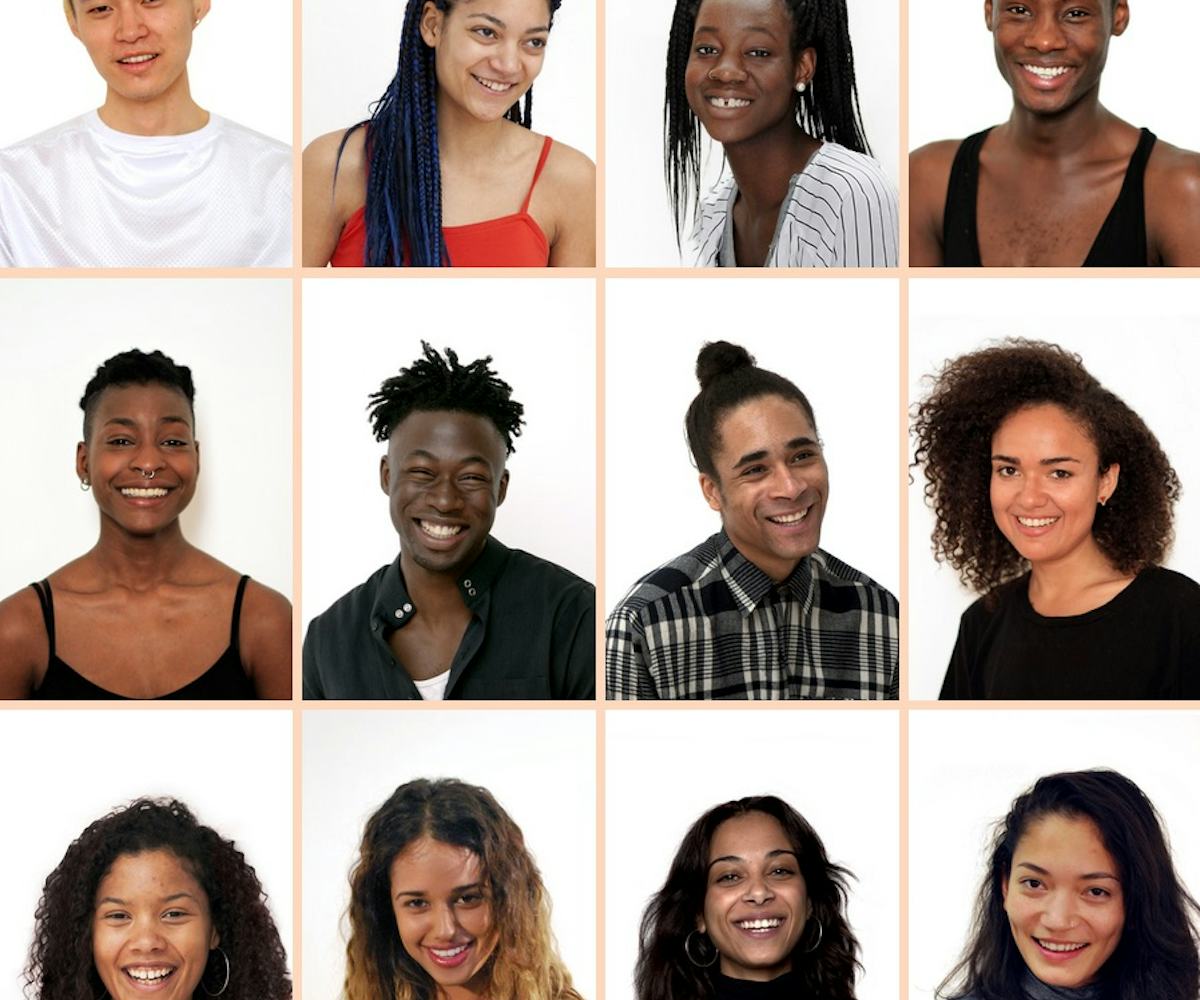 Photo courtesy of Lorde Inc
How Lorde Inc Is Changing The Face Of The Modeling Industry
and meet the 26-year-old founder
Fashion's history with respect to racial diversity is contentious at best. Runways (and beauty standards, in general) have more often than not excluded people of color, save for some iconic faces like Iman and Naomi Campbell. Current stars like Jourdan Dunn and Chanel Iman have risen to fame in recent years only slightly balancing the equation, but representation remains deeply imbalanced. In 2013, London-based modelling agency Lorde Inc entered the scene with aspirations of changing all of that, offering a fresh and ferocious roster comprised solely of models of color.. Founder Nafisa Kaptownwala, 26, spoke to us about her larger-than-life vision of transforming the fashion industry and, more importantly, the world beyond it.
Kaptownwala founded Lorde Inc on the basis of a simple premise: If what you want doesn't exist, create it. She set out to foster positive and powerful images of people of color in mainstream fashion, and make non-white models readily available for hire. Existing options in the industry had left the young entrepreneur wanting more. "There are so many 'alternative' modeling agencies and they're all pretty whack and not very alternative at all," she says. "I just wanted to offer something that appealed to my interests."
Kaptownwala scouts new models largely through Instagram and Tumblr, keeping a lookout for "people that seem like they enjoy having their photo taken, and faces that are different than what we normally see in fashion." Many of the agency's models sport blemishes and larger-than-sample-size frames; all are people of color representing a wide variety of skintones. 
Though thoughtful and poised, Kaptownwala is still somewhat of an outsider in the fashion industry, and the art history grad describes her entry into the industry as "accidental." However, she says its possibilities intrigue her far more than the traditional art world ever did. "There are still aspects of fashion that allow for free thinking," Kaptownwala says. "But I don't feel the same way about art. I think it's way more elitist and harder to access. I guess I just started working in fashion [because] it was easier for me."
Just two years after the launch of the agency, it's clear that her career gamble is paying off. Lorde Inc's arrival has sparked frenzied hype across the board; Tumblr-worthy photo projects with indie bigshots like Arvida Byström and Rookie have ignited the Internet, while arbiters of cool like Vice and zany-chic accessories brand Jump From Paper are scooping up the agency's models for striking editorials. Kaptownwala's work spearheads the entry of a new paradigm of diversity in fashion that moves beyond the prevailing standard of one-dimensional, quota-based representation; efforts like Lorde Inc's are triggering a redefinition of the role of models of color by making them staples rather than occasional accoutrements used to give the illusion of diversity or achieve an exotic aesthetic. Early followers of the Lorde Inc story are lauding the agency for touting a mission that helps to create and normalize positive representations of non-white people, who have historically been denied these opportunities. 
Lorde Inc's artistic direction and vision are refreshing in their contextual newness—just look at comments on the agency's Instagram page to see fans from all over the world eagerly cosigning. Kaptownwala says the imagery and aesthetic underpinning the agency's own shoots draw somewhat humorously on a certain "niche period in the '80s and '90s that was highly political [where those political sentiments] came through in fashion and popular culture." She refers, in part, to the diversity-positive artificial utopia depicted in old ads from brands like United Colors of Benetton and Esprit, often featuring a carefully curated selection of multiracial models stacked side-by-side and beaming in harmonious bliss. "[T]here is this static commercial image of inclusivity and diversity [in those ads] and it's pretty corny and false," Kaptownwala muses, "So we're trying to parody that." She counts these now nostalgia-tinted tableaux as mood-board informants, alongside pop-culture icons like Moesha and hip-hop group Arrested Development; the result is eclectic and magnetic brand imagery that makes a bold statement—and a killer reblog.
The young maven draws connections between her work and her own identity as a woman of color with an Indian Muslim background in Western society. "I suppose [my background] anchors my perspective in a way that differentiates me from the regular fashion perspective—which is mostly white, middle class," she says. What Lorde Inc offers, among other things, is a chance at self-definition outside of existing cultural norms. "[B]eauty is always something that [has been] defined for me. I think one of the motivations in starting Lorde Inc was being able to embrace a decolonized way of thinking and owning what I truly think beauty should be, not [what] we've been made to believe that it is."
Surrounding the Lorde Inc comeup is a new era of race consciousness in both fashion and culture at large. "I don't think it's coincidental that we're coming up at the same time that Rihanna is appointed the Dior spokesperson, or at the same time as Ferguson and Baltimore," she says. "[A]ll of these things are undoubtedly related." Recent headlines speaking to the visibility of racialized bodies are undoubtedly political in nature; fashion, in Kaptownwala's eyes, isn't exempt from bearing the same label: "I think any cultural product is inherently political."
The artist is careful to remain critical of rash notions of social progress in the fashion world despite any newly opened dialogue. "People are talking about racism right now in a real way, but I don't know if moves by companies like Dior are enacted because they're genuinely committed to inclusivity or if it happens to [be financially motivated]. I'm leaning towards the latter."
For Kaptownwala, the work she does with Lorde Inc is about more than making a dollar. "I wouldn't feel right putting out work that was meaningless. My family has always put pressure on me to be someone that enhances society." Lorde Inc allows her to do exactly that. Fostering a new, more positive image of people of color given the context of society's delicate racial climate is both processual and a tall order to say the least, but Kaptownwala's strong sense of self and sharp focus make her a great agent of change. "Lorde Inc has been a way for me to do what I'm passionate about and hopefully have people think a little bit more about our social environment."
The concept is exciting, but how does it all fare for the new agency in the context of the traditional fashion world? Kaptownwala says that though she feels some pressure to adhere to its conventions and pursue traditional milestones of success, like booking her models for big-name shows, a bigger part of her feels unconcerned: "I just want to do what I know how to do, which is not a lot, and that happens to look and seem really unconventional." Does Kaptownwala eventually see her models showing couture on Parisian runways? "I don't really think that level of the fashion world is ready for us," she offers candidly.
Though the scope of the agency's reach remains to be seen, Lorde Inc's vision and mission lay the groundwork for a future of fashion that's much more inclusive than its present-day iteration. Kaptownwala isn't sure where the industry is headed, or even what's to come for the agency itself, but we hope the possibilities are as limitless as her ambition.