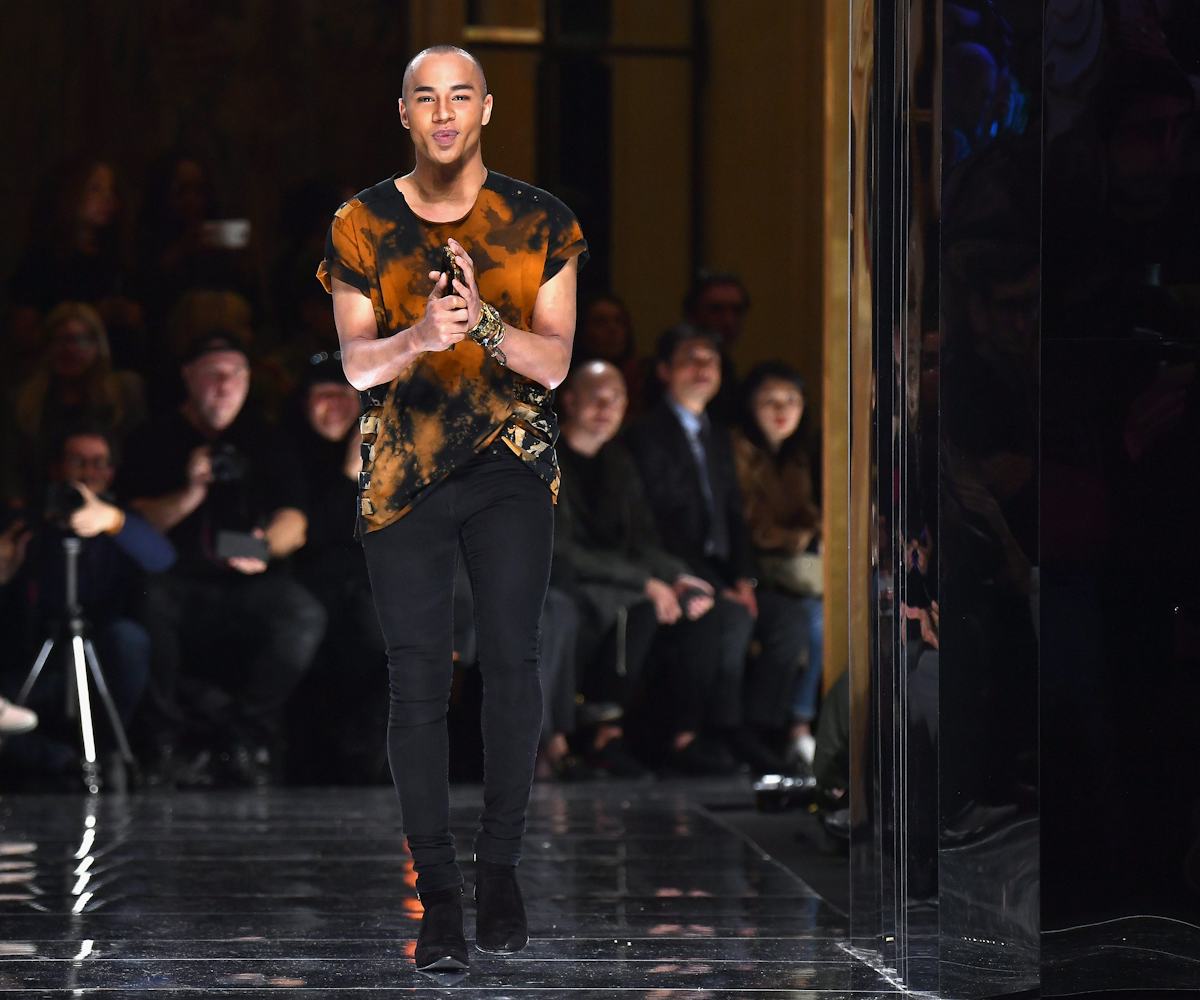 Photo by Pascal Le Segretain/Getty Images
Get Excited: Balmain Lipsticks Are On The Way
Thanks to L'Oréal, we can soon all join the #BalmainArmy
Update 8/9/17: With only another month to go before the launch, L'Oréal has finally revealed what the collection will look like. We now know that the 12 new shades are as follows: Domination, a vibrant red with blue undertones; Domination, a deep berry purple; Confession, a coral; Confidence, a glimmering rose gold; Fever, a brownish orange; Glamazone, a brown; Urban Safari, a nude-beige; and more unconventional shades like Urban Safari, a killer khaki green; Rebellion, a bright blue; Power, a dark brown; Legend, a gray; and Freedom, a purple. Check them out for yourself, below.
Come this September, we'll all be able to own a little bit of Balmain. It's just been announced that the brand's creative director, Olivier Rousteing, has collaborated with L'Oréal Paris on a capsule collection of lipsticks.
According to WWD, the 12-shade collection has already been developed, with Rousteing overseeing much of the creative direction, from lip shades and packaging design to the ad campaign, which we imagine will be of epic proportions (and feature at least one Kardashian-Jenner).
There's no word on pricing just yet (though we imagine the collection will be fairly affordable), but the new lip colors will be sold in select retailers that already carry L'Oréal Paris. (AKA, we're hoping we can pick these beauties up at our corner Duane Reade.) However, there will be a special "jewel edition" for three of the shades, which will be carried exclusively in Balmain stores along with a few other retailers.
Let's be real, a good portion of the Balmain x H&M collection was still pretty pricey, so we're excited to see something totally accessible come from Rousteing. Considering the designer's last few runway shows featured either bare or super-minimal lip looks, we're looking forward to seeing all of the colors in the new offering.
While there's no word on an official release date just yet, we'll be keeping our eyes peeled for the September launch. As WWD reported, the shades will be unveiled before the September Paris Fashion Week show.