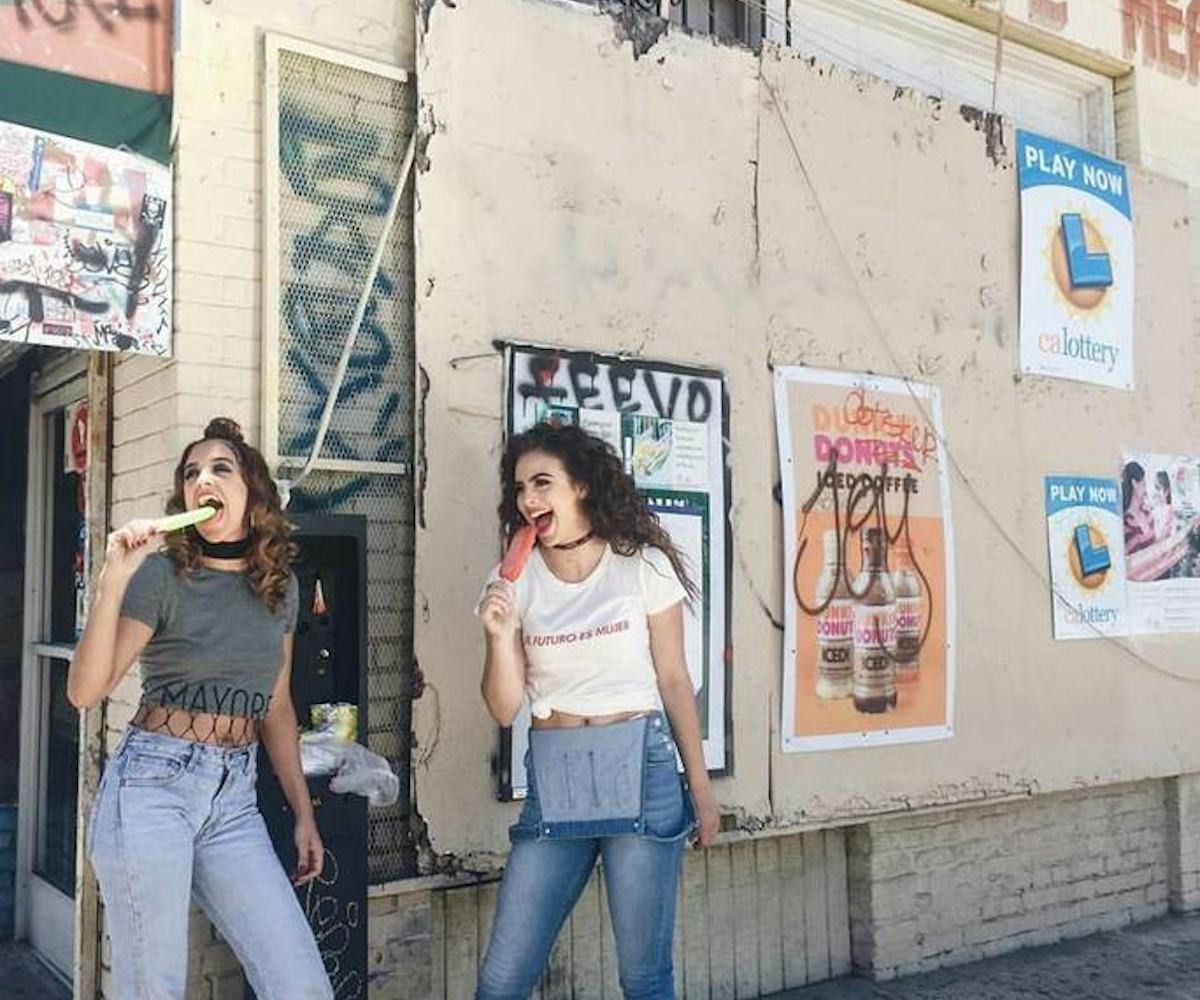 Los Mayores Wants Latinos To Rep Themselves In Streetwear
Latin-owned and -inspired streetwear brand Los Mayores is looking to become the go-to name of the new majority—meaning, Latinos and anyone else who has felt like a minority up until now. The Los Angeles-based company is hoping to become the "FUBU or Ecko" for Latinos, who, they find, have "a minimal presence within the streetwear industry."
After a soft launch in 2016, the team (made up of creative director Jimmy Valdez, chief strategy officer James Anderson, and COO Mike Heiser) hired BeautyCon's head of e-commerce Sierra Dowd as CEO. Now Los Mayores has released 16 all-new styles, ranging from cool neutral T-shirts, black racerback tanks, logo-emblazoned joggers, comfy crewnecks, sweatshorts, hoodies, heather gray crop tops, and snapbacks, now available on its website.
"A huge part of our mission is to break down the stigma around the Latino community being labeled minorities," Dowd says. "What's so ironic about the term minority, is by definition it means 'the smaller number or part.' However, there are more than one million Latino residents in [each of] eight U.S. states alone—Arizona, California, Colorado, Florida, Illinois, New Jersey, New York, and Texas. And according to the Census Bureau, by 2060 Hispanic people will comprise over 28 percent of the total population with 119 million residing in the U.S."
Dowd, who was also the founder of the now-defunct charity Be More Heroic, says that working with Los Mayores appealed to both her philanthropic side and her Puerto Rican roots. The brand's mission is "helping others specifically in the Latino community," which is why they work with a Puerto Rican designer and have a newly designed "multi-level marketing plan" to directly give back.
"We want to provide jobs for underserved communities," Dowd says, explaining that Los Mayores ambassadors will be able to "sell [their clothes] at the local flea market or Sunday farmers market, or take our fashion clothing truck out and go sell at an event." Being directly involved with the community—on the ground, not just online—is hugely important to the founders.
"We want to go to a lot of schools and Latin-based events, and be a part of it and be present," Dowd adds. "That's where a lot of brands lack, especially with e-commerce trend. Social is important to us, but it's also really, really important that we are in the community and part of it in real life." Future projects include hosting talks in predominantly Latino schools, park building, mural painting, and providing job opportunities.
"Two of our owners not only come from Latino heritage but have inspiring stories from having spent time in prison," Dowd says. "They got out and turned their lives around. A big part of their personal mission became helping others, specifically in the Latino community, to know that just because you come from a place where everyone else is telling you you can't [succeed], you can."
Items in the Los Mayores line include messages like, "Somos todos los mayores" ("We are all the majority"), which Dowd says is the "most important" thing they hope to express.
"It's so important to us that we make Latinos globally proud of their heritage while simultaneously breaking down the stigma around the word 'minority' for all ethnicities," she says. The recent launch party at Studio 60 in Los Angeles' predominantly Latino East Side neighborhood offered a chance for attendees to answer one of Los Mayores' questions to its community: 'What's your hustle?'" Because while other Latin-inspired streetwear does exist, Dowd notes that a lot of it is focused on violent or dangerous imagery, a stereotype she's not interested in furthering.
"We don't want that to be our mission," she says, instead offering that Los Mayores wants to provide a celebration of Latino history.
"We really try to gain inspiration not just from the colors of Latin culture, but patterns, too," she says. "We look at photos from our own families and see what they were wearing and try to incorporate them, blending them with modern design and into current fashion trends." 
Dowd is also proud that many of the items Los Mayores offers straddles gender lines, with women buying the men's joggers and extended tee, and men purchasing the pink logo hat.
"It's not too gender-specific," Dowd says, noting that, as a "proud gay woman," she is happy to see the clothing worn many different ways, and that the men she works with were more than happy to hire and now be working under her.
"We're talking about four guys—four straight men—so it was really cool that it was important to them that they feel just as much as minorities have been not really given the same opportunity in this country, they know it's the same for women," she said. "And so it was important to them that they did something a little differently."
In the future, Los Mayores hopes to collaborate with other streetwear brands who have similar community-based mission statements, and who also help to break down what it means to be a minority—which means that while she is focused on creating more opportunities and options for Latinos, Dowd hopes other minorities will see Los Mayores as inclusive.
"We wanted to create a brand that celebrated our culture and the people in it," Dowd says. "They're put down so often—they're either not spoken of or, when they are spoken of, it's really negative... We really want to break those stigmas. We want anyone and everyone who feels like they've never had their voices heard—we'd like to be that platform for them."