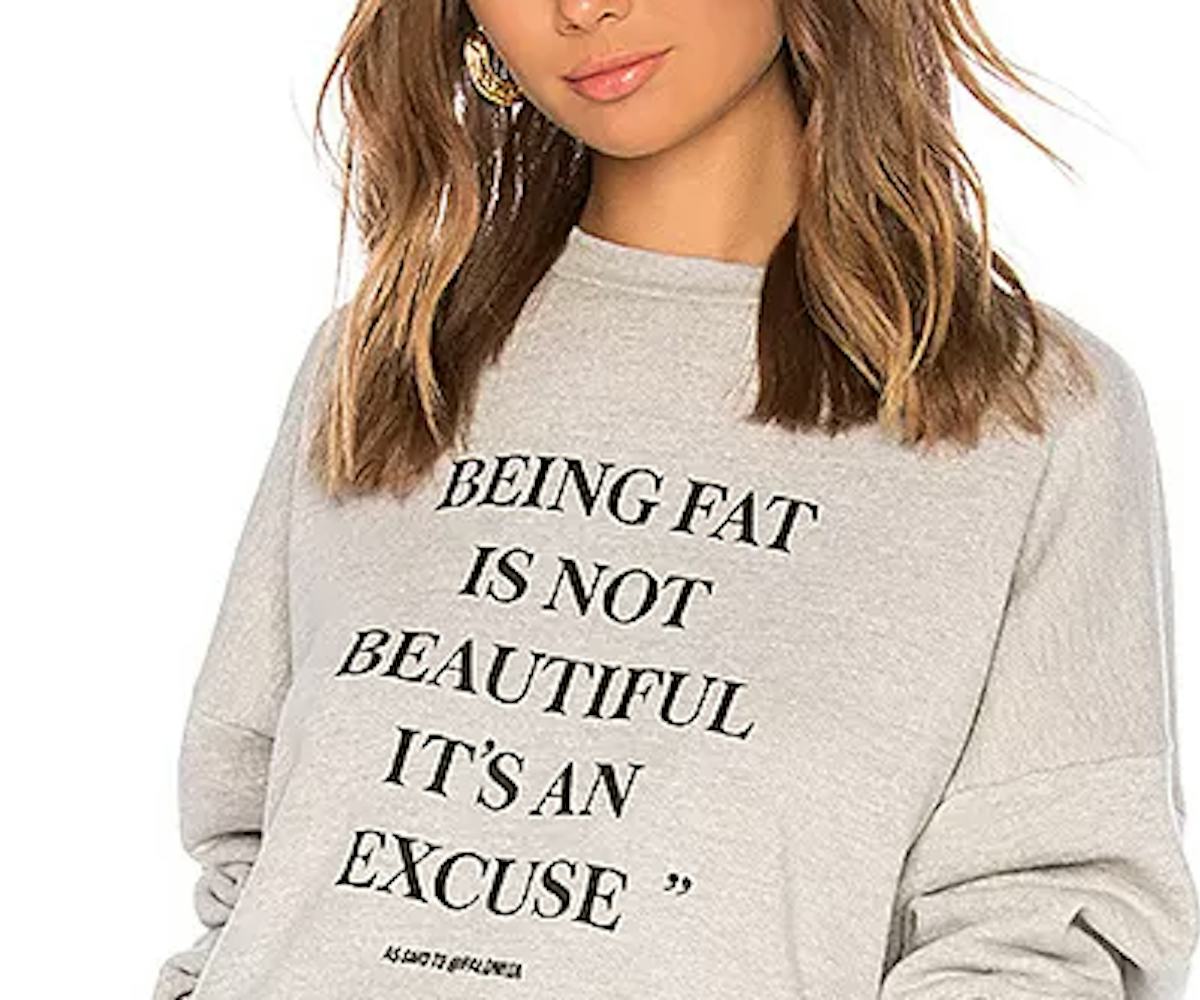 Photo courtesy of Revolve
LPA And Revolve Release And Quickly Cancel Fatphobic Sweatshirts
Clothing brand LPA has landed itself in hot water with a new release that debuted on the site of its parent company Revolve. A sweatshirt collaboration between LPA's founder Pia Arribo and friend Lena Dunham was supposed to be released via Revolve today, and the way they were marketed made them look not only ignorant, but just plain offensive.
The collaboration was apparently meant to showcase comments reportedly said to women like Dunham, Paloma Elsesser, and Cara Delevingne by Internet trolls. The series of gray sweatshirts have large quotes written on them with "as said to" and the recipient's Instagram handle written in smaller font underneath. It's Elsesser's quote that has been spotlighted as being particularly offensive and blatantly fatphobic. The quote reads, "being fat is not beautiful it's an excuse," and is shown on a sweatshirt worn by a thin white model.
Photo courtesy of @FlorenceGiven Instagram
London-based artist Florence Given posted the listing to her Instagram page, calling out the brand for "selling fat phobia to rich skinny women." And it's not just that it's being modeled by someone thin, it also doesn't come in a wide range of sizes. Other sweatshirts included quotes like, "Too Bony To Be Boned" (as reportedly said to Delevingne) and "Horrible Result Of Modern Feminism" (as reportedly said to Dunham). While the sweatshirts were supposed to reclaim harmful words said to the women involved, they actually work to reinforce them.
Arribo herself reached out to Given privately on Instagram, saying that the point of the collaboration was to "shine the light on how horrible trolling is," and that the message is "basically the opposite of what it seems." She also told Given that the collaboration was supposed to launch the next day, and that she and the celebrities who contributed their quotes had planned to release them with an explanation. Proceeds from the collection were to go to the charity Girls Write Now. 
Photo courtesy of @LenaDunham Instagram
Dunham has also responded via her Instagram story, saying that Elsesser's quote has been "mangled" and that neither of them were consulted in the products' marketing. Because of this oversight, she said, "I cannot support this collaboration or lend my name in any way." 
Thankfully, the listings have been taken down and the collection canceled, but this is a mistake that should never have happened.