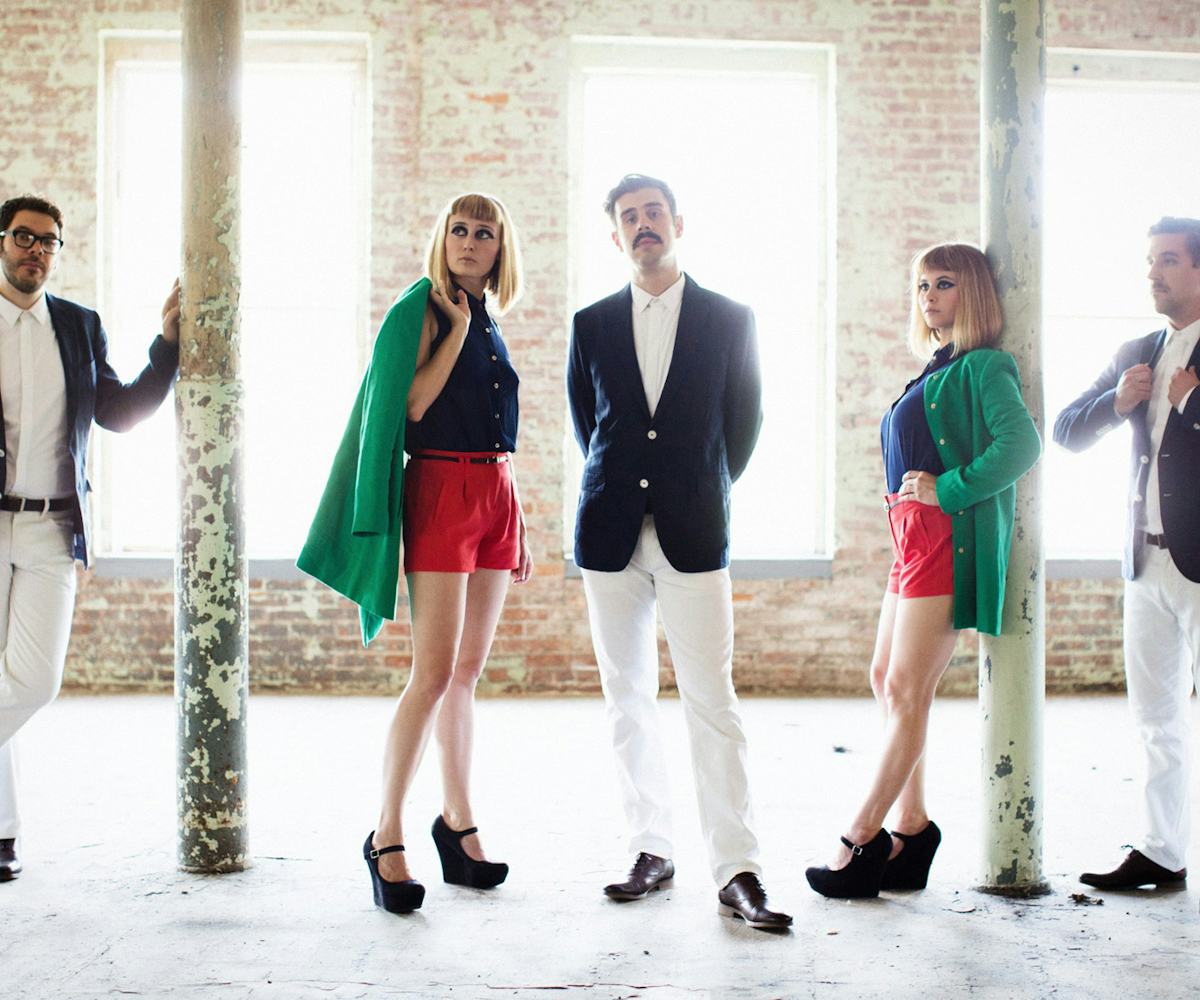 photo by peter larson
band crush: lucius
a band of wildewomen is about to take over your speakers.
There are some bands that deliver exactly what you expect. Other groups challenge your ears within the first 10 seconds. But Lucius, they manage to do both; the Brooklyn-based five-piece, fronted by vocalists (and college friends) Holly Laessig and Jess Wolfe, sounds deceptively familiar while never, ever veering towards boring. Need proof? Look no further than the fact that Lucius performs live with one drum set...separated into two, and placed on each side of the stage. While their debut album Wildewoman, out today on Mom + Pop Records, might not pack the visual punch they deliver live, it certainly offers up a convincing sonic portrait of a band that more than knows what they're doing, masterfully combining their knack for '60s pop with their fluency in unexpected indie rock.
But don't just take our word for it; NYLON chatted with Wolfe to find out just why you need to get those tickets for the Lucius US tour now--and how we're all really wildewomen at heart.
Your debut album comes out today--are you feeling nervous? Excited? All of the above?!
It's been such a long time coming that I think I'm just relieved to finally put it out there. I'm not nervous, I'm excited...and I''m curious to see the response, obviously. It's something that I think the five of us are so proud of. I always think this is a moment in time and there's going to be another moment in time and we're going to put out something that we're even more proud of, but at this point, for our debut record, I couldn't be more proud. It's enough like our live show to be cohesive, but at the same time it's different enough to give people another experience; we're very much a live band but we also thrive in the studio as well.
Did you set out to make Wildewoman sound different from your live set?
No, because when we went to record the album at first we weren't a band; it was just Holly and I and Danny [Molad, on drums], and we brought on this community of musicians and mix of people, including Pete [Lalish on the guitar] and Andy [Burri, also on the guitar], who were on the original recordings. And then a year and a half after playing together, we were like, 'Maybe we should re-record this so it actually sounds like the five of us as a unit.'
So when was the moment that Lucius became Lucius?
Holly and I have been singing together for such a long time and we've always been Lucius in one way or another. We've never changed the name but we've had many lives, like cats--the nine lives of Lucius! [Laughs] It was always just the two of us, and we were more than being a band at the time; we were trying to nurture the craft and develop a sound and do something that's just uniquely us. When we met the band it was the first time that it felt like a family, and each part--especially in the live show--is integral to the next. It's like a machine. So I think that there's no doubt that now it's the band we didn't know we were looking for.
The word 'wildewoman' is pretty genius.
The album is named after the song, and that song was sort of inspired by this idea of a young girl making her own world and carving her own way, and maybe having a rough time doing so but in the end finding that true piece that I think you can't find if you don't experience that. Both Holly and I found comfort in one another because we were similar in this way, and we surround ourselves with women who are similar--strong-minded and talented [women who] carve their own way. Whether it's a young girl or a womanly figure, those are the women who we try to surround ourselves with. The word [wildewoman] comes from Holly her mom used to call her wildegirl. We were sitting in a cab on the way to something and we were talking about the women in our lives, and that's sort of how the theme came about.
I love that iconography--and both you and Holly seem to have made a conscious decision to embrace that idea of the strong woman, even in the band imagery. Just dressing exactly the same turns you both into this visual force.
Oh yeah, definitely. It stemmed from the two girls as one, two voices as one theme that Holly and I happily stumbled into. It was such a natural fit, it was very much like a sisterly vocal experience, but we've always been inspired by artists with really strong visual presences and we want to dress the sound, have something that visually represented what we did live because it's really unconventional and every part is so integral. We wanted it to be seen as one whole, as opposed to two halves. It's the same as guys playing one drum kit but spread across the stage, and sort of echoing each other or doing things in unison, it was really just that the musical presence that lent the visual expression.
Who are some of the artists who have inspired you?
David Bowie, Prince, Bjork, the Beatles, and Andy Warhol, those are the ones that we often are looking to for inspiration.
What's your favorite track from the album?
I switch back and forth; I really love "Go Home," which is funny because it's the only track that was not changed on the record, but I also really love "Nothing Ordinary" and "Tempest." I love them all, it really changes every time I listen to it.
For someone who has never listened to a Lucius song before, what do they need to know going into Wildewoman?
I think that we're very much a live band, that we love doing what we do, and it's a true pleasure traveling the country and hopefully soon the world and seeing new faces and being inspired by the places we're in. [The live setting] is where we truly thrive. The recording, it's just an alternate universe; if they like the record, they should come out to a live show!