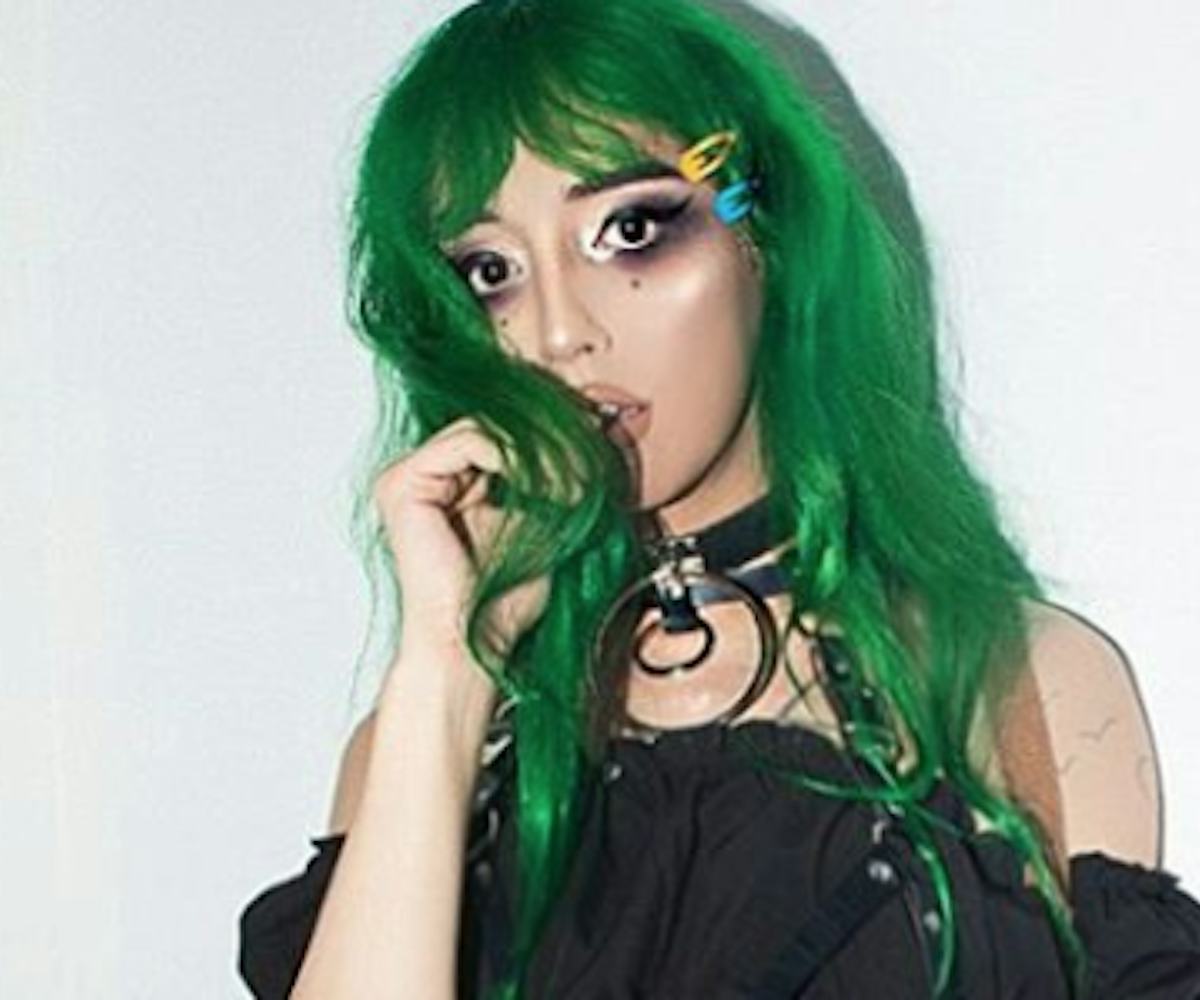 Photo Via @ItsLulo Instagram.
Lulo Is A Nonbinary Angel Bringing Us A Little Piece Of Heav3n
Meet L.A.'s preeminent queer party promoter and It Store proprietor
When I first meet Lulo, we're in a chichi hotel in the heart of Hollywood. Outfitted in fishnets, an Alien Body bomber, and accompanied by their signature teddy bear backpack, they saunter into the lobby, cool as can be, with waist-long, forest green hair and a highlight that could blind every last fuckboi hovering nearby. But there's one problem. Within minutes of sitting down in an adjacent courtyard, we're accosted by a sleazy man—obviously intrigued by the sight of two green-haired hellions dressed in head-to-toe black—a move that forces us upstairs to my hotel room. At least here, we can continue our conversation, uninterrupted by strange looks, leers, and a Maroon 5-filled playlist.
Unfortunately, as I soon learn, this invasion of space is nothing new for Lulo, who is known across L.A. as one of the city's preeminent video vixens and Instagram personalities. And while there's a part of them that understands the price of notoriety in the internet age, it's never easy getting used to constant scrutiny and overt fetishization. Perhaps that's why they felt the need to found their flagship party, Heav3n. Dubbed the "queer sanctuary where California's cutest club kids convene and flaunt their fiercest looks," Heav3n has become, over the past three-plus years, the ultimate meeting spot for some of the underground's most transgressive dressers and convention-flouting artists from every corner of internet subculture that you could imagine. Disparate though they may be, they're also all united by an ethos strictly implemented at the door: Respect all, make friends, and look damn cute doing it. Bouncing between warehouses in L.A.'s Downtown-adjacent districts, it's an event that's managed to outpace the majority of underground parties on the West Coast scene—a fact that still manages to surprise Lulo to this day. 
"It was mostly family and all of our friends, and it's just been getting bigger and bigger," they say, an inkling of disbelief still underlining an aura of intense gratitude. "Now it's a full-on community of people. Everyone just comes and dresses up crazy, and it's beautiful."
And it was this fashion-forward ethos that led them to set up a commerce branch for Heav3n, which has quickly become the internet It Shop for cool kids everywhere. Comprised of a stable of 15-plus independent designers, Lulo handpicks every single piece on the site, implementing a focus on unisex clothing that they, honestly, don't "think should have a label at all."
"It's just like, you like clothes, just wear it. It shouldn't really be labeled at all, really," they say, slightly exasperated, before touching on their own journey toward dressing "however I want."
"It's very touchy because, when I look in the mirror, I just see me. I don't see gender or anything," they share. "There's always those trolls now, so every time someone says that, there's always those comments—the people on the video who are like, 'Oh who's the girl? She's so cute,' and people will be like, 'You know that's a dude, right?' I try to ignore them." 
However, as an intensely private person, Lulo is most comfortable sharing their life via a medium they can actively control and keep relatively positive, say Instagram, which explains why earlier this year they decided to delete their Tumblr and Twitter—two platforms that are infamous for breeding antagonistic discontent and circuitous quarreling. But this all started after they starred in the video for Lil Peep's posthumous Marshmello collaboration, "Spotlight"—an accomplishment that, while rewarding, turned slightly sour due to the negativity they faced online.
"It was nonstop," they said, "Everything was blowing up... on Twitter and Tumblr, because, online, I was very much showing my nipples, so I'd look like full guy or whatever." 
And while doing the video itself felt like, overall, a positive accomplishment, eventually they felt like the harassment got to the point where they didn't feel like dealing with it—especially as such a positive person who has only wanted to make every other misfit feel included.
"I don't even post that much—as much as I should probably now—but I always try to be positive," they said, shaking their head. "Especially with how fucked-up everything is. But my dad has always told me, 'Just be nice to everybody.' So, I don't know, I try."
Growing up in a Catholic Mexican family on a ranch in Temecula, California—raising goats and chickens in their adolescence—Lulo moved to L.A. when they were 19, walking up and down the Sunset Strip to meet friends before ultimately being swept into Hollywood's whirlwind party scene. It was here they learned not only how to become one of the scene's most prominent promoters, but also to embrace their identity, and they segued this awakening into a party for fellow folks who may still be processing who they are and looking for a community to facilitate their discoveries. 
"If it was up to me, I would love just to show my boy body with like, 'How do I look?' Because all the drag queens and stuff, they do the exact same thing," Lulo said about Instagram's propensity to delete their more open posts. "It's like, they never get deleted. It's so frustrating. Even if I put in the caption, 'I'm a boy, like I was born a boy, don't delete this photo,' they'll delete it"—a move that's led Lulo to archive the posts they began getting reported for.
Despite all this, Lulo has taken a stance in terms of their online presence, especially since there's so much work to still be done in terms of moving the discussion forward. After all, a big part of why Heav3n even started was because the nightclubs they promoted for in Hollywood "were very anti-gay and like, 'Bring girls. We only care about bringing heads and girls.'"
Granted, Lulo is happy with the place they're at currently, though there's still an inkling of disappointment present when the conversation turns toward an interview done with them in 2016, which had them explain the mere idea of nonbinary identity, and the fetishization they face as a trans-femme. 
Unfortunately, they don't believe that it's getting better, and that being a trans femme will "always be a thing."
"Like the porn industry and everything, it fucking fetishizes it and makes it like a thing—the 'she-males' and stuff, it's crazy," they explain. "That's why we call them chasers. But what I don't want is people thinking it's some new joke, or some new trend or something, when it's actually been a thing."
So while they relish the opportunity to spread awareness about the nuances surrounding gender identity, Lulo has still noticed a lot of pushback in terms of conventional awareness and perception. 
"Even if you're still passing, you're always gonna get fetishized," Lulo sighs. "That's the main thing that just comes with it, you know?"
But perhaps that's the point of having a party and unisex store like Heav3n. Whether it's showing the world that nobody's business if a cisgender man wants to wear a harness and tutu or it's amplifying the work of like-minded designers and creatives who are working toward tearing down the binary between "male" and "female," Heav3n's mission is clear. As Lulo says, "Fuck it all"—because sometimes that's all you can do.