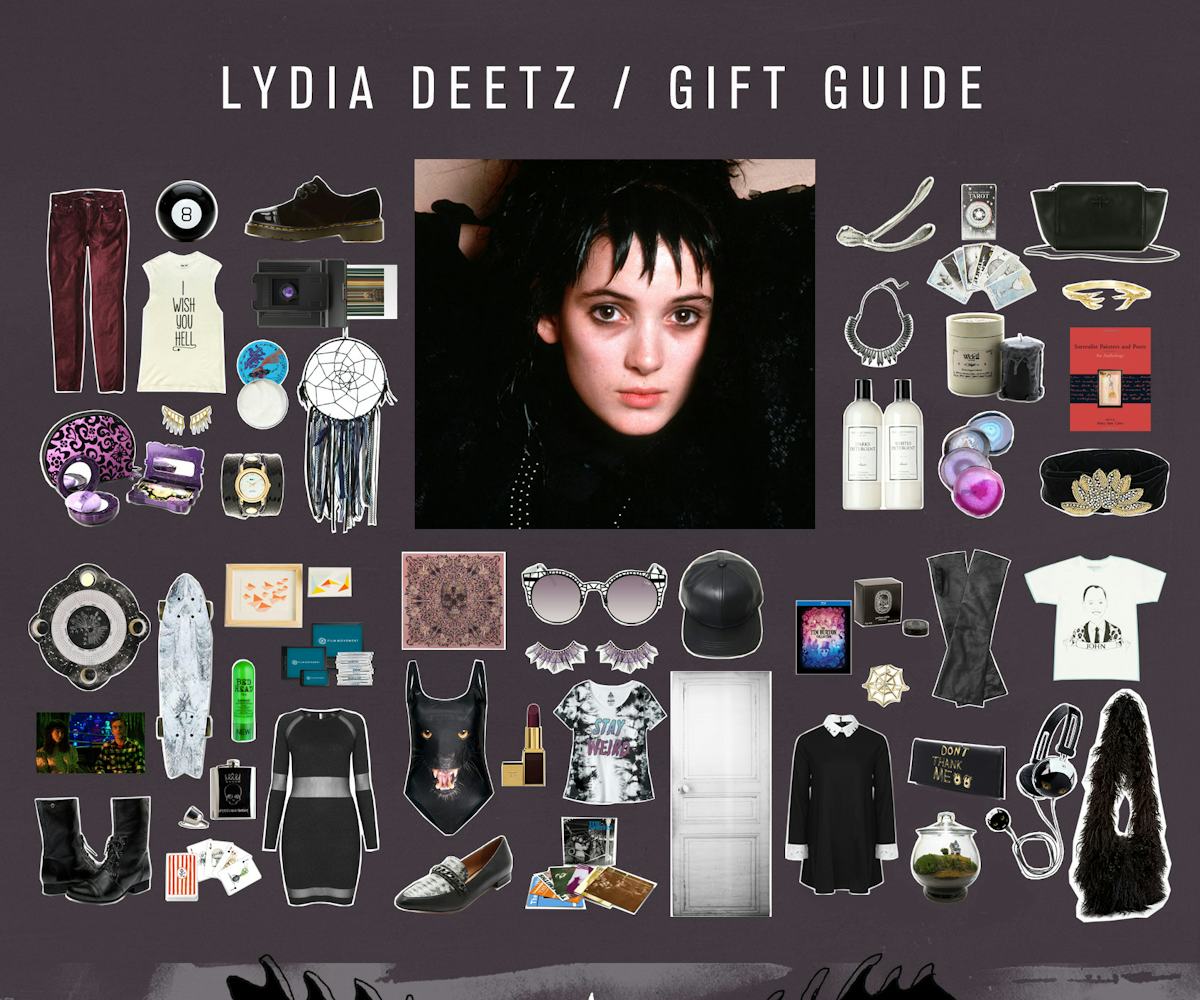 the lydia deetz gift guide
the perfect presents for the strange and unusual among us.
Ready or not, here it comes! Holiday season has arrived, and that means tons of shopping. But let's be real: your average gift guides are boring, so we're going to do things the NYLON way with lists inspired by our fictional dream BFFs. Every week we'll be picking the best gifts for our movie muses, so keep checking back to find that perfect item for your friend...or for yourself. 
Few actors nailed the 'cool outsider' role quite like Winona Ryder; from Veronica Sawyer in Heathers to Lelaina Pierce in Reality Bites, she was insouciant grunge personified. But no role embraced being a weirdo quite like her turn as Lydia Deetz in 1988's Beetlejuice. As the black-wearing, ghost-seeing, jaded teen who's more bothered by her step-mother than a pair of frumpy ghouls, Deetz never seemed to care much what people thought; from her spiky bangs to her penchant for throwing out lines like, "I, myself, am strange and unusual," she didn't give much thought to things considered normal. But don't call her goth--Deetz was way more than just a stereotype, proving that just because you've got a dark side doesn't mean you wouldn't help out friends, even if they are dead (or, perhaps even worse, if it required you tying the knot with Beetlejuice himself). Whether you're fascinated by the supernatural or just like to put on The Smiths and snap some photos, we've got the perfect gift for every Lydia Deetz out there. Just promise us you don't see the B word three times in a row....
The Margot Tenenbaum Gift Guide
The Holly Golightly Gift Guide
7 For All Mankind Deep Garnet Skinny Jeans -- $178
Dr. Martens Favour Shoe with Ribbon Laces -- $130
Petal and Peacocks Tank -- $25
The Impossible Project Instant Lab Camera -- $299
Steam Cream Astrology Moisturizer -- $23.53
Vanessa Mooney Black Dreamcatcher -- $135
Lady Grey Cage Clip On Earrings -- $215
Katie Vernon Gold Leaf Seasons Calendar -- $34
Globe Bantam Marble Print Skateboard -- $125
Quarterly Uprise Art Subscription -- $50
Ghosts of New York Guided Tour -- Price Vary
Tigi Bedhead Supercharged Kit -- $27.22
Film Movement DVD and Streaming Subscription -- $174/year
Thorny Rose Wines x In God We Trust Flask -- $60
The Museum of Modern Art Tim Burton Playing Cards -- $5
Topshop Sheer Paneled Dress -- $90
Damien Hirst for Alexander McQueen Scarf -- $645
A. OK Leather Badeball Cap -- $48
We Are Handsome One Piece Bathing Suit -- $297
Tom Ford Bruised Plum Lip Color -- $49
Takashi Murakami for Shu Uemura False Eyelashes -- $75
Element x Jac Vanek Stay Weird T-Shirt -- $35
Maison Martin Margiela Trompe L-oeil Door Decal -- $450
Madison Harding Chain Loafers -- $198
The Smiths Complete Boxed Set -- $217
Missguided Collared Dress -- $52.80
Milly Cut-Off Driving Gloves -- $250
Deer Dana John Waters T-Shirt -- $60
The Tim Burton Collection -- $41.89
Diane von Furstenberg x Harley Viera-Newton Cat Headphones -- $95
Rara Avis by Iris Apfel Mongolian Lamb Fur Hobo Bag -- $279
Diptyque Solid Perfume -- $41.27
Face of the Earth Beetlejuice Terrarium -- $300
Jennie Kwan Diamond Ring -- $420
Creel and Gow Pewter Wishbone -- $20
The wIld Unknown Tarot Cards -- $40
Pour la Victoire Mini Bag -- $95
8 Other Reasons Spiked Necklace -- $65
Gift Boutique Pre-Drop Candle -- $26
Verameat Claw Bracelet -- $145
Surrealist Painters and Poets by Mary Ann Caws -- $24.63
The Laundress Light and Dark Detergent -- $40
Landi Designs Gemstone Coasters -- $11.99