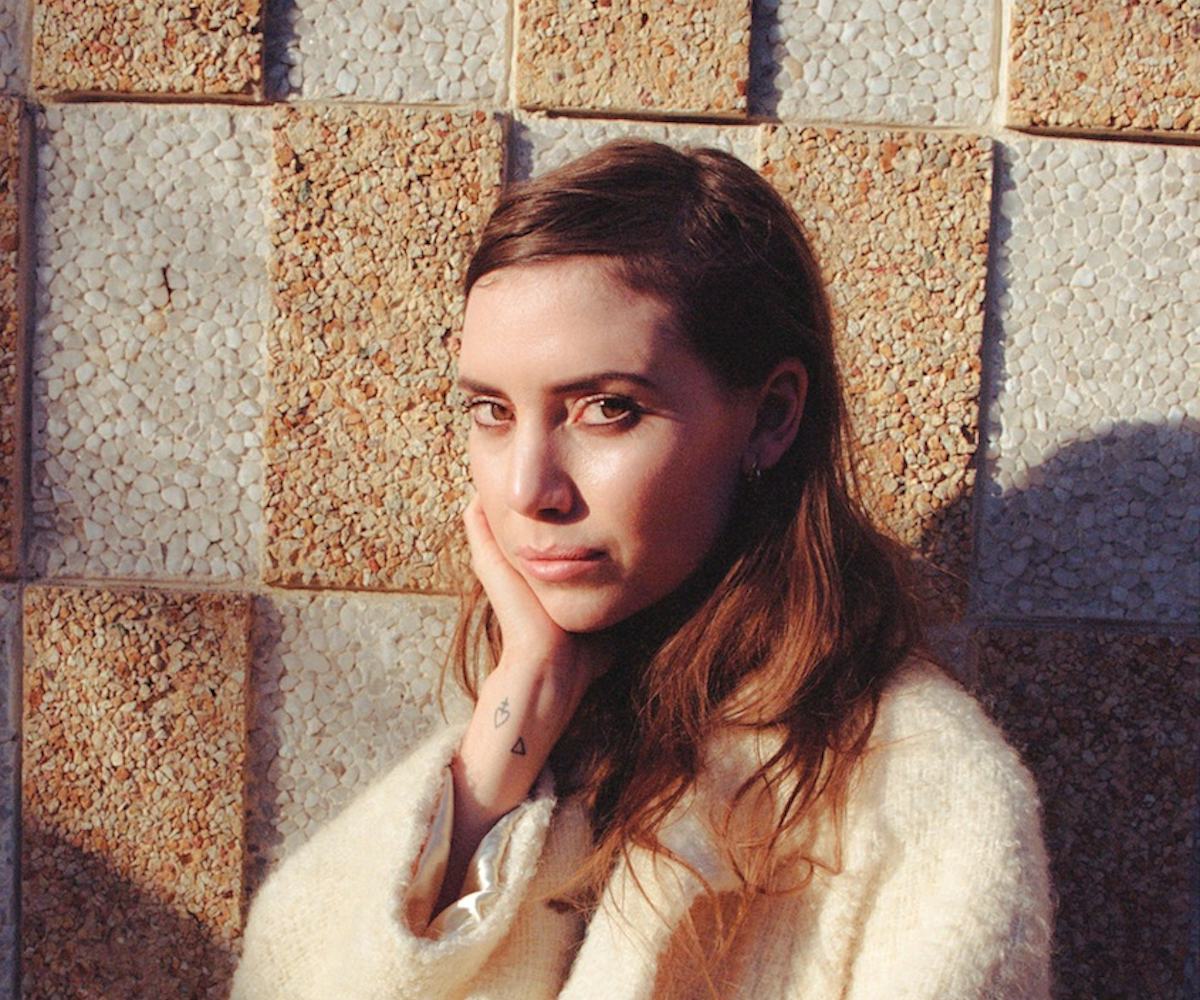 all photos by justin tyler close
read our exclusive interview with lykke li
complete with never-before-seen photos!
It's the first real spring day in New York City, and the patrons of the Bowery Hotel are slowly abandoning the dimly lit lobby in favor of the sun-drenched patio. Lykke Li, however, is posted up on a velvet couch by the dormant fireplace. She eyes the terrace seating warily before politely declining an offer to venture outside. Her willowy frame, shrouded in a heavy, all- black ensemble, does seem particularly suited for these shadowy surroundings.
The scene is a fitting metaphor for the 28-year-old Swedish singer-songwriter's third full-length album, I Never Learn, which nests in its own share of darkness. The nine tracks offer evidence enough of their somber subject matter in titles like "Never Gonna Love Again" and "Sleeping Alone." "It's not a party album," Li concedes. "It's probably best experienced on your own, turned up really loud, lying on the floor or driving through the night." 
Not that it's a total downer. In fact, Li's soul-baring sadness often comes across as strangely comforting, maybe even hopeful, a phenomenon she understands. "It's for anyone in search of connection. I'm offering my vulnerability so you can feel OK with yours," she explains, demurely averting her gaze. "If there wasn't an element of light, it would be unbearable, so I think of it as more of a battle with darkness. It's like a survival album."
Li has always been a survivor, ever adapting to her surroundings. Raised in a practically nomadic family, she grew up attending 11 different schools in locales around the world, from Lisbon to Morocco. "People make it sound so romantic, but it was truly very hard," she says. "What it did do, though, was teach me to build worlds. I remember when we lived in Portugal, we had no television, no electricity; my siblings and I spent a lot of time imagining." After first bursting onto the scene in 2007 with her bubbly, baby-voiced hit "Little Bit" from her debut record Youth Novels, Li transitioned to moodier fare with tracks like the more well-known (and oft-remixed) "I Follow Rivers" on her sophomore album, 2011's Wounded Rhymes, slowly building to the achingly wrought and stylistically raw songs on I Never Learn. "It's just been a natural growth," she explains matter-of- factly. "That was me then, and this is me now." 
The album's title track is all ethereal vocals and acoustic guitar strumming, creating a mystical soundscape, while "Gunshot" throbs with straightforward, heartbeat-like percussion and opens with Li's ominous singing before launching into an onomatopoeic burst of instrumentation.  "No Rest for the Wicked" is riddled with sharp pain, as punctuated by the plinking of a piano and shaking of a tambourine. But the record's pared-down, pain-driven essence lies in "Love Me Like I'm Not Made of Stone," a gritty, echoey recording in which Li croons, "There is a war inside my core/ I hear it fight, I hear it roar" over a spare sonic backdrop. "It's actually like a demo," she explains of the minimalist track. "I was writing the song and I put it on a tape recorder just to have the whole thing, so I could do something with it later. But then I listened to it again and was like, 'I kind of don't want to do anything to it.'"
Li pauses for a moment, then continues: "The albums are kind of a trinity, where I built the two core bases and now this is the crown," she says, tugging at her sweater. "I started this path where I tried to make something really honest and pure and fair, but I think I failed a bit on the first two records. I've finally realized that I find the most fulfillment in just melody and words." With that, Li glances out at the terrace once more, perhaps considering venturing into the light after all.