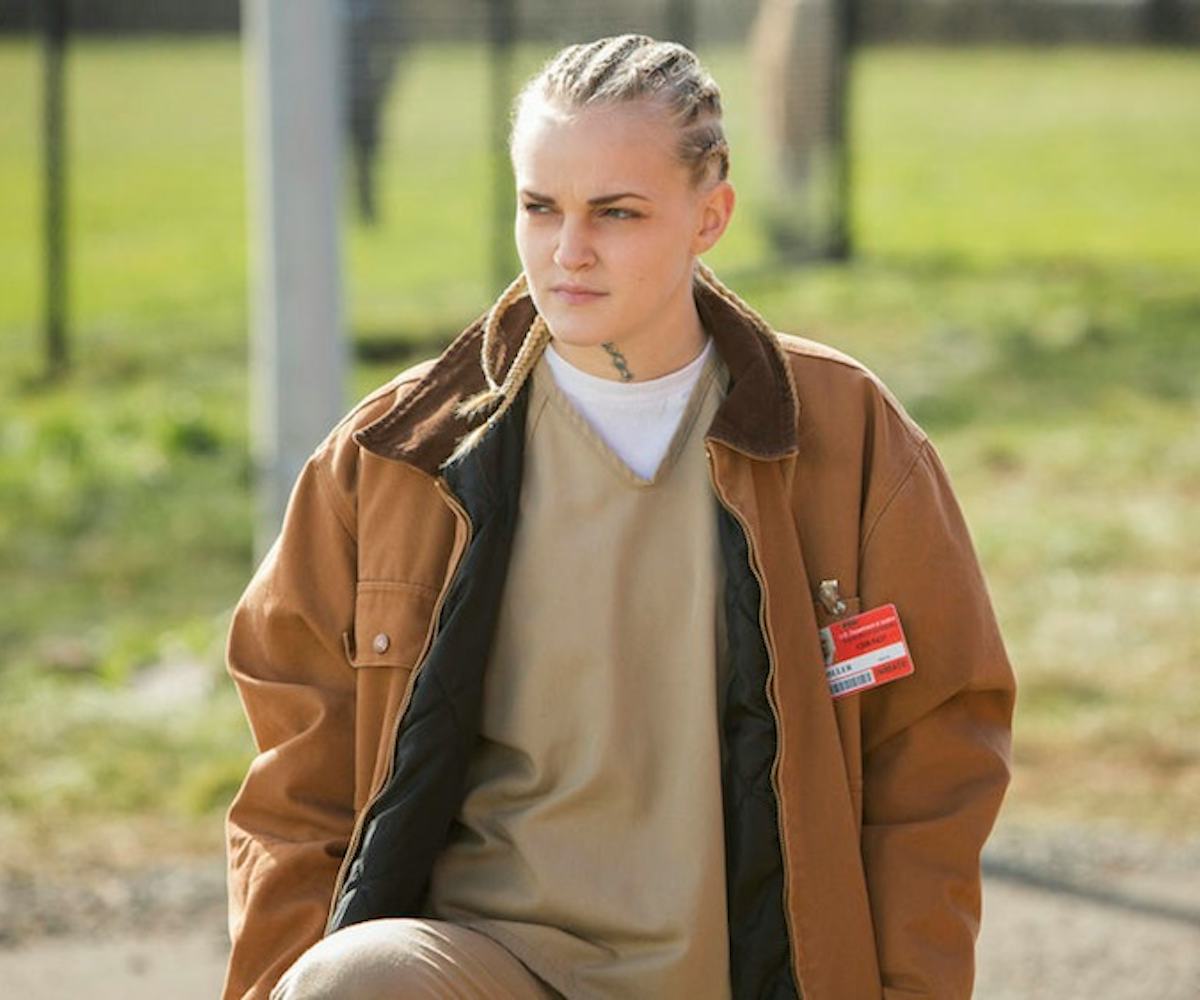 the insider: madeline brewer
up close and personal with the orange is the new black actress.
While binge-watching season one of Netflix's show Orange is the New Black you may find yourself seriously considering getting cornrows. Blame it on our new girl crush Madeline Brewer, i.e. Tricia Miller, the tragic inmate with a heart of gold, a notebook full of IOU's, and ultimately, a fatal addiction to heroin. Brewer's poignantly honest performance turned a recurring role into one of the more compelling characters in the series, and had viewers rushing to IMDB to learn more about the girl behind the braids. But this newcomer is just getting started. NYLON talked to Brewer about her breakout role, Tricia fandom, and of course, whether or not she's considered rocking those rows in real life.
If we did a flashback episode of your life what would we learn? 
I grew up in Pitman, New Jersey, which is a tiny 2 square mile town near Philadelphia. Everyone knows each other there. My boyfriend and I have known each other since 2nd grade. It's a very traditional town but I absolutely love it. I was even crowned Miss Pitman at the Miss Pitman Pageant. I'm also a pop rock singer. I trained classically for 11 years and then studied musical theater at AMDA New York.  My dad is a singer-songwriter so I followed in his footsteps. 
Have you considered doing an album? 
I'd love to do an album at some point but I'm not writing my own music yet. For now I'm just sticking to collaboration.  I listen to everything: The Pixies, The Beatles, The Avett Brothers. I'm loving that song "Come & Get It" by Selena Gomez. 
You mentioned that your hometown is very traditional. How do people there feel about you being on such a subversive show?   
Everyone has been really supportive. My dad is a Mormon and he has friends at church that watch the show and absolutely love it. Regardless of the racy content, it's just a good show. 
Orange is the New Black is your debut onscreen role. Were you nervous for your first day of shooting?
Oh my god, yeah! Filming with Laura Prepon, Taylor Schilling, Natasha Lyonne, it just blew my mind. Most of Tricia's scenes were with the main cast so I was working with everyone right away. I didn't get to ease into it. My first day on set I met Jason Biggs and then did a scene with Natasha. I was like, what is happening?! How is this real life right now? I grew up with the American Pie movies so it was crazy. 
Tell us about transforming into Tricia. The braids, the neck tat, that swagger:
While we were filming episode 3, Jenji Kohan told the makeup artists to rough us up, that we were looking too pretty! The cornrows took about 25 minutes to put in. There were 7 rows. One down the center and 3 on each side. I loved them. They were so much more manageable than my real hair, which is pretty curly. Some cast members didn't recognize me at the premiere because they'd never seen me out of my braids. People always think that the neck tattoo took hours to paint on, but it was just the temporary kind you apply with water. As for the swagger, that was all in the boots! They were so heavy that I kind of had to sway when I moved.  
You seriously pull off the hood rat look. Did Tricia's style rub off on you at all?
Tricia having a tattoo did give me an extra urge to get one. Not necessarily in the same place, because I'm sure as hell never getting one on my neck. I have one tattoo--a lotus flower on my left ankle. For me the lotus symbolizes confidence and perseverance. I also recently had my septum pierced. I LOVE the Doc Martens that I wore in Tricia's flashbacks. Doc Martens will forever be the most incredible boots I have ever laid my eyes on. When it comes to personal style I really like to go with whatever is comfortable; my flannel is my dearest friend. If I'm being honest, I think I may be the least fashion-savvy person of my friends. I don't know how to match.
Were you aware of Tricia's fate going into the role?
I found out while we were filming Episode 9 (Tricia overdoses in episode 10). I was sitting at home in New Jersey when I received an email from [the show's creator]Jenji Kohan. I remember thinking, "Holy crap why is Jenji Kohan emailing ME?" When I saw how long the note was, I knew what was coming. I was shocked and grateful that Jenji would take the time to write to me personally and explain why they made the decision. The news was bittersweet because I also learned that we would film flashback scenes for Tricia, which I loved. Those scenes gave Tricia a lot of humanity and showed viewers that she wasn't just a criminal with a drug addiction. But it was hard saying goodbye. I loved Tricia and I still miss her. 
How did you prepare for those withdrawal scenes?
I spoke to a friend about his own experience with heroin addiction. He told me that during withdrawal his bones literally hurt, which gave me a raw picture to work with. I also watched Requiem with a Dream and Trainspotting. Well, I got about 25 minutes into Trainspotting before I had to turn it off. I couldn't handle that one. 
It was scary because I filmed my withdrawal scenes with Natasha, who has actually been through this. There was a lot of insecurity happening on my end. But Natasha was amazing and very supportive. I was also soaking wet in those scenes. They covered me in vaseline and then sprayed me with water, basically making me look like I was sweaty and puking. I felt really attractive that day.
Judging by the countless Tricia memorials on Tumblr it's fair to say that fans were hit pretty hard by her death. 
On Twitter I get messages saying "Oh my god Tricia" "We miss Tricia" "Are you going to come back as a zombie?" I've seen OITNB fan fiction where Tricia gets out and reunites with Mercy and they live happily ever after. It's so great that viewers want more of her. I never expected to be anyone's favorite character. We're going to have to go American Horror Story on them. You die in that prison and you never leave!
What's next for you? 
Right now I'm back to auditioning. Recently I did 8 auditions in one week-- it's insanity! But I'm trying to stay patient and I know that the right thing will come along. 
Hey Hollywood...reflect, yo.