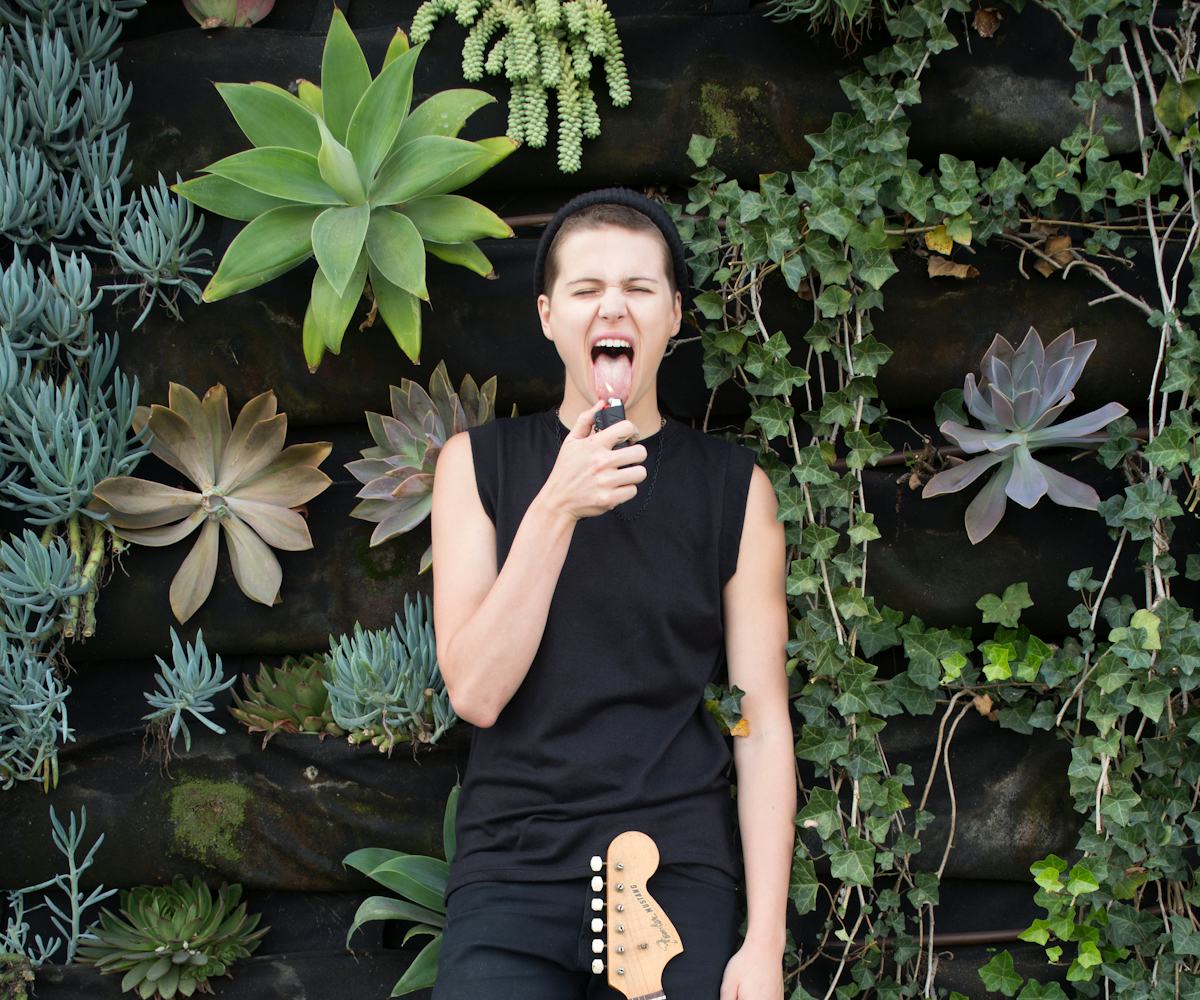 Photo courtesy of Photogenics + Co
Madison Paige Has Launched A Gender-Neutral Clothing Line
…and talked to us about the collection (and how to become Instagram famous)
You may be familiar with Madison Paige, the androgynous beauty that's taking the world by storm. The rising gender-neutral model, musician, and Instagram star now has another title to add to an already extensive resume—fashion designer.
Paige has collaborated with Photo/Genics + Co, the clothing brand of Photo/Genics Media, the L.A.-based fashion influencer agency that represents some of the newest faces from top models to bloggers. The brand, which has worked with influencers such as Chloe Norgaard and Ganna Bogdan in the past, brought on Paige to design a gender-neutral clothing line, which launched today. 
Photo/Genics + Co x Madison Paige consists of five gender-fluid pieces: three oversize T-shirts, a snapback, and a lighter necklace, all inspired by Paige's own tattoos and song lyrics. Paige stresses that each piece is designed to not look like it's exclusively cut for either gender. "The whole line is oversized T-shirts that fit the body of both a man and a woman. They're not cut in a certain way to promote any type of curvature of a specific body. Even the smaller sizes are still oversized, so it fits everybody. Even the accessories—you can't really put a gender on the snapback," the designer told me over the phone.
Having the chance to create something that promotes the idea that one chooses their own gender identity is something that's very dear to Paige's heart. "It means so much to me—especially because every day, I feel myself getting more and more comfortable. A lot of people think that being gender fluid means that you're trying to label yourself as gender fluid, trying to label yourself as another category, but the whole point is to try and rid yourself of labels. Coming to terms with and getting more comfortable with myself has been a huge part of the whole collaboration. It's being able to accept that I'm a gender-neutral person, and trying to keep myself label-less."
When it comes to one figuring out their identity and feeling comfortable in one's own skin, Paige stresses never to rush it, "You don't have to know what you are or be the same thing every day. If you wake up feeling like you completely contradicted everything you were yesterday, it doesn't mean you're a bad person—it just makes you human. Just go with it."
With such a positive message, the line is sure to be a success. It will serve as Paige's merch for the multiple pride festival shows the musician is playing this summer, and the ever-rising Instagram stardom certainly won't hurt the promotion.
Boasting a cool 216k followers, I couldn't resist picking Paige's brain for some advice on how to rise to such social media fame, "It's about being true to yourself and posting things about your life where you look genuinely happy. Keep yourself pretty busy and you'll have things to post about other than selfies and shit—which is still nice sometimes. That's what mine looks like, but it's mostly from shoots. The biggest piece of advice would be to chill out—it will come. It's like the stock market: if you know what time to post and have good content and know how to stay relevant, it will come. Chill out." 
You can shop the collection online at Photo/Genics + Co. Click through the gallery below to get a closer look.
Photo/Genics + Co x Madison Paige, Reverse Me Tee, $59, available at Photo/Genics + Co.
Photo/Genics + Co x Madison Paige, I Am S(He) Tee, $59, available at Photo/Genics + Co.
Photo/Genics + Co x Madison Paige, Sacred Muscle Tee, $68, available at Photo/Genics + Co.
Photo/Genics + Co x Madison Paige, Philosopher Snapback, $29, available at Photo/Genics + Co.
Photo/Genics + Co x Madison Paige, IVIVIVIV Leather Lighter Necklace, $29, available at Photo/Genics + Co.