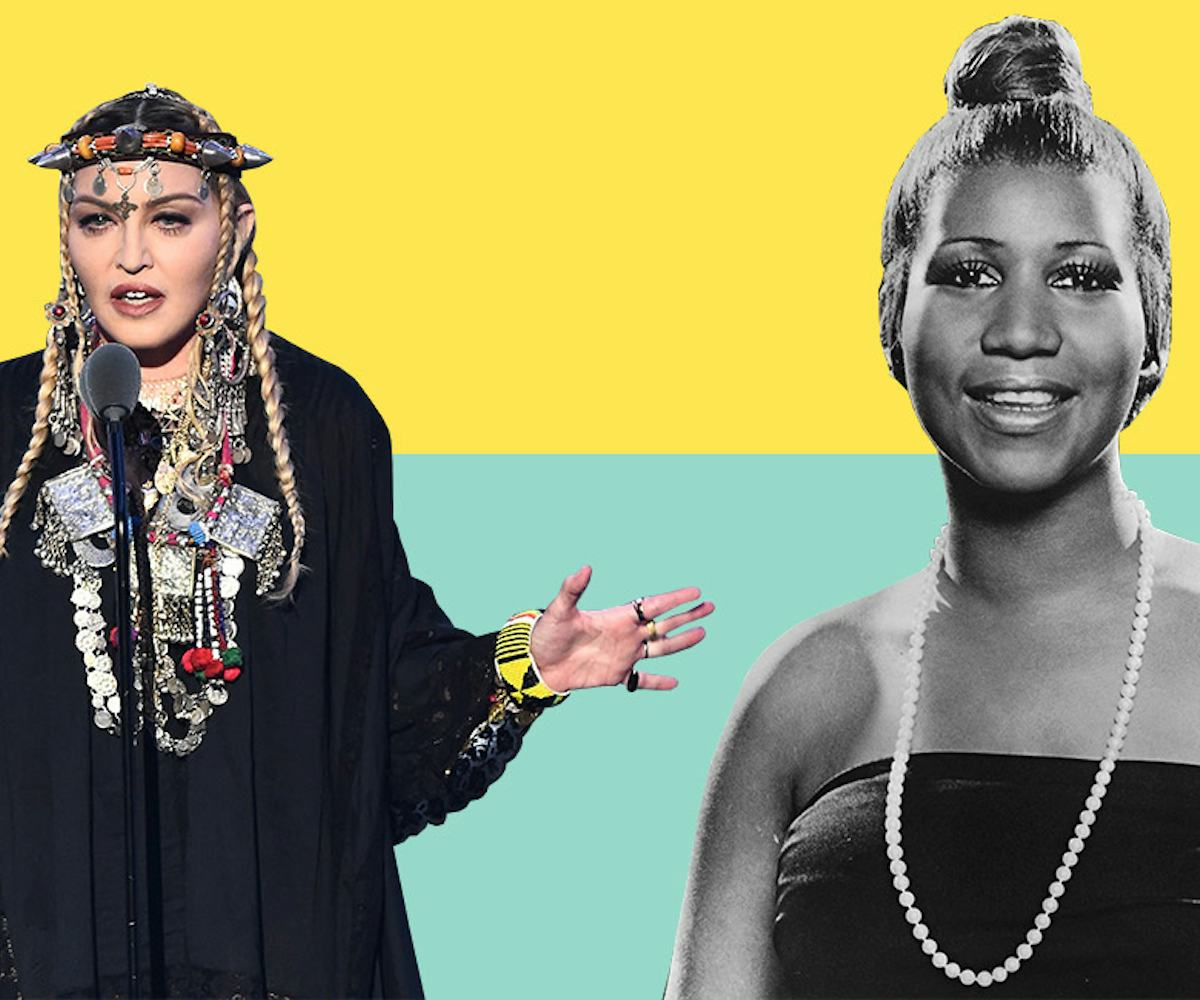 Getty Images/Michael Loccisano & Getty Images/Hulton Archive.
Madonna's Aretha Franklin "Tribute" Was All About Madonna
"'If it wasn't for Aretha, we wouldn't have Madonna'- Madonna"
Last week, Aretha Franklin passed away in her Detroit home at the age of 76. As the recipient of 18 Grammys and the first woman to be inducted into the Rock and Roll Hall of Fame, calling the "Queen of Soul" a legend is an understatement—so it should go without saying that no one was impressed by Madonna's lengthy "tribute" speech about Franklin at the 2018 MTV Video Music Awards.
Choosing to tell a long anecdote about how she chose to perform one of Franklin's songs for a performance that could've been her big break, Madonna basically "gave herself a tribute featuring Aretha." And, boy, was it painful.
As if the contents of her monologue weren't cringe-worthy enough, Madonna also decided to wear what The Atlantic's Hannah Giorgis observed made her look "like she got dressed for afropunk."
"Madonna REALLY went out there in her best cultural appropriation outfit to talk about Queen Aretha Franklin?" The Write Pitch founder Britni Danielle wrote. "IS THIS REAL LIFE?!?!?!?"
Writer Mikki Kendall called it "the worst possible mockery of a tribute to an icon in the history of this show." 
But as others noted, there was at least one bright spot, and it was all thanks to an audience member whose face perfectly encapsulated our feelings about Madonna's mess of speech. Check it out, below.