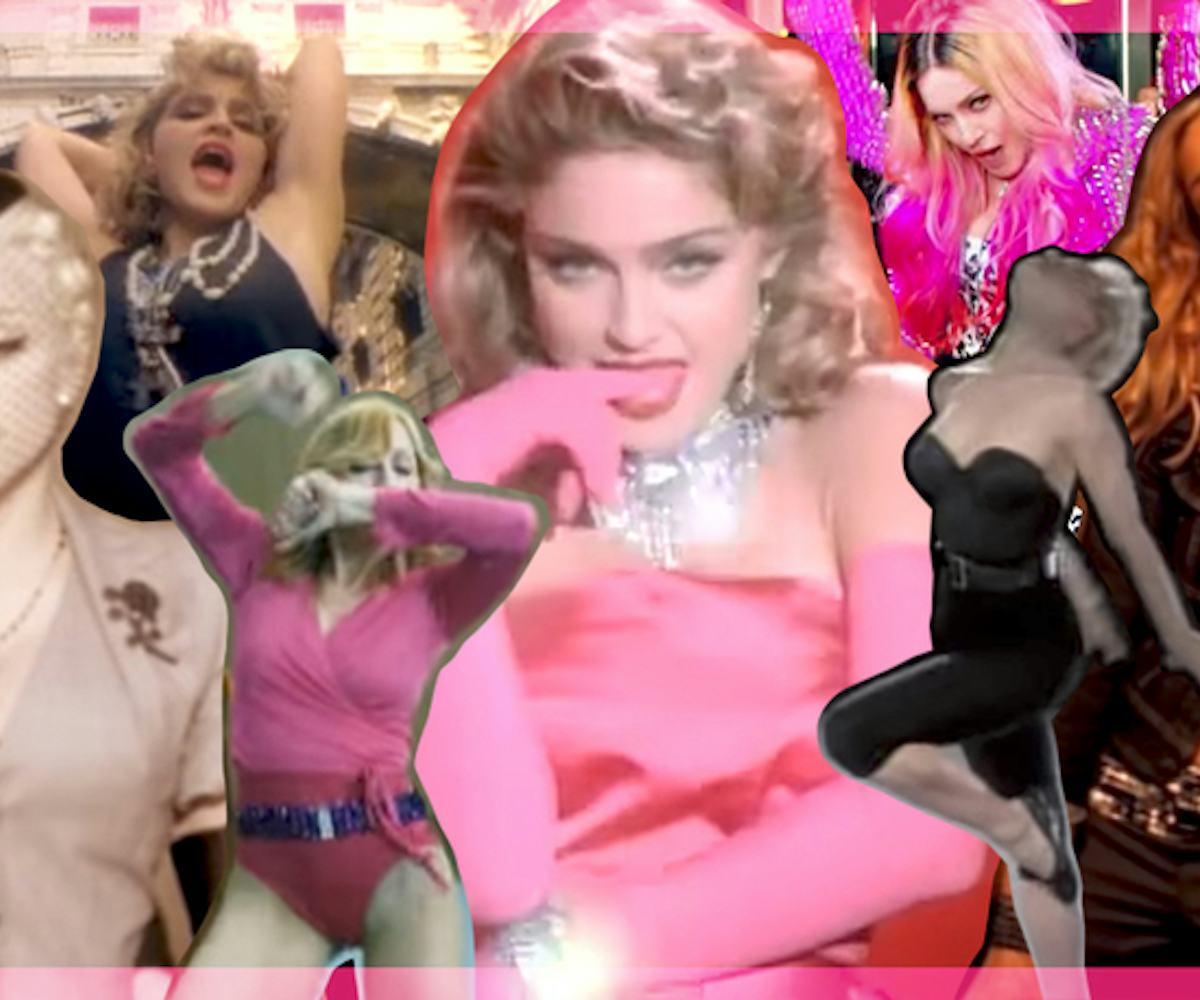 12 Times Madonna Was Our Style Icon
In honor of her birthday, we rounded up her greatest music video looks of all time
What word could we use to describe Madonna other than "iconic"? She's one of the most important figures in music and culture of all time—and one with an undeniable talent for reinventing herself constantly.
One medium in which that chameleonic sense is apparent is her deep library of music videos. In the 30 years Madonna has been on the scene, she's made quite a few of them, after all. And with each music video, came a reinvention of her style. There have been quite a few phases between the mesh glove-wearing Madonna that debuted in 1983 to the corset-donning, septum ring-wearing 2015 Grammy's comeback Madonna, and they're all worth celebrating. In honor of her birthday today, we rounded up her 12 most iconic music video looks of all time.
Happy birthday, Madge!
"Like A Virgin," 1984
One of Madonna's most famous songs, she stayed true to the '80s with a cutout T-shirt dress over electric blue leggings (and stacked on those necklaces) in "Like A Virgin."
"Lucky Star," 1983
Madonna was the epitome of '80s style in her music video for "Lucky Star," her first top five hit on Billboard Hot 100.
"Papa Don't Preach," 1986
Madge is flawless in this black catsuit.
"Like A Prayer," 1989
Madonna was keen on the whole '90s slip dress trend—before '90s fashion was even a thing, or even took place.
"Express Yourself," 1989
We're all for a good pantsuit, and Madge's oversized look in "Express Yourself" is absolutely iconic.
"Vogue," 1990
The following year, Madonna took the pantsuit a step further by opting for a more tailored look, rocking a simple corset top underneath.
"Material Girl," 1985
What's greater than Marilyn Monroe in Diamonds Are a Girl's Best Friend? Madge recreating the entire look for "Material Girl." It's a case of one iconic blonde paying tribute to another.
"Frozen," 1998
The look for "Frozen" is what '90s goth dreams are made of.
"Ray of Light," 1998
And just like that, Madge went from goth to boho in an open denim jacket and sparkly trousers.
"Hung Up," 2005
22 years into the game, Madonna proves she's still got moves in this ballet-inspired look.
"Bitch I'm Madonna," 2015
Madge proved that she's still going strong when she teamed up with (and took some style cues from) Nicki Minaj for "Bitch I'm Madonna."
"Take A Bow," 1994
While this video was subject to a lot of backlash because of how it implicitly glamorized bullfighting, we can't deny that Madge is serving us some major looks in this veiled getup.