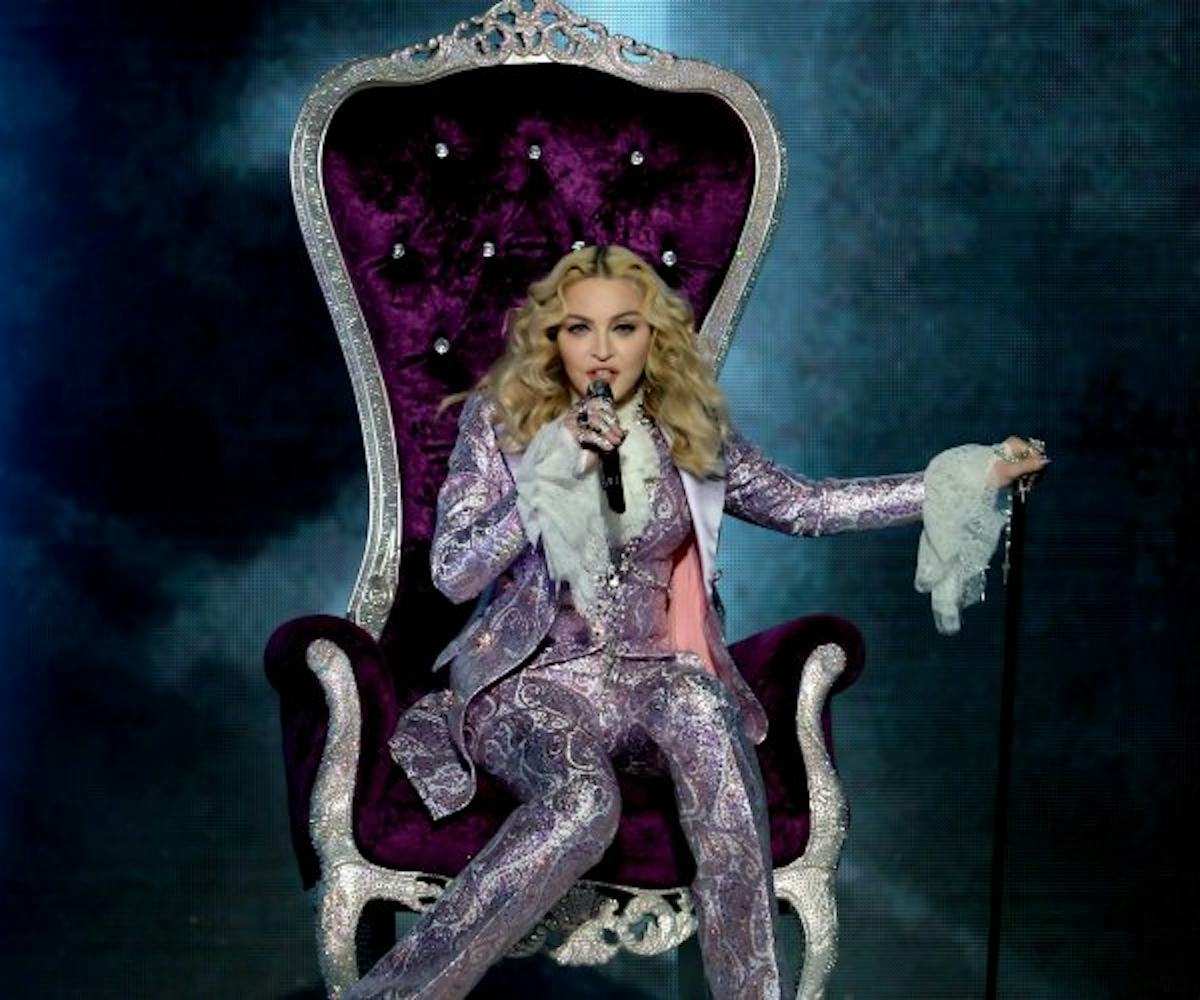 Photo via Billboard Music Awards
Madonna + Stevie Wonder's Prince Tribute Divided The Internet
In a night full of emotional performances, Madonna's powerful tribute to her close friend Prince was the perfect way to close out Sunday's Billboard Music Awards.
When it was announced that Madonna would be performing the first nationally televised tribute to the late singer, some observers weren't sure what to make of the choice. Madonna is prone to theatrics, and perhaps a tribute of this nature called for someone with more of a subtle touch.
She sure showed us. 
Clad in Prince purple, the Queen of Pop performed a touching rendition of "Nothing Compares 2 U," followed by a showstopping "Purple Rain" duet with none other than Stevie Wonder.
However, the reaction online was mixed. BET fired this warning shot while Margaret Cho tweeted "Crying. Great tribute. @Madonna and #StevieWonder are beautiful." The positive reactions were in stark contrast to the backlash that emerged when Madonna was chosen as the artist most qualified to honor Prince. In fact, some were so against the decision that an online petition was started, prompting the show's executive producer Marc Bracco to release a statement. 
"Listen, I think everybody is entitled to their opinion and everyone can have their own opinion, but I will say that we are honored and could not be more excited for Madonna to be on the show and to pay tribute to someone that was her friend and her peer and her colleague," he said at the time. "I think it's going to be fantastic."
Questlove, who introduced the tribute, took to twitter after Madonna's performance to address the haters. "Every Prince rendition will not be a life changing orgasmic xperience. Just to SING his work is brave enough. Again feeling are on high," he wrote, adding "And EVERYBODY wants and deserves a chance to say goodbye in their own way. But remember: there will be AMAs, SoulTrain, NAACP, mtv, GRAMMYS. And a gazillion other tributes. But the point is let's not get ugly w playing the 'Prince would and wouldn't approve' game."
Watch highlights from Madonna and Wonder's intimate tribute to Prince, below.