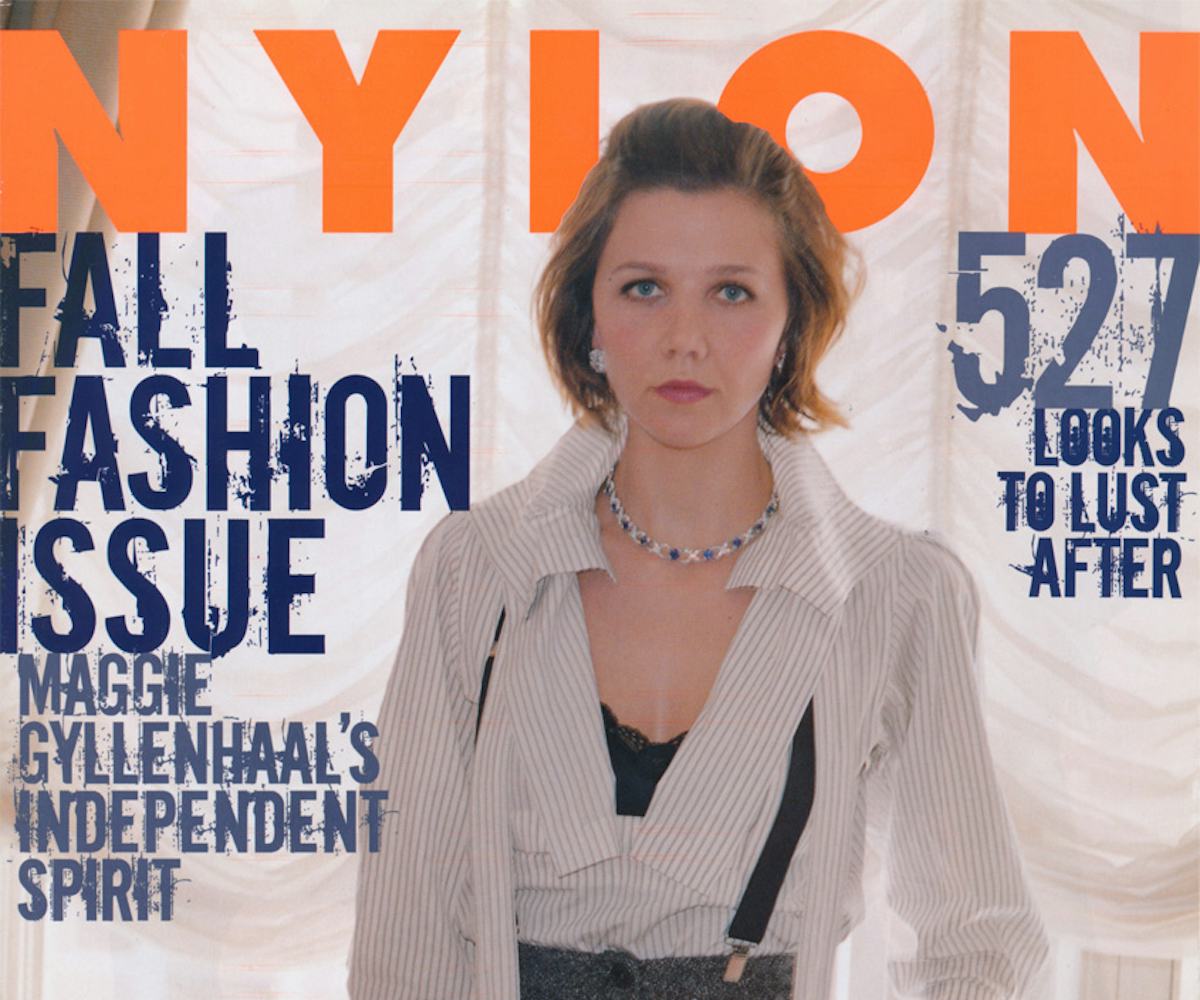 photographed by vavo ribero
flashback friday: maggie gyllenhaal
time travel to '05 with the actress!
Remember the first time you saw the name Gyllenhaal? It's the kind of difficult, weird-looking name (Welsh, incidentally) that, in old-time Hollywood, would have been changed in a nanosecond to something simpler and more familiar. Maggie Gyllenhaal, however, is the sort of iron-willed, individualistic young woman who would have refused to become a Maggie anything-else; and that's precisely why she's managed, with a little help from her hunky-headliner brother Jake, to make Gyllenhaal a household name. As anyone who's watched her being spanked by James Spader with a beatific smile on her face in 2002's Secretary, or slouchily seducing Tom Arnold in the recent Happy Endings can attest, Gyllenhaal is an arresting actress –one who can endow even damaged, manipulative, unsympathetic characters with open-hearted innocence. She's a mixture of puckish goofiness and flinty intelligence, quirkiness and sophistication –in short, a true original.
Perhaps because she grew up within the movie industry (her mother is a screenwriter and her father is a director), the Columbia University graduate isn't enthralled with the glitz and glamour of fame. "The way that I was raised, it wasn't about celebrity," Gyllenhaal says, leaning forward to take a sip of iced tea in a French restaurant a few blocks away from the West Village apartment she shares with actor Peter Sarsgaard. "Movies were work. They were just a part of life."
In fact, although it's only a few hours until the red-carpet premiere of Happy Endings, Gyllenhaal admits that she hasn't even chosen her dress yet. "I was supposed to do it yesterday, but I wanted to go upstate to see some property that Peter and I are thinking about buying. That's my first priority. If I don't have time for the perfect dress, that's OK. I would much rather find a home. I want my life to always come first – especially when I have kids. That's really huge, really important."
Gyllenhaal smiles constantly, even when speaking, but it's never fake or disingenuous, just cute. Her hello handshake is warm and two-handed, and her gaze is direct and unwavering (which, thanks to her enormous eyes, induces a vague sensation of vertigo). She has a whizz-bang-pop way  of talking: sentences tumble out of her mouth in perfectly formed paragraphs with nary a superfluous 'um' or 'like,' she whispers for emphasis (a habit that imparts a tinge of excitement to everything she says), and waves her hands in abstract illustration. She's softer and prettier than she appears on-screen, with tawny skin and long slender limbs. And even today, make-up free and dressed in a simple terra-cotta silk blouse, ivory wife-beater, and black pants, she has a vivid, cartoonish, 1920s-starlet quality. 
"My mother once worked with Juliette Binoche," she says, "and she told me, 'Like a lot of the best actresses, Juliette is very powerful but at the same time very vulnerable." She pauses to nod gratefully at the waiter delivering her lunch. "And I think that's so true. The women who are appealing to watch are always really powerful and also totally open." That's clearly a lesson Maggie Gyllenhaal has taken to heart. 
Gyllenhaal's performances are uniquely nuanced, thanks to the thoughtful way she engages with every role: she always finds ways to relate to her characters and make them part of herself. This is what enabled her to pull off the role of aspiring singer Jude in Happy Endings where other actresses would have certainly failed (Gwyneth Paltrow and Jennifer Garner were reportedly also considered). Jude is a schemer who uses sex with both a grieving widower (Arnold) and his closeted gay son (Jason Ritter) to get what she wants, but she's also the movie's dark heart: the wild, magnetic, wayward shit-stirrer who ultimately enables all the other characters to find their happy endings. 
"Jude does things that can be seen to be horrible, and it was important to me to try to respect her and understand her," Gyllenhaal says. "That was a big challenge. I had to say, 'Is there any way that if I, Maggie, found myself in that situation, I could justify doing what she did?" And then I realized that those two men were both kind of dead – emotionally, sexually, and intellectually – and she's the one who wakes them up. I admired how free she could be."
Gyllenhaal worked very closely with writer/director Don Roos to make her character believable. She insisted, for example, on singing the songs that Jude performs (which include two –don't scoff– stingingly poignant Billy Joel tunes) live during filming, to great effect. Gyllenhaal's voice is warm and lovely, yet flawed in a way that makes Jude more human. ("It was so risky!" she exclaims. "I don't think I let on, but I was terrified!") She was also instrumental in creating Jude's relaxed, Angeleno-hipster wardrobe. 
"There's this Richard Avedon picture of Chan Marshall from Cat Power that ran in The New Yorker," she explains, "where she was holding a cigarette, and you could see her pubes because her loose, loose jeans were unbuttoned. She looked phenomenal: so beautiful and sexy and strong and brave. That was a huge inspiration for me."
At 27, Gyllenhaal is just emerging from the busiest, most eventful, stretch of her career. This year, in addition to Happy Endings, she's filmed three other movies: Stranger Than Fiction ("I play a punk-rock baker who falls in love with an IRS agent played by Will Farrell"); Trust the Man, a comedy with Julianne Moore, David Duchovny, and Billy Crudup, directed by Moore's husband, Bart Freundlich ("That was such a pleasure to work on," she gushes. "And now I'm friends with Bart and Julie– I go to their house, I play with their kids"); and Some Kind of Heaven, in which she portrays a young mother who is trying to put her life back together after being released from prison. "It's the movie I've done that I'm most proud of," Gyllenhaal says. "But it was hard work. I was ravaged afterwards. I was playing someone who was really broken and really struggling, and I totally took it on– I even started smoking again. It took me about six weeks afterwards to get over it."
There was one black spot in her otherwise fruitful year. When The Great New Wonderful– a $5,000 9/11 themed indie film she completed last fall– premiered at the Tribeca Film Festival in May, a comment Gyllenhaal made on the red carpet (a not-unreasonable remark about how America should examine the way its actions are perceived globally) sparked a nasty backlash from still-sensitive patriots, resulting in her official web site being briefly shut down due to an overload of hate mail. 
"What I said was misunderstood in a way that was very painful for me," she says darkly. "I heard that the firemen in New York were angry at me, and that hurt so much. Especially because my 90-year-old great-aunt lived a block from the World Trade Center. She had polio and couldn't get down the stairs when it happened, so she sat in her apartment, reading a biography of John Adams, drinking the last of her water, until she was finally able to call to a fireman out the window. She could have died. So that whole thing was just…bad."
Gyllenhaal has always been a tireless supporter of independent filmmaking, choosing her roles by instinct rather than career-plotting guile. "I think there's a reason why I'm drawn to every single part, like there's something for me to learn, and I'm not even sure what it is until much later. With Secretary, I learned not to try to imitate what everyone says love is supposed to look like. If you want to actually feel something and have a real relationship, you have to allow for anything. Not only with love or sex, but with everything in your life."
She grins mischievously, then adds: "But I think that what my criteria are for choosing movies is kind of changing. I want to tell you about the movie I'm going to do next, but I don't think I can talk about it yet. I can say that it's going to be, not a huge blockbuster silly thing, but bigger than anything I've done before. It's important to me now that people see my movies, and that they have some effect."
As it is, Gyllenhaal is balanced on that narrow step on fame's staircase where she can walk through the world, if not unrecognized, then mostly un-pestered (she talks blithely about visiting public bathhouses in Paris and dining in restaurants alone), and she isn't yet an animal so bankable or exotic to merit a top spot on the paparazzi safari. Not that she doesn't have her moments. "Once," she recalls, laughing, "I was walking down the street near my house, wearing jeans, sneakers, and a trench coat, and some paparazzo took a picture of me that ran with a caption saying, 'Sneakers don't go with this outfit.' I was like, Well…maybe not. But it was winter!" She rolls her eyes. "How weird is it that these magazines pretend that life isn't the same for everybody? I shouldn't be wearing comfortable shoes because I'm in movies?"
The important of comfort when it comes to fashion, incidentally, is a subject on which Gyllenhaal can hold forth at length. "It's so important to wear comfortable shoes. I mean it!" She taps the table for emphasis. "When Peter was nominated for a Golden Globe, I wore these shoes that were disastrous. They hurt so much, it was actually really hard to be there for him. I was completely distracted by my feet! So when I went to the Academy Awards this year, I brought a pair of ballet slippers and put them on as soon as we got to the party."
She nods firmly, as if to congratulate herself on her pragmatism, then leans forward conspiratorially. "I have to admit, I love, love clothes. But you're in trouble if you think about them too much. I used to get really excited about all the gifts I got, but having too much stuff just makes me anxious. So I give away a lot, and let my girlfriends borrow whatever they want– they call my closet 'the library.' Most of them are PhD candidates, so they don't have access to these things the way I do."
Listing Daryl K and Dries van Noten as two of her favorite designers, Gyllenhaal muses, "I feel a little differently lately about what's appealing to me in terms of clothes. As I'm getting older, I'm finding different things sexy." She tucks an errant curl of hair behind her ear, continuing: "Aging is actually a real pleasure for me. I look at someone like Julianne Moore, who is such a foxy woman –she's so amazing– she's a mom, she's talented, and really powerful. I find that incredibly inspiring."
Her swordfish lunch plate picked clean, Gyllenhaal reaches into her handbag for her phone, then asks the time ("My cats knocked my phone off my bedside table yesterday, and I think they broke the battery or something"). She's got to get a move-on: there's still a dress to pick, hair and make-up to be done for tonight's premiere. She's invited her mother and some friends over to have pre-show cocktails, and wants to make sure they have time to relax. "I'm so glad my mom's coming," she says. "We used to fight like crazy, but we're really close now. It'll be fun. She's all excited: She's got a cute little outfit to wear. But my parents always cry when they watch my movies. I don't like to sit next to them!"
It's been difficult for her to see her family as much as she'd like lately ("I haven't seen Jake in a month," she laments), but she tries her best to keep her close ones close. "It got really hard for Peter and me at a certain point. When I was doing all those films in a row, Peter was also working, so we would only see each other every two or three weeks, which was kind of nice because it was really intense and romantic every time we saw each other. We did that for a little too long this year, but it really made us strong."
Next week, she and Sarsgaard are taking a much-needed vacation to Nepal – and then, no doubt, on-a-roll Gyllenhaal will be back to work. "I was home alone one night recently," she says, just before getting up to go, "sitting on the couch with my cats, flipping through the channels and I came across a show that was playing clips from Meryl Streep's career. It was really astonishing." The actress pauses for a beat, and then, with a smile that is simultaneously wistful, modest, and determined, adds: "I was thinking, Well, she's a little older than me. I've still got time."