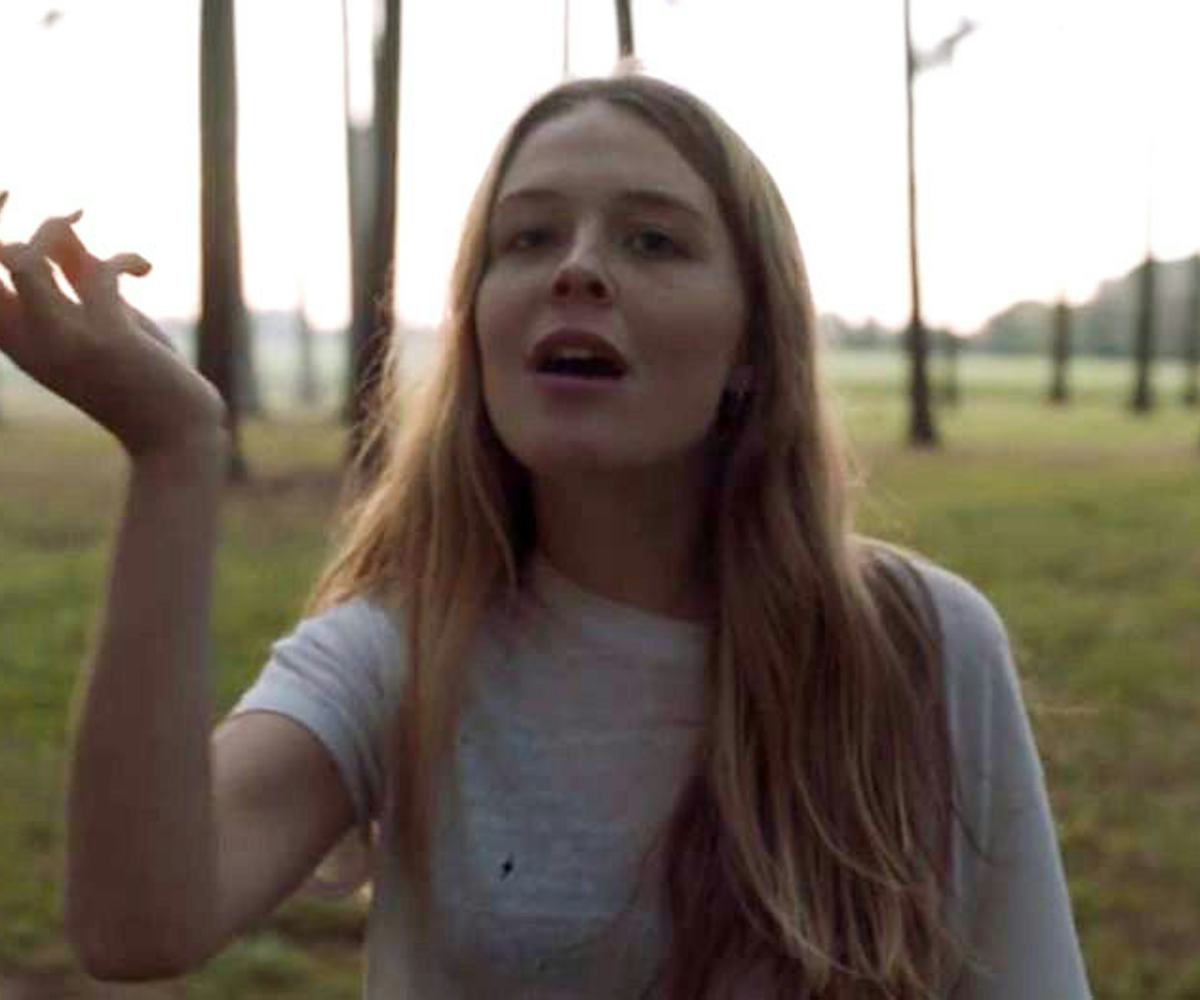 Maggie Rogers On The Viral Pharrell Video And Story Behind "Alaska"
"I react and process my feelings through song"
If the song "Alaska" hasn't made you dance and cry at the same time, then you've been missing out. The track—a hypnotic, electropop ballad of sorts—went slightly viral for NYU student Maggie Rogers the day after her graduation thanks to a video of Pharrell Williams staring in awe while listening to the catchy song. (He was critiquing students' work at NYU's Clive Davis Institute in February.) And if Rogers' talent isn't clear enough already, get this: She wrote the song in 15 minutes.
Since June, the track has garnered over two million SoundCloud plays, and Rogers has released a stunningly choreographed video to go along with the folk-pop gem. It's a big deal for Rogers, who grew up in rural Maryland playing classical music on the harp and listening to Erykah Badu and Lauryn Hill.
We caught up with Rogers recently about her viral track, getting Pharrell's attention, and how music has played a big role in her life.
Can you tell me a little bit about how you got into making music?
I don't know. I always was drawn to playing music for as long as I can remember. I started making songs in middle school, and then I started recording.
How did you get Pharrell's attention?
I just showed up to class. My entire interaction with Pharrell is as regards to the video [that went viral]. So, you know as much as I know.
The song "Alaska" is super poignant. How did you come up with the track?
The song "Alaska" is about everything I was thinking about when I was hiking in Alaska. It was important to me to put my emotions out there.
Can you tell me about the making of the "Alaska" video? It was such a cool, choreographed experience.
I came up with the concept in April, before I graduated from school. I was really specific about the costumes and everyone involved with the music video is a friend of mine. I got to work with a director named Zia Anger, who I absolutely adore.
Who are you most influenced by?
I don't know. I'm influenced by a lot of different things in my life, whether it's books or art. There are a few artists I really look up to, people like Björk—artists who continuously challenge themselves creatively. 
When does your EP come out?
There's no official date, but I have an EP coming out in February. 
Can you tell me a little about the making of your forthcoming EP? How did it come together?
I wrote all of these songs when I was in school this spring and spent some time in Alaska. It's been really fun. Each song on the EP I co-produced with a different friend. It was sort of made in closets and bedrooms. This was my first time co-producing ever, so it was really exciting to see how people bring out different styles in me. It was really fun to find my own production style throughout the EP.
Who are you currently listening to?
I was really excited about Frank Ocean's release, and I've been listening to Solange a lot. I've also been listening to Leonard Cohen and Jeff Buckley. I listen to a lot of World music, so I've been listening to this incredible record called Mudanin Kata by David Darling that has tribal chanting and cello. It's really incredible.   
How did you react to the results of the election?
Well, I actually put a song on SoundCloud the day after Election Day. I feel like I said everything I want to say in the song. I react and process my feelings through song. I thought it was really important to share my feelings. It's a song I wrote in my hotel room. It's my feelings about everything. I just feel like everything I said is in the song. 
What do you think you can teach other young girls that want to be musicians?
I think it's important to keep making as much music as possible and just trusting that practice of writing and being yourself.
Is there anything you want to see change about the music industry?
I actually think what's really cool about the music industry is the way that it's always evolving. It's definitely a boys' club in a lot of senses, but also it's kind of the only place where a 22-year-old female can walk into a boardroom with a bunch of 40-year-old men and be in charge. It's important to stick to your principles. I have an education, and I have a vision. I've been able to navigate it and make sure that my voice will be heard.