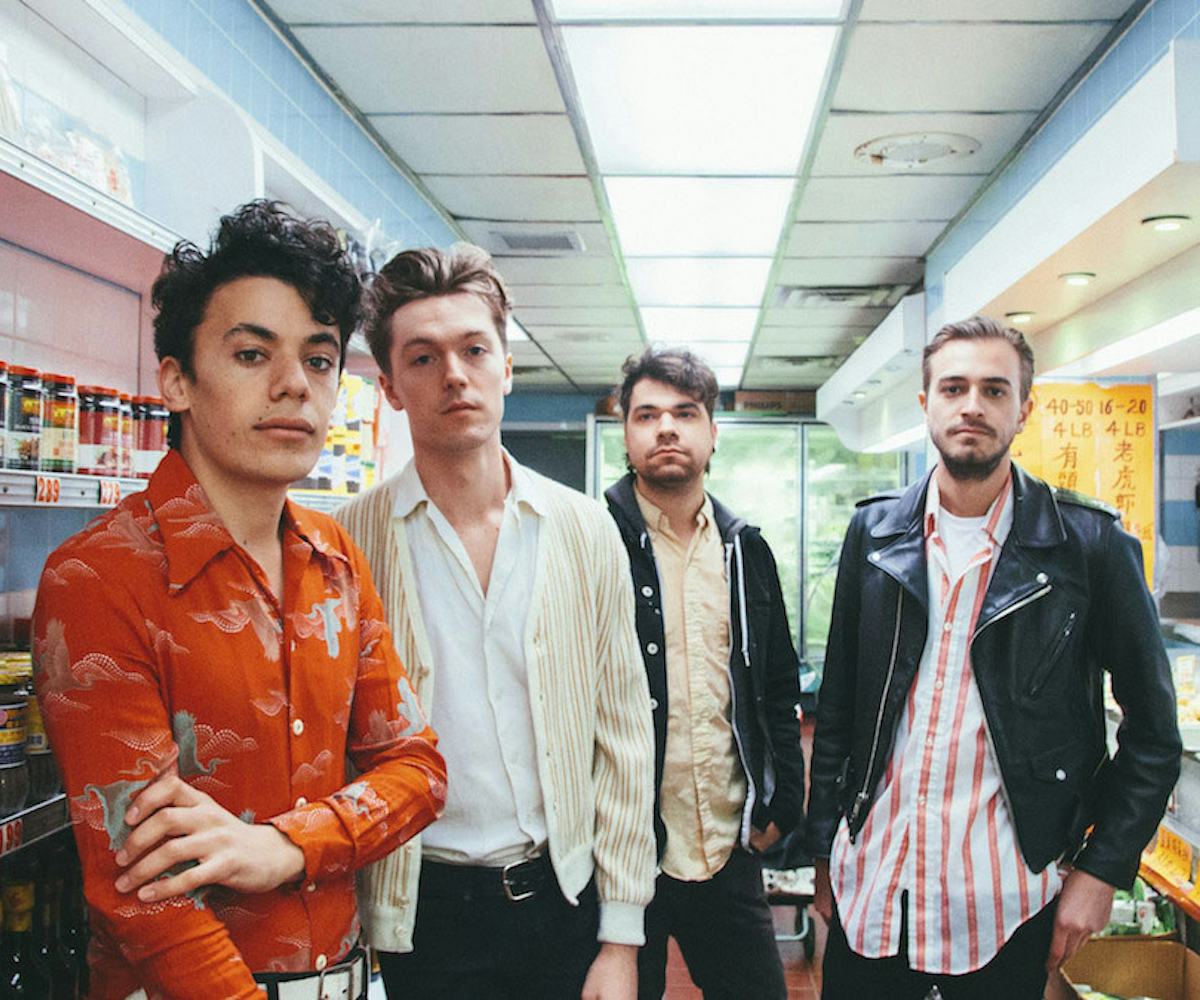 Photographed by CJ Moy
The Boys Of Mainland Are Cooler Than You Are
meet your new breakup anthem
New York-based garage-pop act Mainland blend post punk influences with their California roots to bring us pop songs that embody the light and the dark—the fun and the glum—aspects of life with melancholy lyrics belted over feel-good melodies. Comprised of Jordan Topf (vocals, guitar), Corey Mullee (guitar, synth), Alex Pitta (bass), and Joey Sulkowski (drums), the band packed their bags and traveled back to the west coast to record Outcast, a four-song EP released December 4 via 300 Entertainment. Today, we're excited to premiere the music video for "Not As Cool As Me."
While the upbeat guitar riffs urge you to dance, lyrics such as, "girl, you suck, girl, you make me spit up," have you feeling all the feels of heartbreak and frustration over a past love gone sour. The visual-heavy video is full of impeccably color-coordinated everything, wax-lip makeout sessions, and pigeon painting(?!)—something you'll have to see to believe.
"For this video, we strayed away from a narrative and focused on something visually liberating that would burn into your retinas like a Wes Anderson film," Topf told us in an email. "We had a strong vision and teamed up with our friend and talented director Pete Volker who took our concept and ran with it. Instead of hired actors, we gathered all our friends to act in the provocative pop art-influenced video. The song is about frustration, disgust, and realizing your own worth. It has a lot of pissed-off energy and a little cheekiness, so we wanted a color pallet that would embody that. The video was shot in Pete's Brooklyn studio over a hurried two days. We like doing things our way, with no creative limitations. This video shows the band as a larger-than-life project."
Check out the video, below.
Don't forget to catch the band on tour with Marianas Trench!
January 13 – Ace of Spades – Sacramento, CA
January 15 – Troubador – Los Angeles, CA
January 16 – HOB Las Vegas – Las Vegas, NV
January 17 – Marquee Theater – Tempe, AZ
January 19 – HOB Dallas – Dallas, TX
January 20 – HOB Houston – Houston, TX
January 22 – The Masquerade – Atlanta, GA
January 24 – Revolution Live – Ft. Lauderdale, FL
January 26 – Music Farm – Charleston, SC
January 27 – The Fillmore Charlotte – Charlotte, NC
January 29 – The Paramount – Huntington, NY
January 30 – Asylum – Portland, ME
January 31 – Higher Ground – Burlington, VT
February 2 – HOB Boston – Boston, MA
February 4 – The Fillmore Silver Spring – Silverspring, MD
February 5 – The TLA – Philadelphia, PA
February 6 – Mr. Smalls – Pittsburgh, PA
February 8 – Newport Music Hall – Columbus, OH
February 9 – Bogart's – Cincinnati, OH
February 10 – HOB Chicago – Chicago, IL
February 12 – The Fillmore Detroit – Detroit, MI
February 13 – Old National Centre (Deluxe) – Indianapolis, IN
February 14 – The Orbit Room – Grand Rapids, MI