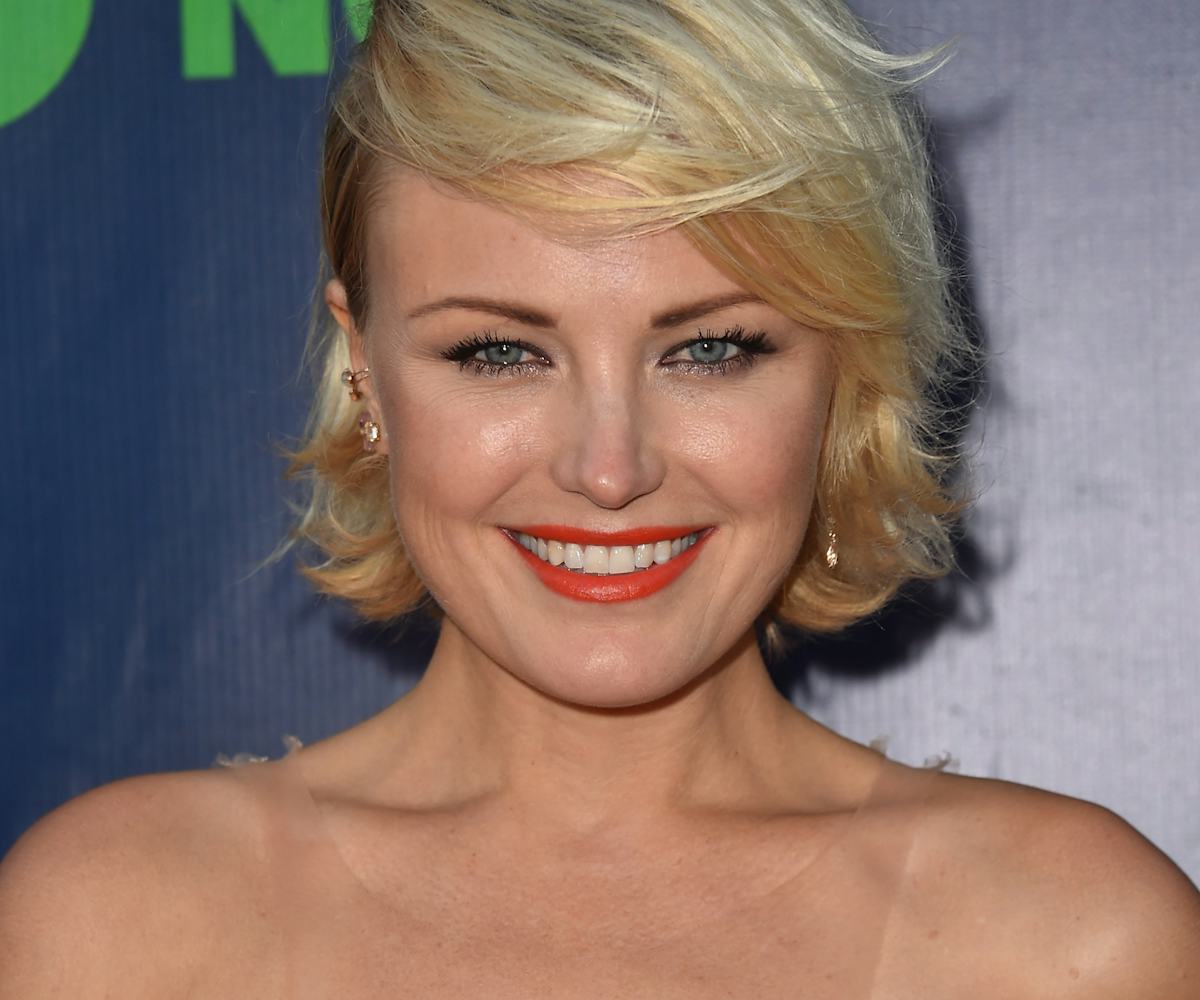 Malin Akerman On 'The Final Girls' And Sexism In Hollywood
Whether she's making us laugh or breaking our hearts, Malin Akerman has become one of our favorite actors to watch. This year, we've seen the Swedish-born, Canadian-raised actress in big-screen dramas like I'll See You in My Dreams and TV shows like Children's Hospital, as well as reprising her role on the HBO comedy favorite, The Comeback. But it's her latest work in Todd Strauss-Schulson's The Final Girls that might just be our favorite Akerman performance yet, as she gets to take on two vastly different roles, playing both a struggling actress single mother and frothy summer camp counselor.
Taking a cue from the schlockly B-movie horror films of the 1980s, The Final Girls is both a moving mother-daughter story and a laugh-out-loud meta comedy. Featuring Akerman alongside the talented Taissa Farmiga, Alia Shawkat, Adam Devine, and Nina Dobrev, the movie follows Max (Farmiga), a young woman dealing with the death of her mother Amanda (Akerman), a former scream queen who dies suddenly in a car accident. But when Max and her friends attend a screening in her mother's honor of the movie that brought her cult stardom 20 years prior, the group gets sucked into the world of the film—a trashy summer camp blood bath where they must fight to stay alive. There, Max is reunited with her mother through the character of Nancy, a sweet and innocent girl who Max tries to protect from both her sleezy co-counselors and the psycho killer murdering anyone who tries to have sex. 
We caught up with Akerman to chat more about the dual role, her inability to watch scary movies, and Hollywood's shift in strong roles for women.
What's surprising about the movie is that although it's a lot of fun, it also has so much heart. It flunctuates between being a comedy, a horror movie, and a drama. Was that something that attracted you to it?
Yeah, definitely. It wasn't just some silly, little comedy—there was some real subject matter in it. There was a beautiful mother-daughter relationship that was, as an actor, exciting to play and build that relationship in such an unusual situation. I loved the script, but I was definitely concerned with how it was going to be filmed and the tone. But after speaking with Todd, I could see exactly what he was talking about and I it was the mother-daughter relationship that interested me the most. 
Did you watch any schlocky B horror movies to prepare?
No, not really. I don't have the stomach for horror movies. I've watched a few classics in my time, like The Shining, Carrie, and Nightmare on Elm Street, but I have too weak a stomach for that. I understand the allure of it and listen to all these horror fans, but I know I just can't. We definitely disucssed a few things, but ultimately, for me it wasn't really about that. For me, it was more about portraying a real mother-daughter duo and just playing it real in each moment—even as Nancy, this one-dimensional character. It was just about believing what she's saying, and that's all you can really focus on, because if you start looking at other references while you're shooting, you screw yourself over because you get it in your head. 
As a mother yourself, did you have more insight into your character than you would have otherwise? Were you intrugied by getting to explore a mother-daughter relationship in this unqiue way?
Yeah, absolutely. It was very early on in my motherhood, so I could definitely draw from my life and get the feeling of what it's like to be a mother. There's a speach in the film where Nancy says, "Oh man, I wanted to be a mom and I would have been a great mom," and that made me cry, like just the thought of not having had my son. 
There's an interesting dichotomy in the movie between the one-dimensional female characters that populate these '80s B-movies and the complex and strong, modern women that end up in their world. Were you drawn to exploring both of those aspects?
Absolutely, always. Usually as an actor, that's what you want—to have somewhere to go and to have those depths. But it was fun to have all those elements, and to also have the opportnity to play a one-dimensional character, and then have her grow from there and come into consciousness and realize her mortality. I loved that it was commenting on the really bad '80s horror films, with the really bad lines and women being sex symbols with no brains. But then it shifts to this day and age, where women are strong and powerful and beautiful and are working at it. So I love that that was part of the film, and that the final girl is a smart, savvy young woman.
Do you see elements of sexism or less opportunities for dynamic female roles when you're reading scripts and choosing projects?
Sure, it's still very male-driven and male-heavy when you read scripts, but I do think there is a topical shift in Hollywood and in screenwriting. You're seeing more and more of a change in film and television, and it's a slow movement but it's definitely forward. It's exciting, but of course it can still be male-centric, male-heavy, and macho. You still feel that, but there is a bigger respect for women. I mean, look at all the female comedians over the past few years—Tina Fey, Amy Poheler, etc.—there's so many well-respected women. There's definitely been a shift and it still has a ways to go, but as long as it's moving forward and taking steps, I'm happy. 
Whether it's Hollywood films, independent features, or TV shows, you go back and forth between drama and comedy with ease, but is there a genre you prefer?
I definitly feel more comfortable in comedy. I guess maybe that feels the most natural, but I'm really enjoying all these other mediums. I'm filming a TV show now for Showtime, which is a financial thriller and it's not all comedy. It's just all real characters and I'm loving it. Don't get me wrong, I think that comedy is one of the most difficult things to do because to make people laugh, you've got to be clever and you have to have the right timing. 
I was so happy when The Comeback came back this year, but for you, how was the experience of revisiting the show after so long?
It was bittersweet—I wish it could have gone on for 10 years. I just love everyone that was involved. I love Lisa Kudrow and Michael Patrick King, and all the writers were phenomenal. I got so spoiled with that show, it was such great writing. It was before its time, but it was great to have that reunion. 
Is there a movie that you love and wish you could transport yourself into?
Dirty Dancing—"Don't put baby in a corner." That's one of my all-time favorites. It's just one of those great, cheesy, awesome films. You'd get to dance, you'd get to make out with Patrick Swayze. He's a hunk, man.