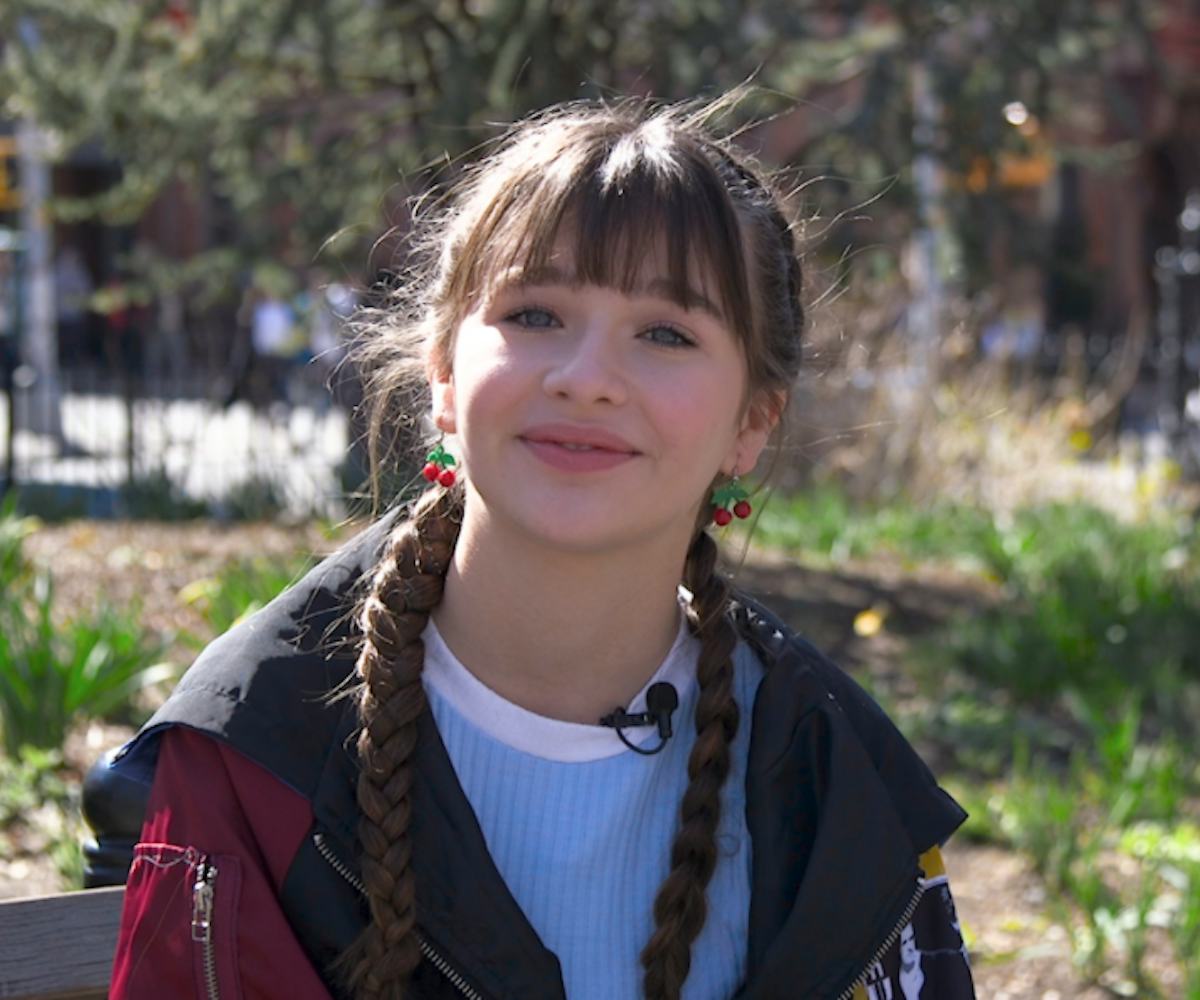 Malina Weissman Takes Us To The Best Pizza And Antique Toy Spots In NYC
Get to know the young star of Netflix's 'A Series of Unfortunate Events'
"Who doesn't like some pizza?"
It's a rhetorical question, of course. Malina Weissman asks it as we stand outside iconic New York City slice joint Joe's Pizza on a beautiful spring day in New York. It's actually the first beautiful spring day in New York, which means that the sidewalks are jammed with people—which means that it doesn't take long for the 15-year-old Weissman to be approached by fan after fan, all asking the young actress the same question: "Are you... You're Violet, aren't you?"
And, indeed, Weissman is "Violet," one of the trio of Baudelaire orphans in the wildly popular children's series Lemony Snicket's A Series of Unfortunate Events, which was turned into a wildly popular television series of the same name on Netflix. For those unfamiliar with the series: Look away. Oh, not because I'm going to offer any spoilers, but rather because that is what any happy ending-loving person is warned to do whenever they start up a new episode. That's because A Series of Unfortunate Events is not your typical children's fare; it's dark and twisted, full of intrigue and murder, arson and kidnapping, deception and cruelty—what's not to love?
The narrative centers around the recently orphaned Baudelaire siblings—Violet, Klaus, and baby Sunny—as they try to evade Count Olaf, whose relentless quest for the Baudelaire family fortune takes him—and his motley crew of henchmen—on a wild chase through a world filled with secret societies and clandestine organizations. Through it all, the Baudelaires are pretty much the only rational actors—even the adults who are supposed to be looking after their best interests are blind to the machinations of Olaf and company. Violet and Klaus must use their brains and ingenuity to survive in a world in which adults are purely self-interested, and where it's therefore up to kids to act according to their own innate sense of morality.
It's a fascinating show for our times, when we see members of Generation Z standing up to the hypocrisy of adults, who claim to care about children's lives, and yet make no real efforts beyond "thoughts and prayers" to guarantee their safety from things like gun violence. And Weissman is magnetic as Violet, imbuing the character with a palpable intelligence and dry sense of humor, both necessary qualities in the dark, surreal setting of the show. She also has a clear take on why people her age shouldn't be afraid to speak out against unethical behavior, telling me that one thing she admires about people in her generation is their willingness to be vocal about their beliefs, since "nobody should tell you that what you believe in is wrong."
And while Weissman is just starting her career—when the show isn't filming in Vancouver, she attends a professional children's school in her hometown of New York City—the adult cast of A Series of Unfortunate Events is full of industry veterans, from guest stars like Nathan Fillion, Sarah Rue, and Tony Hale, to series regulars like Patrick Warburton, Allison Williams (who joined in season two and will play a pivotal role in the third and final season), and, of course, Neal Patrick Harris as Count Olaf. Weissman tells me she has absorbed a great deal from the experience, saying, "Our cast and crew are incredible. They're all so fun to be around. I get to learn from so many different people on set; to be able to ask them questions and have so many adult actors, it's nice to be able to ask their takes on scenes."
It's easy enough to imagine that one day Weissman herself will be the veteran on-set, helping other actors feel comfortable, teaching them her own tricks of the trade, or even just sharing her totally correct opinions on food, including the fact that, as she points out, "Pizza is, like, the best thing in the world."
For now, though, get to know Weissman better in our video with her, in which she talks about what it's like to film A Series of Unfortunate Events, talks about what it's like to grow up in New York, and takes us on an adventure to an antique toy shop.
The second season of A Series of Unfortunate Events is streaming now on Netflix.
Producer: Maura GaughanCamera: Danielle OkonEditor: Danielle Okon