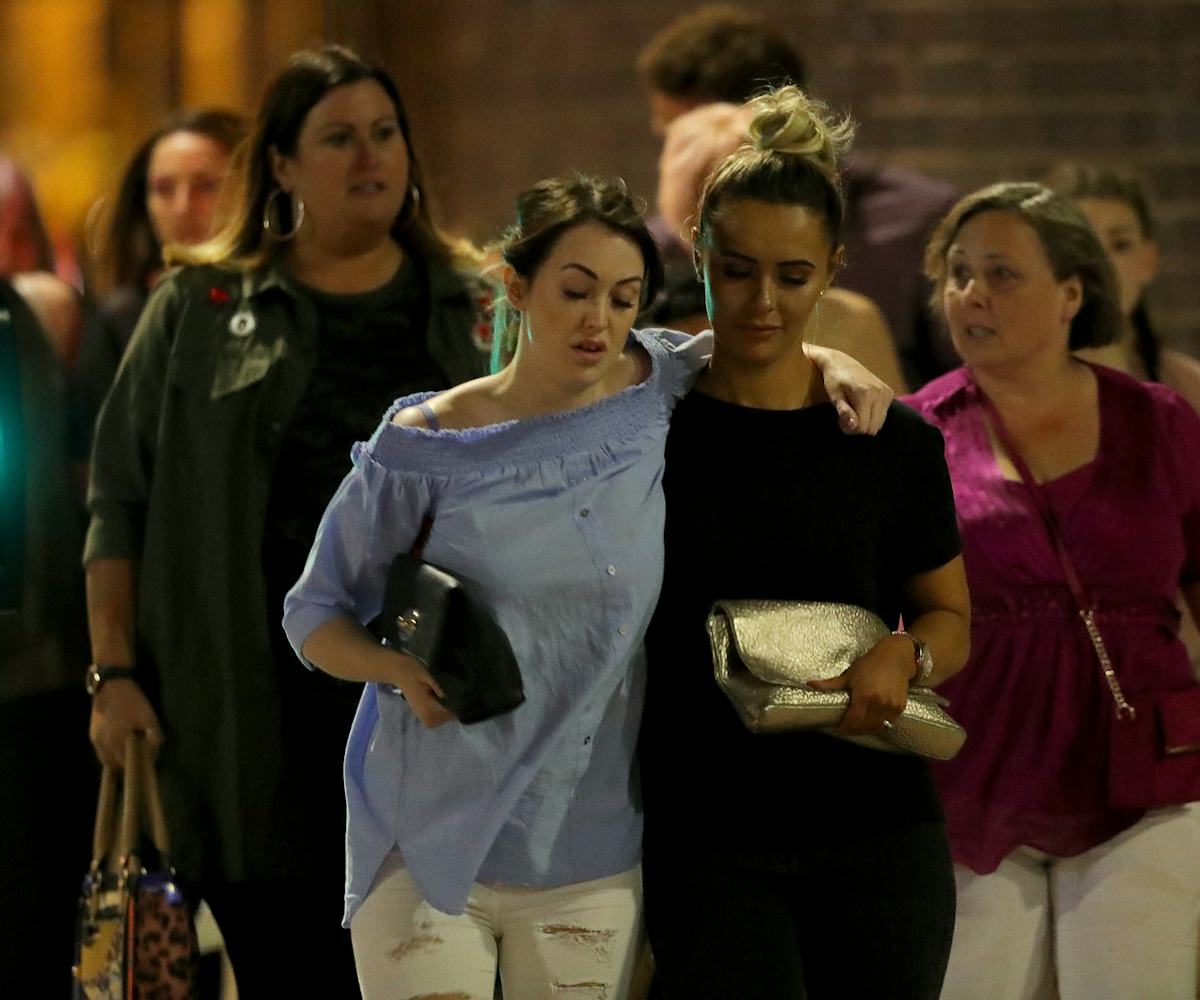 Photo by Christopher Furlong/Getty Images
At Least 22 People Killed And 59 Injured In Explosion At Ariana Grande Concert In Manchester
The police are treating it as a terrorist incident
UPDATE 05/23/17 8:00 AM EST: Death toll from attack rose to 22; police confirm that there are children among dead. According to CNN, it has been confirmed, by chief constable Ian Hopkins, that the attacker, who is believed to be a lone male, also died at the scene.
At least 19 people were killed and 50 injured in an explosion inside Manchester Arena in England during an Ariana Grande concert around 10:35pm Monday.
"This is currently being treated as a terrorist incident until police know otherwise," Manchester police said on Twitter. "We can confirm there was an incident as people were leaving the Ariana Grande show last night. The incident took place outside the venue in a public space. Our thoughts and prayers go out to the victims."
British Transport Police have since confirmed the incident occurred inside the arena's foyer, near where the vendors were selling merchandise, according to the BBC. BBC's home affairs correspondent Daniel Sandford said that senior counter terrorism officers were assembling in London. Investigators are looking into it as a possible suicide bombing, according to CNN.
The BBC's Tim Ashburner, who was at the scene of the explosion, spoke to volunteer paramedics who treated injured concert-goers for "shrapnel-like injuries."
In the early hours of Tuesday morning, Manchester police were notified of a suspicious item in Cathedral Gardens, a three-minute walk from the arena, and executed a
"precautionary controlled explosion," police tweeted. It ended up being a piece of clothing, but police are still patrolling the area. 
"Emergency services still working at the scene of last nights incident at Manchester Arena," police tweeted, "and continue to ask public to avoid the area." 
Earlier in the evening, police received reports of two loud explosions and warned people to avoid the arena. Most of the crowd affected by the explosion were young Grande fans, who'd showed up for her first of three shows in the U.K. 
Witness Ivo Delgado told CNN he heard an explosion after the concert ended and saw smoke outside the seating and stage area as he was exiting the building. "It was a really big explosion. Everybody started screaming and running," Delgado said. "There were people on the floor. There was a lot of confusion."
Videos posted to social media from people at the concert show panicked crowds running for the exits. A caravan of ambulances is seen heading toward the arena shortly after the explosion. 
Hours after the incident, Grande tweeted, "broken. from the bottom of my heart, I am so so sorry. I don't have words."  
Universal Music Group, the parent company for Grande's record label Republic Records, posted a statement on Facebook: "We are deeply saddened to learn of tonight's devastating event in Manchester. Our thoughts and prayers are with all those affected by this tragedy." 
British Prime Minister Theresa May said in a statement, "We are working to establish the full details of what is being treated by the police as an appalling terrorist attack." 
Within an hour of the news breaking, people began offering spare rooms and beds, free taxi rides, and phone chargers to people stranded in the city using the hashtag #RoomForManchester. Parents separated from their children in the aftermath of the explosion were told to go to nearby hotels, while some children were held at the arena, according to the New York Times. 
If this is a terrorist attack, it would be the worst act of terror in Britain since 2005, when terrorists bombed London's buses and subway, killing 52 people.