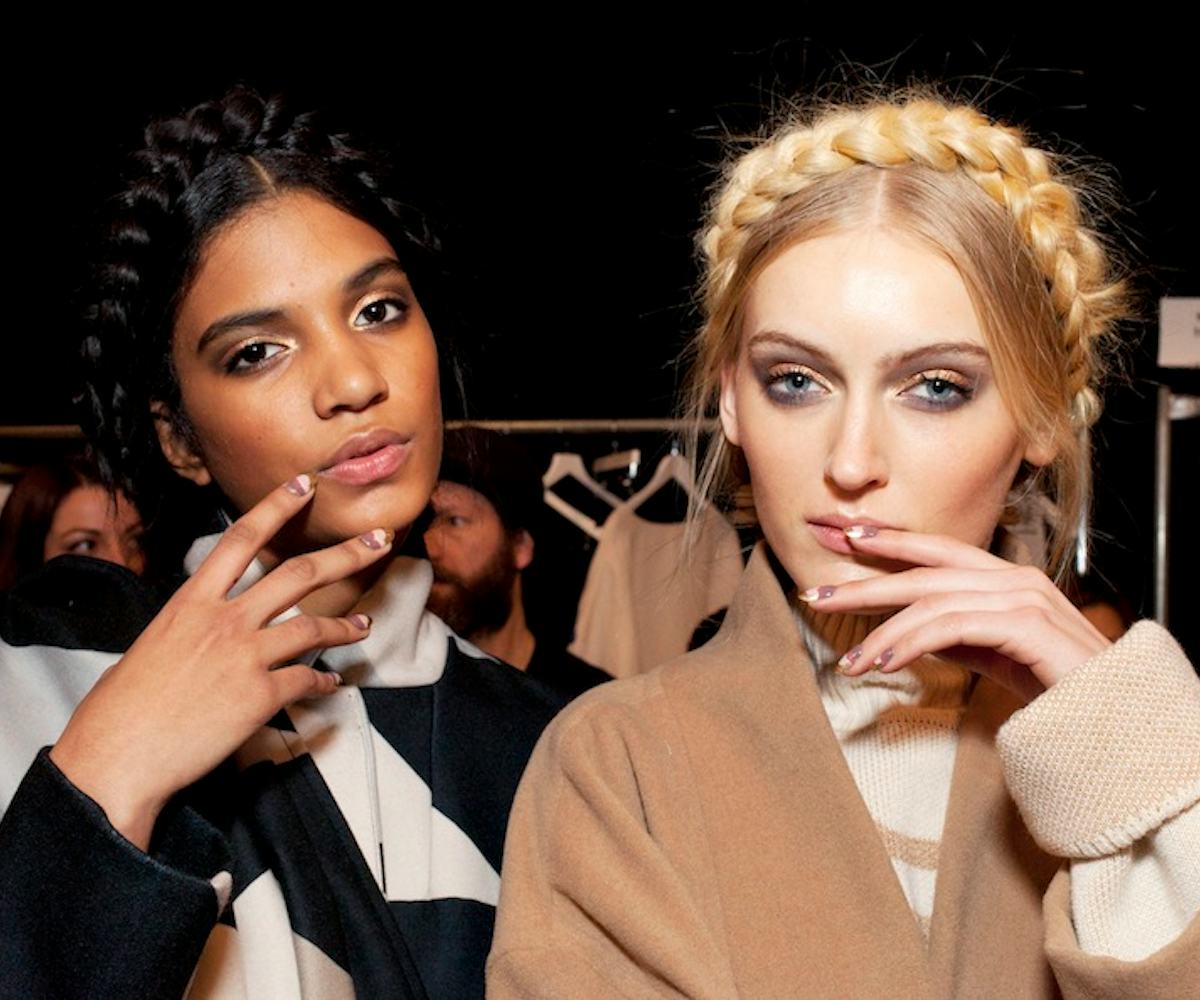 photos by erin yamagata
a nyfw beauty look we want to copy asap
As a general rule, runway beauty looks aren't meant to be replicated literally: A little inspiration here, a hot tip there, sure—but rarely do we see a full hair/makeup/nail situation that we want to copy in its entirety. That is, with the exception of shows like Mara Hoffman, where every element of the beauty look was so on-point, we'll probably be wearing it like, tomorrow.
The inspiration was a sci-fi desert with some early '70s influence—like 
Star Wars
set at Burning Man—making it appealing to nerds and boho chicks alike. Hairstylist Thomas Osborn for Catwalk by Tigi used hair extensions to create braided headbands like whimsical wreaths around the models' heads. He then wove two messy braids that fell like "elevated rat tails" down their backs. The overall effect was like your hair on the last day of Bonaroo—if you did a braid crown on day one and then didn't shower after that (in a good way). 
As for the makeup? Makeup artist Lottie for Maybelline created just about the coolest smoky eye we've ever seen. She filled in the entire eyelid, the lower lid, and the waterlines with a
, and then applied
in the center of the top eyelid. That same cream eyeshadow was used as a highlighter on the high points of the models' faces, and the whole look was finished with a ton of bronzer for a sun-kissed, desert-babe vibe. 
Finally, the nails, created using Zoya, represented a desert sunset, with freely drawn layers of wavy bronze hues. Click through to see more pictures from backstage, and weigh in if you're as inspired as we are. 
The metallic cream eyeshadow really pops against the gray liner.
Lips were kept simple, with just a bit of Baby Lips, so as not to distract from the rest of the look.  
A middle part underneath the braided headband keeps it modern.
What, your morning beauty routine doesn't look like this?
To get this messy braid look, massage your strands between your fingers after it's braided.
Complexions were kept glowy and bronzed.
This nail look is easy to recreate since you don't have to be precise with the shapes of the colors.
Hi, friends!
If this show is any indication, geometric nail art is on its way out, and flowy layers of hazy nudes are in.
Double braids are better than one.
Why yes, I will have more mascara, thank you.
Totally wearable.
It's like the edgier version of milkmaid braids. 
No one has to know that's not real hair in the front.
See how that color on the lid pops? We're obsessed.
This is a great style for girls with super-long or super-thick hair, too.
Eyebrows were brushed up.
This is a fall/winter look, but we think it has a summery vibe.
Werk.
The glowier, the better.
The hues in the nail art and the makeup complement each other perfectly.
Getting prepped.
If your hair is fine, use some salt spray for texture.
Braid crown in the front, party in the back.
What's not to love?