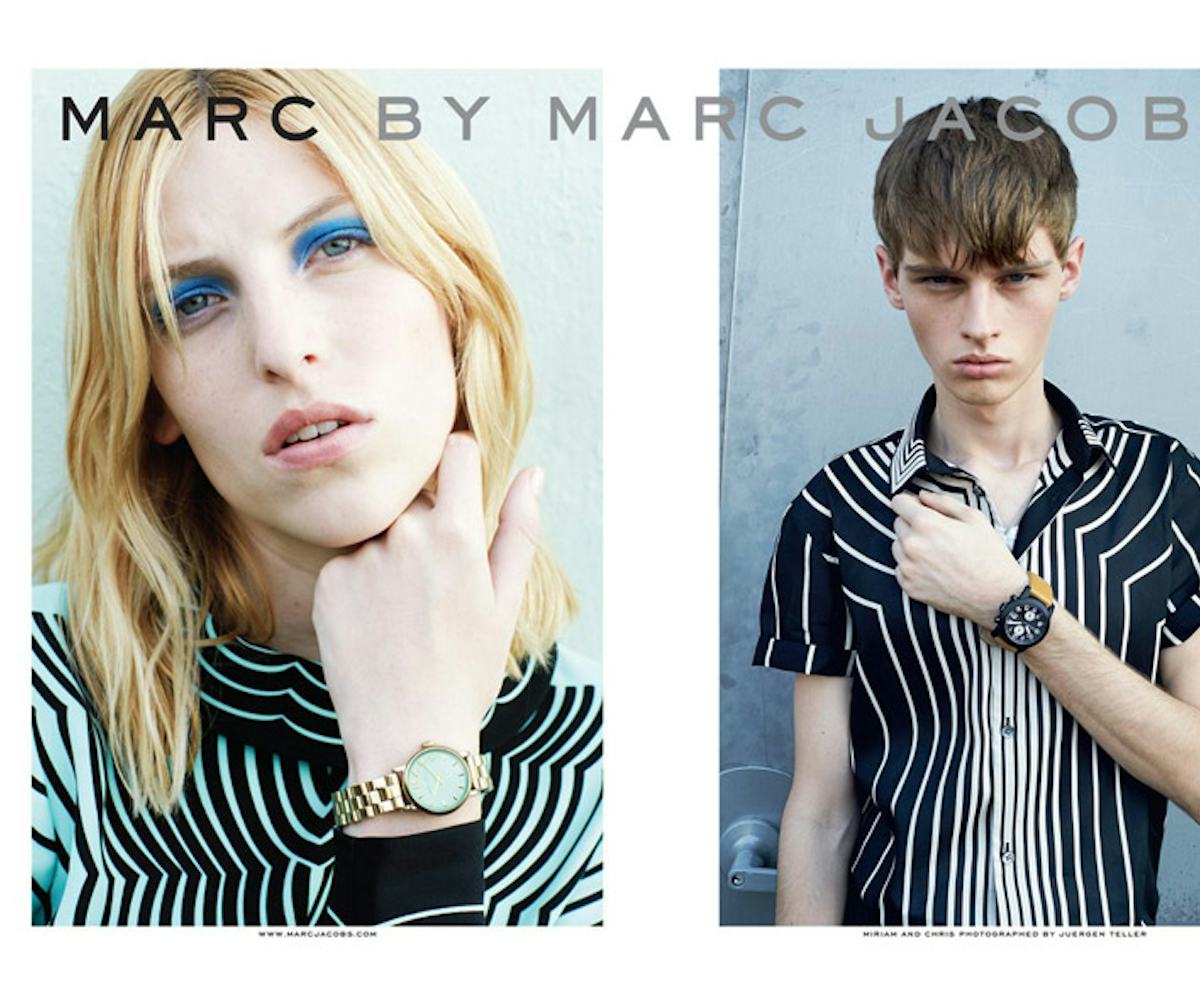 photo by juergen teller
blue velvet
learn how to get the marc by marc jacobs' blue eyeshadow from the makeup artist himself!
Boom! That's the feeling you probably get when you see Marc by Marc Jacobs' brand new, spring '14 ads. Lensed by Juergen Teller, the washed out images of models Maria Palm,  Miriam Haney, and Nicole Pollard in the line's '70s-inspired duds are 100-percent worthy of being ripped out of a magazine (like, ahem, NYLON), and taped up above your desk, bed, or beauty shelf. I like that last option a lot because it's the models' stripe of blue eyeshadow that really makes the ads otherworldly. 
Coincidentally, it's the same makeup as the Marc by Marc Jacobs' spring '14 show, leading this editor (who just happened to be backstage), think that the campaign was shot during, before, and after the show at Pier 57 in New York City.. Here's my rational: Nicole Pollard and Miriam Haney are both wearing the outfits they wore in the show, and Maria Palm seems to be shot against the white plastic tent that was propped up inside. Oh, and I saw Juergen Teller walk by me, camera in hand... Just sayin'.
But back to the makeup. Backstage makeup artist Dick Page explained how he created an un-scary blue eyeshadow look--which is really a feat in itself--and gave some tips for doing it at home. "It's two lines. It's a cream shadow followed by a powder. For most of the girls it's the Shiseido Shimmering Cream Eye Color in ice, on the darker girls it's nightfall, which is a much darker blue, followed by the curacao blue from the Shiseido Limited Edition Eye Color Bar. Following the shape of the eye, it's just a block of blue. Do that first, clean the skin up afterwards. No brow. No lip. No cheek. No mascara. No liner. What are we doing here? Super simple. It's a little pop on the face. It should feel kind of loose and easy. this is a kind of sort of lazy girl gesture. it's just one element. it is not labor. the whole idea should be, 'Boom.'" 
Check out all the campaign images in the gallery, and our behind the scenes photos from the Marc by Marc Jacobs' spring '14 show, and I bet you'll be jonesing for a bold blue eye. And a sequin dress. And one of the men's Hawaiian print shirts.