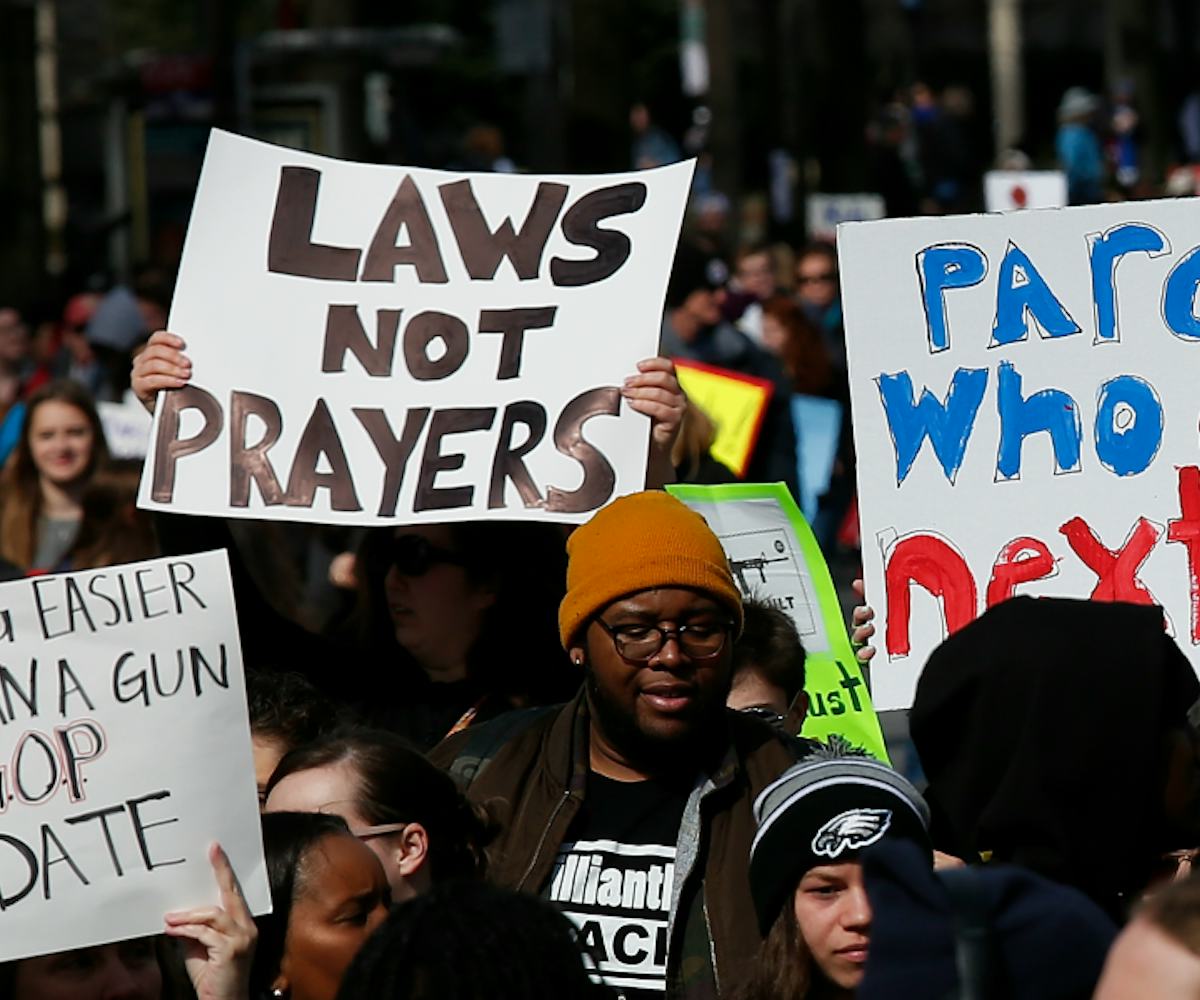 Photo by Win McNamee/Getty Images
Here's What You Need To Know About The March For Our Lives
And how you can participate
Just over a month after the shooting at Marjory Stoneman Douglas High School in Parkland, Florida, the March for Our Lives—a protest organized by teen survivors of the shooting and led by teens across the country—is taking place. Earlier this month, organizers issued their mission statement, in which they demand legislative changes to protect the lives of students:
Not one more. We cannot allow one more child to be shot at school. We cannot allow one more teacher to make a choice to jump in front of a firing assault rifle to save the lives of students. We cannot allow one more family to wait for a call or text that never comes. Our schools are unsafe. Our children and teachers are dying. We must make it our top priority to save these lives.
The march—which begins today (March 24, 2018) at noon EST—will take place in Washington, D.C. near the Capitol building. There are also over 800 other March for Our Lives events scheduled across the globe in places like New York, Los Angeles, Dallas, Liverpool, and more.
Upon their arrival at the D.C. starting point earlier this morning, Parkland students were greeted with a chant of "thank you."
Less than a week after the shooting at Marjory Stoneman Douglas, survivors began fighting their own battle for gun control under the hashtag #NeverAgain. Celebrities such as George and Amal Clooney, Justin Bieber, Oprah Winfrey, Kim Kardashian West, and even the notoriously politically-silent Taylor Swift have voiced their support for the cause:
The New York branch of March for Their Lives also outlined specific legislative goals they have for the protest:
1. To ban the sale of assault weapons.
2. To prohibit the sale of high-capacity magazines.
3. To close the loophole in our background check law that allows dangerous people who shouldn't be allowed to purchase firearms to slip through the cracks and buy guns online or at gun shows.
If you're interested in supporting the #NeverAgain movement, you can sign the petition, in which organizers "call on all the adults in Congress elected to represent us, to pass legislation that will protect and save children from gun violence." You can also donate to their GoFundMe page, which supports both the march and victims' funds.