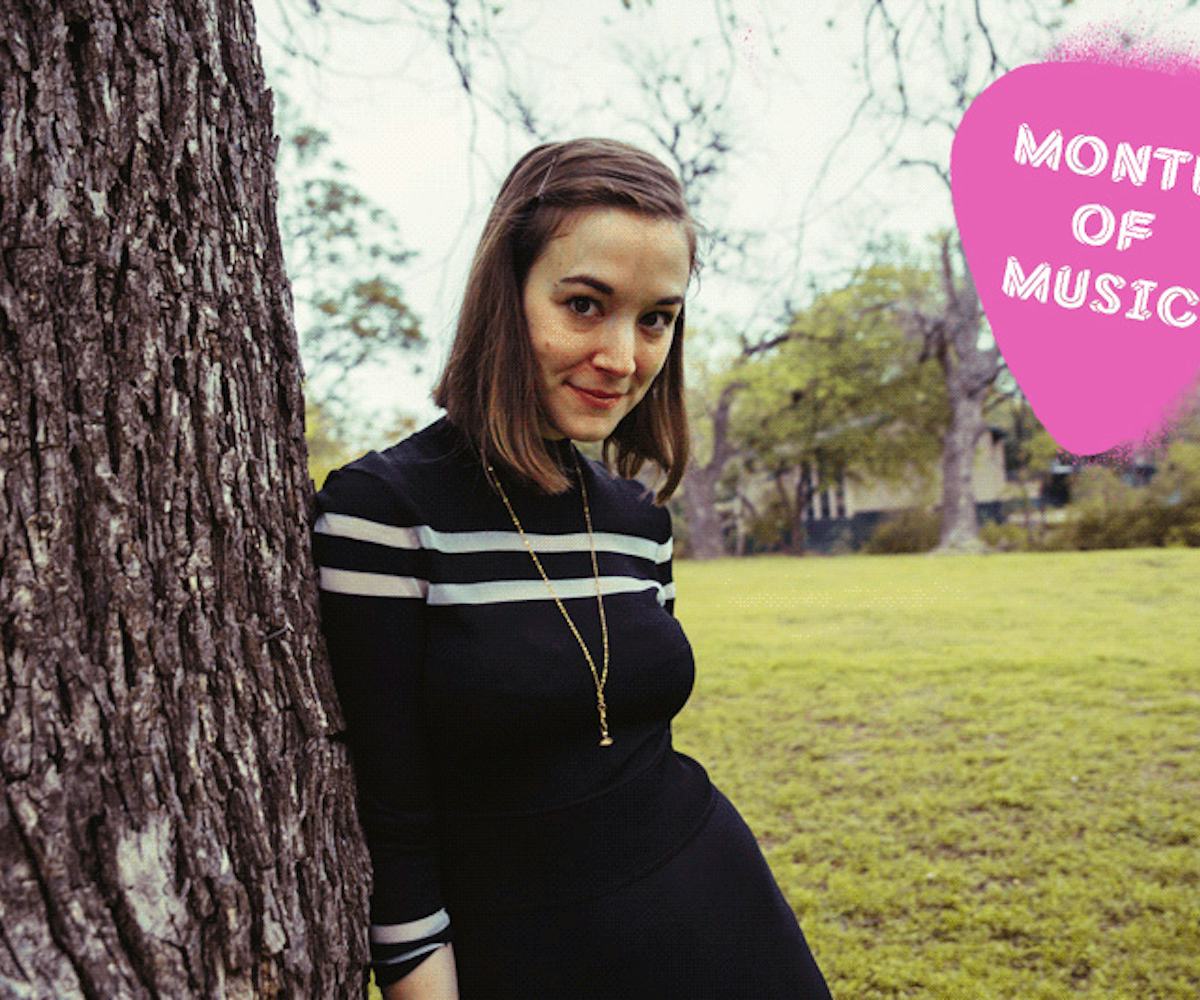 Photographed by Kara Smarsh
Margaret Glaspy Is A New Breed Of Rock Star
Brittany Howard + Joni Mitchell, with a dash of Feist
We share music because we want to connect with others on a deeper level. We want to relay and relate to a message that can't be said with just words. This April, NYLON is dedicating six days a week to introducing you to new artists and budding favorites. With interviews and GIF portraits done down at SXSW, NYLON's Month of Music is an exercise in finding aural pleasures outside of the Top 40. It's an exercise in challenging you and ourselves to not stick to one genre. But above all, it's a celebration of bold voices and sheer talent. Enjoy.
Guitar gods are few and far between. Some don't get crowned until well after their prime; however, in the case of Margaret Glaspy, we're witnessing the birth of one in real time. Glaspy, a multi-instrumentalist with a knack for brutally honest songwriting, is set to release her debut album on June 17. It's called Emotions and Math, two things that contradict one another but exist together just the same. It's a fitting title for Glaspy, considering her music oscillates between rocker romanticism and facing harsh realities. She's brimming with longing, but too aware to know better. It's a delicate balance, but she tears it apart with a sound reminiscent of college radio before its grand love affair with synths and riffs on the dazed R&B genre. Glaspy is carving out a special space for herself within the indie rock world—one that's as contemporary as it is nostalgic. 
What song of yours fits the following situations:
Getting Ready In the Morning?
"You And I."
Me Time?
"Somebody To Anybody."
Hooking up?
"You Don't Want Me."
Can you recall a moment in your life—whether it's a song, a show, a video—that convinced you that you wanted to be doing music?
Elliott Smith's "Somebody That I Use To Know." Just 'cause it's so striking and I feel like he achieved something lyrically that now I'm constantly striving to do.
If any artist, dead or alive, could cover your music, who would you want it to be?
Joni Mitchell, because she's a goddess.
Have you ever been starstruck?
Um, yeah. I had a chance to go see Neil Young backstage and I didn't do it because I was so nervous. I don't really get starstruck very easily, but he's somebody that felt untouchable, so I decided that I didn't need to go do it because he just…I hold him in such high regard, that it just wasn't necessary.
At the end of the day, how do you wind down and ground yourself?
Usually, I'll stretch, watch some TV with my boyfriend, and maybe read a little.
What book are you reading right now?
From Eve to Dawn by Marilyn French.
Photographed by Kara Smarsh