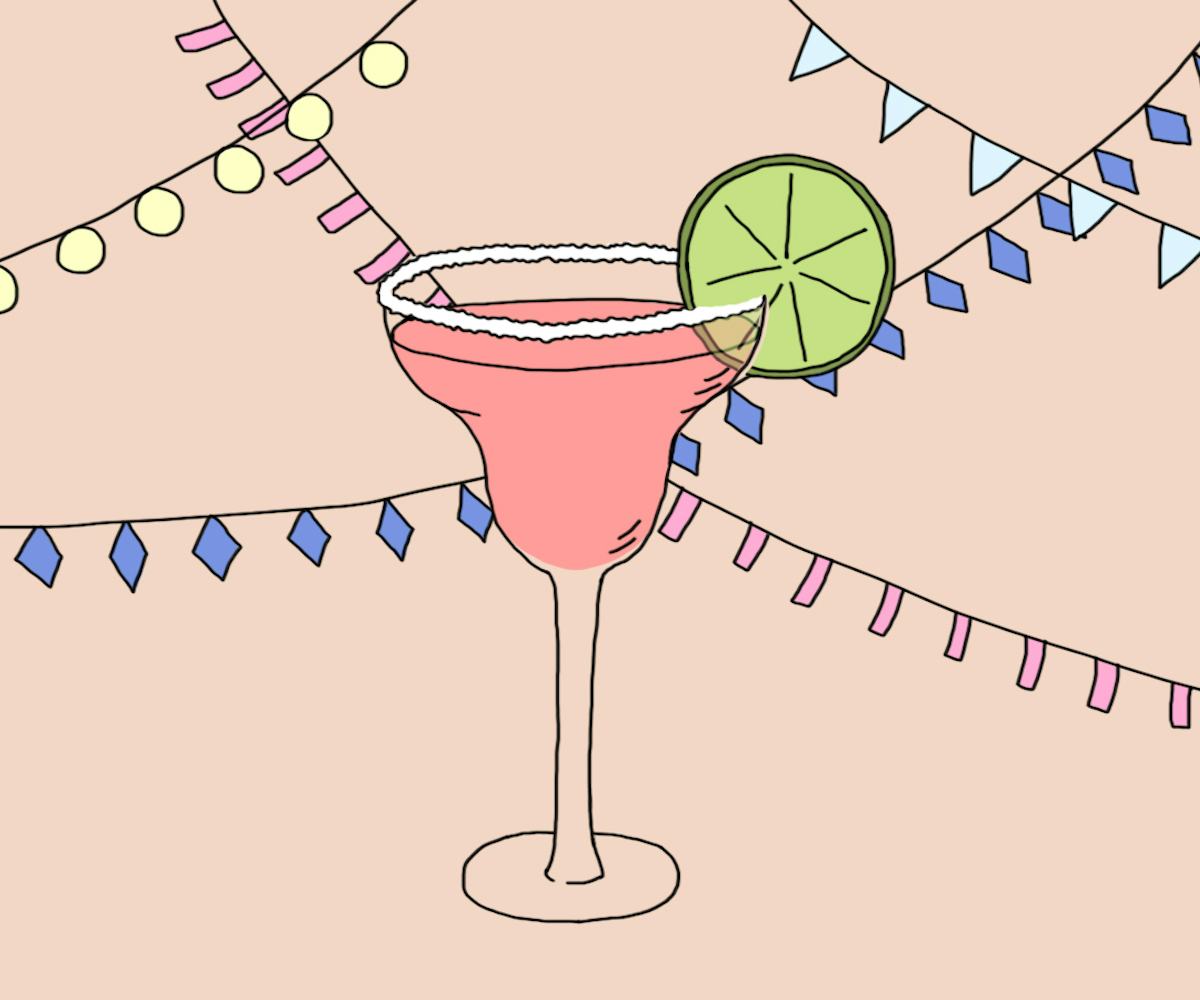 Illustrated by Jihyang Lim.
7 Margarita-Inspired Cocktails To Shake Up This Cinco De Mayo
Turmeric, avocado, Earl Grey tea, oh my!
Cinco de Mayo falls on a Friday this year, so you know what that means: You can drink recklessly without the consequence of a weekday hangover. Also, you can take the time to responsibly invite a couple of friends over for drinks or even throw a genuine Cinco de Drinko bash. (Just not a Mexican-themed one where guests are encouraged to show up as maids and construction workers. Please. You're better than that.) Either way, tequila will and should be involved.
The go-to drink of choice for the holiday is usually, naturally, the classic margarita. And we're not here to shit on them. Heck, we're not here to shit on cocktails of any kind. Alcohol in any capacity is a narrative of which we would like to always be a part. We're just saying, it doesn't hurt, sometimes, to venture outside of the typical tequila, triple sec, and lime juice trifecta.
Like, have you ever thought about incorporating an avocado in your cocktail? Some Earl Grey tea? Some turmeric? Yeah, we hadn't either until we polled some bartenders for some margarita-inspired recipes. You can have your classic, but consider shaking these up, also. 
Sophie Bratt, OXO
"The deep, floral flavor of Earl Grey is the perfect accompaniment to the unique addition of green peas. Inspired by the loveliness of London, this classy and modern cocktail is anything but garden variety."
English Garden Margarita
Ingredients:
1 sugar snap pea
1 mint sprig
.5 oz. Earl Grey tea syrup
1.5 oz. Patrón Silver
.5 oz. Patrón Citrónge Orange
.75 oz. fresh lemon juice
.5 oz. apricot liqueur
3 drops orange flower water
Directions: 
In the bottom of a cocktail shaker, muddle the sugar snap pea and mint sprig with Earl Grey tea syrup, which you can create by combining simple syrup with hot water and five tea bags. Add the remaining liquid ingredients to the cocktail shaker, fill with ice, and shake vigorously. Use a fine strainer to strain into a glass.
Jaime Salas, Milagro Tequila Ambassador
"We're kicking up the Paloma recipe with the spicy and savory notes of Ancho chiles along with Milagro Reposado's caramel and hints of pepper. The winning Mexican combination makes for a next level riff on an already amazing Mexican classic."
Spicy Paloma Negro
Ingredients:
1.5 oz. Milagro Reposado
.5 oz. Ancho Reyes
3 oz. grapefruit soda
.5 oz. fresh lime juice
Grapefruit wheel to garnish
Directions:
Add ice, Milagro Reposado, Ancho Reyes, and grapefruit soda. Squeeze a wedge of lime and discard. Garnish with a thin grapefruit wheel.
Alexander Kady of Star Bar
"Fresh avocado and mango are the perfect balance to the glorious bit of heat in this citrusy margarita inspired by the flavors of Mexico. A hint of lime gets in the mix alongside Patrón Reposado's fresh agave and oak, creating a beautiful wave of flavor you're going to want to ride out for another round."
Tropicante Margarita
Ingredients:
.25 medium avocado
1.75 oz. Patrón Reposado
.5 oz. Patrón Citrónge Mango
.5 oz. light agave syrup
1 oz. fresh lime juice
Directions: 
Cut the avocado in half and remove the pit. Scoop out half of one side and add to cocktail tin, mashing with a spoon until soft. Add liquid ingredients to the tin, use a spoon to release avocado from the side of the tin, and "dry shake" the contents (without ice) until the avocado is broken up and emulsified. Add ice to shaker tin and shake vigorously until well chilled. Use a mesh strainer to fine strain the cocktail into the iced glass.
Claire Clancy, Gem&Bolt mixologist. 
"I created this cocktail with the rising temperatures in mind. The antioxidant-rich properties of the fresh turmeric juice help reduce inflammation and contribute to the desired summer glow. The damiana distilled in the Gem&Bolt [mezcal] compliments the turmeric in both taste and benefit." 
Turmeric Margarita
Ingredients: 
2 oz. Gem&Bolt Mezcal
1 oz. lime juice
.5 oz. orange juice
.5 oz. turmeric root juice
.5 oz. raw agave
Directions: 
Mix ingredients in a shaker and serve with a large ice cube in a rocks glass, ideally.
Derrick Turner of Harding's
Sometimes all you need is some tequila, grapefruit juice, and a hit of sweetness to balance out the sour for a successful cocktail. 
The Marguerite
Ingredients: 
1.5 oz.1800 Reposado
1 oz. freshly squeezed grapefruit juice
.5 oz. Fino sherry
.5 oz. Maraschino liqueur
Soda water, to taste
Grapefruit (optional)
Directions: 
Add the ingredients to a shaker tin and shake vigorously. Top with soda water and garnish with a grapefruit twist (optional).
Riesler Morales of Hotel Matilda
"Inspired by an ocean sunset, the Coralina Margarita combines the oaky notes of Patrón Reposado, perfectly balanced with the citrusy flavors of Patrón Citrónge Orange, together with red wine and hibiscus. Finally, a sugar-salt rim rounds out a truly unique commingling of these unique flavors."
Coralina Margarita
Ingredients: 
1.75 oz. Patrón Reposado
.75 oz. Patrón Citrónge Orange
.75 oz. simple syrup
1 oz. fresh lime juice
.5 oz. red wine (Mexican, or other)
Directions: 
Combine Patrón Reposado, Patrón Citrónge Orange, simple syrup, and lime juice in a shaker tin. Add ice and shake vigorously. Strain into a chilled cocktail coupe, then carefully float red wine on the surface of the cocktail.
Jaime Salas, Milagro Tequila Ambassador
"Mexican Pink is a color used throughout Mexico and one that now represents Mexico City. It's also the inspiration for this cocktail. Its bright pink color isn't the only thing vibrant about this punch. Its tropical guava notes with hints of ginger spice make for a refreshing communal drink meant to be shared in celebration."
Celebracion Punch
Ingredients:
6 oz. Milagro Silver
12 oz. pink guava nectar
2 oz. ginger simple syrup
3 oz. lime Juice
Prosecco or club soda (optional)
Directions:
Combine all ingredients in a punch bowl and mix. Top with club soda or Prosecco (optional).