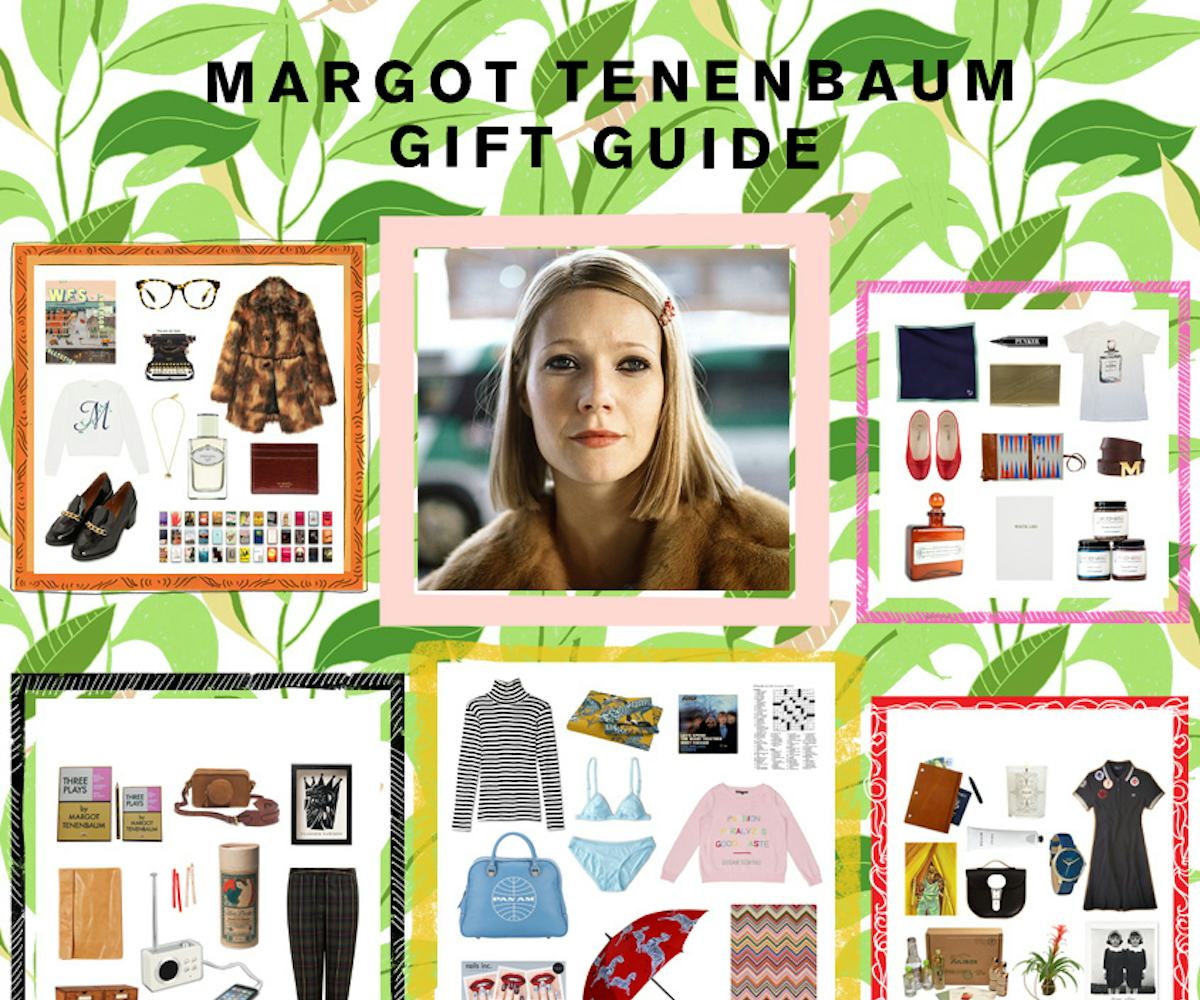 the margot tenenbaum gift guide
because you dont want to be secretly in love with these gifts
Ready or not, here it comes! Holiday season has arrived, and that means tons of shopping. But let's be real: your average gift guides are boring, so we're going to do things the NYLON way with lists inspired by our fictional dream BFFs. Every week we'll be picking the best gifts for our movie muses, so keep checking back to find that perfect item for your friend...or for yourself. 
There's a lot to love about the dysfunctional family living at 111 Archer Avenue, from Richie's earnestness to Etheline's pastel suits, but the most intriguing Tenenbam to us has always been Margot. Sure, she had the most perfect blonde bob and collection of polo dresses, loafers, and fur coats--not to mention a Birkin bag--but the thing about Margot we always liked was her free, outsider spirit. From her first marriage in Jamaica to her rive gauche period in Paris to making out with a punk on the Tan Line Bus, she's always lived by her own rules. And even if her backstory sounds like the opening of an E! True Hollywood Story, Margot's not just a party girl. She's also a bookish playwright with a very proper facade. 
So if you enjoy a good gin and tonic, have found your own Richie to be secretly in love with, and dream of writing a Levinsons in the Trees-style play--or you know someone who does--you don't want to miss our Margot Tenenbaum-inspired Gift Guide. Or maybe you really like monogrammed items and leather loafers, we've got that too. 
Need more gifts?
The Holly Golightly Gift Guide
The Wes Anderson Collection by Matt Zoller Seitz -- $24
Warby Parker Mallory Eyeglasses -- $95
L. A. Merler Typewriter Print -- $85
Pixie Market Faux Fur Coat -- $219
Opening Ceremony Monogram Sweater -- $160
Sophie Hulme Elephant Gold Necklace -- $270
Prada L'infusion d'Iris Perfume -- $82
Oyster Unlimited Books Subscription -- $120/year
Best Play Ever Set of Four Wes Anderson-inspired Note Books -- $29.38
Madewell Camera-shaped Bag -- $98
The Tragedy of Mister Morn by Vladimir Nabokov -- $12.19
Marie Turnor Leather Lunch Bag -- $220
Lulu Organics Hair Powder -- $30
Topshop Navy Plaid Trousers -- $80
Chronicle Books Library of Congress Notecards -- $19.95
Edith A Miller Striped Turtleneck -- $112.74
Dwell Studio Peacock Bedding -- $350
Original 1967 Pressing of The Rolling Stones' "Let's Spend the Night Together / Ruby Tuesday" LP -- $20
New York Times Crossword Subscription -- $39.95/year
TEN Undies Bra ($60) and Panties ($40)
Anzevino + Susan Sontag Sweater -- $300
Nails Inc. Monogram Manicure -- $25
Scalamandre Zebra Umbrella -- $95
Dash and Albert Hooked Rug -- $245
Le Kraft Made in Poissy, France Artisanal Notebook -- $75
Fresh Citron de Vigne Candle -- $50
Joe Mur "Baumer" Print -- $200
Rodin Luxury Hand and Body Cream -- $80
Brit Stitch Make Your Own Satchel -- Starting at $130
Nixon Kensington Leather Watch -- $125
Julibox Cocktail Service Subscription -- $40/month
Twig Bromeliad Kokedama Hanging Plant -- $290
Diane Arbus An Aperture Mongraph -- $28.81
In God We Trust Card Case -- $60
Reason Clothing No One Cares T-Shirt -- $28
APC x Porselli Ballet Flats -- $190
Clare Viver Backammon Set -- $249
Maison Scotch Leather Belt -- $74.66
Royal Botanicals Rose Geranium Bath Soak -- $45
Sloane Stationary White Lies Notebook -- $21.32