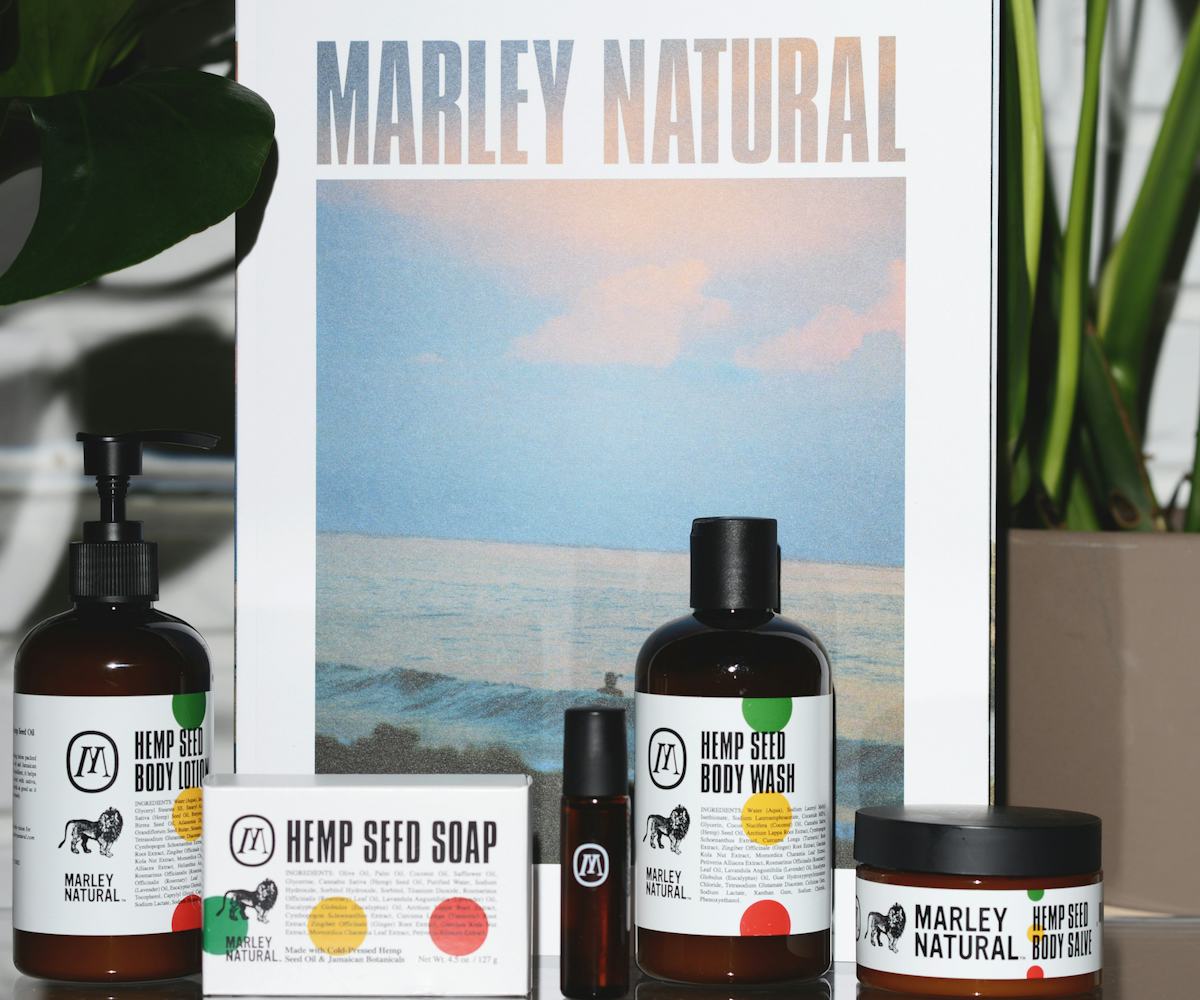 photographed by ricky michiels
From Reggae's Royal Family, Marley Natural Will Get You Back In Touch With Mother Earth
Bob Marley would approve of the cannabis oils in every product
Unarguably, the late Bob Marley was one of the most influential human beings on earth. He changed the landscape of Reggae by following his own individual path and created a legacy that his family continues to build upon. A few months ago, Marley's family honored the legend by launching a premium line of skincare products, simply named Marley Natural. The line features lotions, body wash, soap, salve and essential oils, with all of the formulas containing one main ingredient that the iconic musician would have without a doubt approved of—cold-pressed cannabis sativa oil, which is also known as hemp seed. There are also plenty of other botanicals, like lemongrass, turmeric, bergamot, geranium, chamomile, and coconut oil, blended in the mix and obtained directly from the island of Jamaica.
So while you may not be able to physically take yourself on a vacation to Ocho Rios or Montego Bay anytime soon, you can allow your mind to wander there as your body is soothed by this range of wonderful products. Oh, and because we know what you're probably thinking, we will answer your question now: No, these products will not get you high. (But if that is something you seek, you might want to consider visiting the brand's cannabis shop.) We did have high expectations for the brand, though, and, we are glad to report that the products didn't disappoint. Read our review in the gallery, below.
One whiff of this lotion will bring you back to a natural state of mind with its earthy scent. The rich lather is a mixture of shea butter, rosemary, and lavender with marula, baobab, and sesame oils. As for the texture, it absorbs into your pores without leaving a trace of oil.
Marley Natural, Hemp Seed Body Lotion, $25, available at Marley Natural.
This body wash smells fresh like a tropical island after a gentle rain shower has sprinkled. Feeling refreshed is an understatement.
Marley Natural, Hemp Seed Body Wash, $25, available at Marley Natural.
This botanical bar is packaged so that it remains as fresh as can be with its eucalyptus-based formula that combines oils from hemp seed, safflower, olive, and coconut. Your skin will feel healthy and hydrated in no time.
Marley Natural, Hemp Seed Soap, $15, available at Marley Natural.
Nurture your skin with a touch of this moisturizing salve. The ingredients include hemp seed oil, coconut oil, cerasee leaf extracts, ginger, rosemary, and peppermint. Needless to say that it will awaken your senses. 
Marley Natural, Hemp Seed Body Salve, $22, available at Marley Natural.
Is there anything more calming than chamomile, geranium, and bergamot? Okay, maybe we have another plant in mind... This oil blend is a small dose of instant aromatherapy. In addition to the hemp seed oil, it also contains rosemary, lemongrass, marula, baobab, and grape seed. We feel significantly less stressed just talking about it.
Marley Natural, Essential Oil Blend, $26, available at Marley Natural.