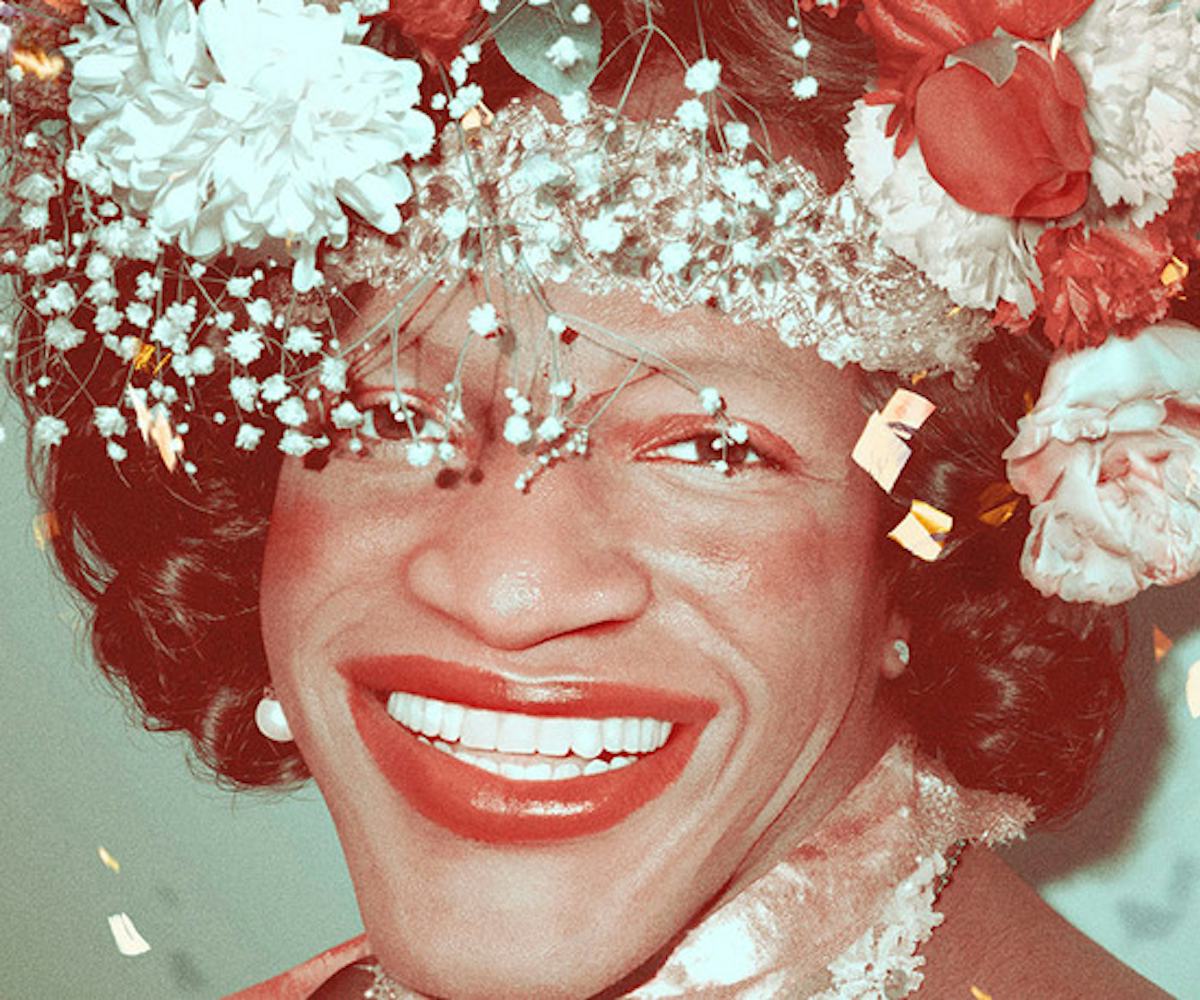 Image via Netflix
A New Doc Re-examines The Mysterious Death Of Marsha P. Johnson
"She was the Rosa Parks of the LGBT movement"
On July 6, 1992, shortly after the Pride March in New York City, the body of trans icon and LGBTQ activist Marsha P. Johnson was found floating in the Hudson River. At the time, police ruled her death a suicide, but her friends and members of the community had their doubts. Some people saw Johnson running from a group of harassers that night, and friends insist she wasn't suicidal. But despite their efforts, initial attempts to get the police to investigate Johnson's death were unsuccessful.
While activist Mariah Lopez eventually convinced New York police to reopen the case in 2012, by then, it's been cold for 25 years. Now, the Netflix documentary, The Death and Life of Marsha P. Johnson, will finally re-examine what happened that night. 
"Marsha P. Johnson was the Rosa Parks of the LGBT movement," Johnson's longtime friend and activist, Victoria Cruz, says in the trailer for the new film. She's taken it upon herself to get to the bottom of Johnson's death. 
A drag queen who performed at the Stonewall Inn in New York City, Johnson paved the way for queer and trans rights in the 1960s. She is reportedly the one who threw the first brick that shattered the bar's windows during the Stonewall riots in 1969, a pivotal moment for the gay rights movement.
In the clip, we see shots of Johnson speaking at LGBT rallies in New York City. "I have been beaten," she says in the trailer. "I have been thrown in jail. I have lost my job for getting liberation. Revolution now!" 
Johnson and fellow trans icon Sylvia Rivera formed the world's first trans rights organization, STAR (Street Transvestites Action Revolutionaries), and sparked the civil rights movement for gender-nonconforming people. 
The documentary, which will be available to stream October 6, is being released at a crucial time when trans rights are under attack. Last year, there were at least 22 transgender people murdered in the United States, according to the Human Rights Campaign, and 19 so far in 2017.  
"There's a massive number of trans women who have been murdered," Cruz says in the clip. "And they're yelling out from their graves for justice." 
Watch the powerful trailer, below.