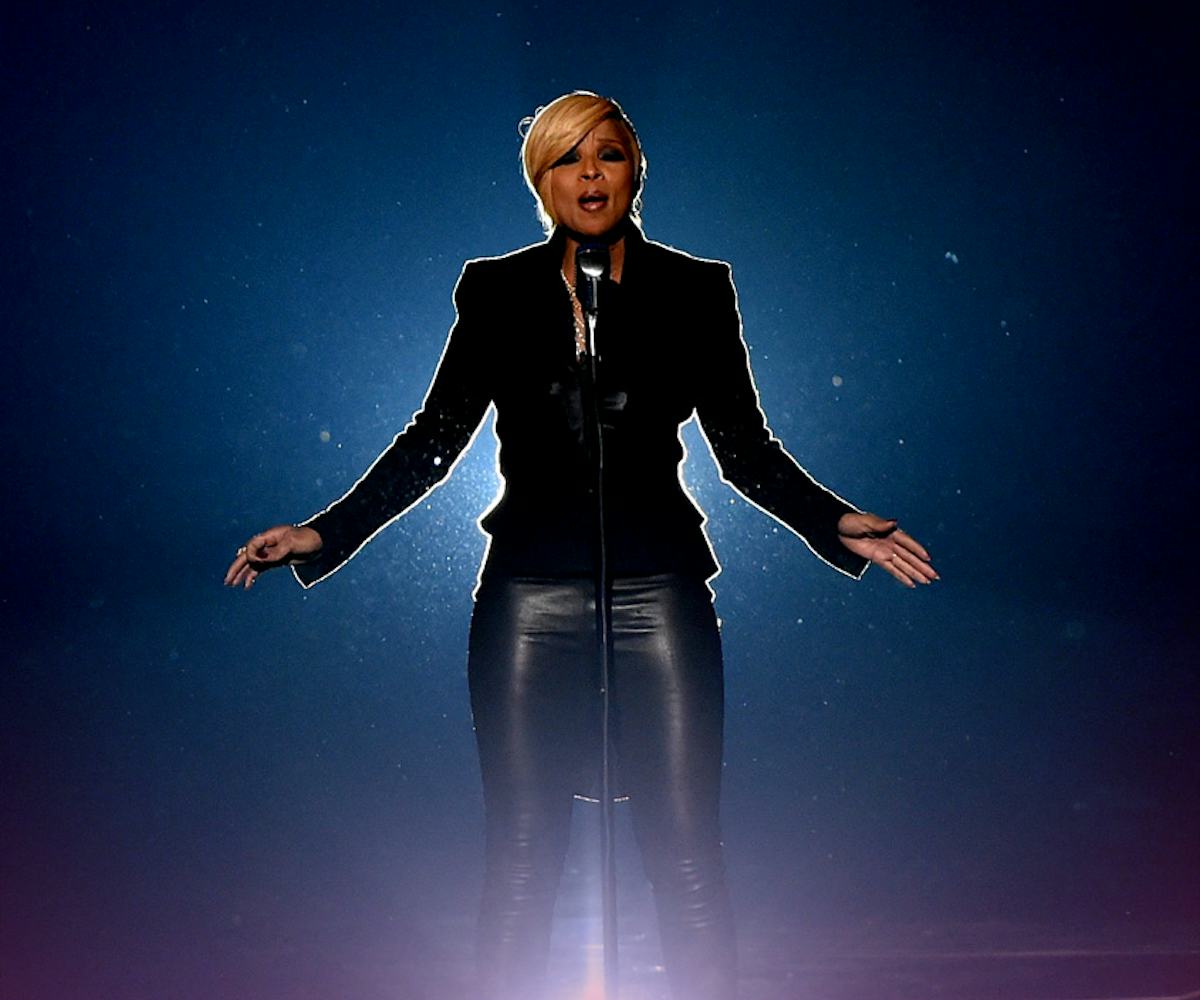 photo via getty images
we're obsessed with mary j blige's new album
the queen of r&b has officially returned
Mary J. Blige, queen of R&B, has officially returned, and with a splash. Since the release of her first album in 1992, Blige's fearlessness in adapting to the sounds of the moment has helped her remain a relevant part of the music industry—while still staying true to her self. Case in point? Her newly released album, The London Sessions, is experimental and fresh, but still definitively hers.
Earlier this year, Blige infused Disclosure's "F For You" and Sam Smith's "Stay With Me" with her R&B goodness. The reinvention of these chart-topping hits brought Blige back into the spotlight. A few months later, she packed up, hopped on a plane to London, and spent 30 days working on more transcontinental collaborations. Blige once again worked with Disclosure and Sam Smith, also roping in London-based singer Emeli Sandé, and producers Naughty Boy and Jimmy Napes. From these London recording sessions stemmed a 12-song album that merges together elements of soul ("Therapy"), house ("Right Now"), and jazz ("Pick Me Up") with Blige's signature R&B style. 
Blige's lyrics have always been captivating in how straight-forward they are: She refuses to tone down her personal struggles with vague euphemisms. Instead, she talks about issues like domestic abuse, poverty, and heartbreak head-on—and this album continues that tradition. In the song "Whole Damn Year," Blige faces the haunting effect of past domestic abuse with a fearless vulnerability that is empowering just to listen to. 
The London Session opens with the song "Therapy" a smooth, doo-wop inspired track co-written with Sam Smith. The light bass and catchy lyrics make it the perfect song to sing along with. Another highlight of the album is "Follow," a song that fuses together Disclosure's UK house sound with Blige's powerful vocals. Elements of house music run through other songs on the album, such as "Pick Me Up" and "Nobody But You." Blige embraces the ever-increasing popularity of electronic music in a way that isn't cringe-inducing. She accepts her role as a veteran in the industry, sharing the creative control with her younger counterparts. 
If anything, The London Session is a reinforcement that the Queen of R&B isn't going to give up her throne anytime soon. She's back and ready to reign.