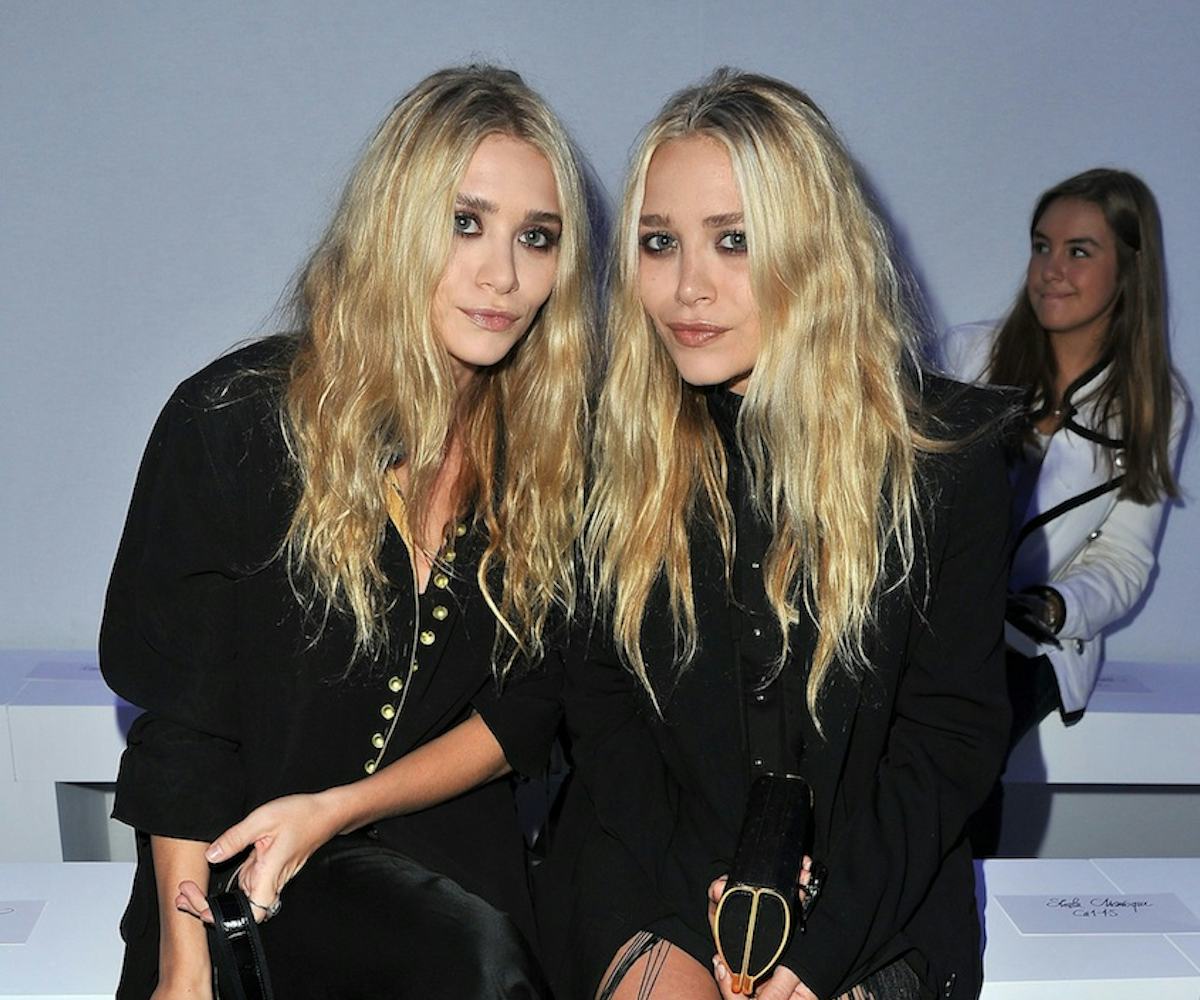 happy birthday, mary-kate and ashley!
28 ways to celebrate everyone's favorite twins.
It might be Friday the 13th, but this morning also signifies a Very Important Holiday: today marks the birth of everyone's favorite twins, Mary-Kate and Ashley Olsen! The girls are turning the big 2-8, so obviously we have to celebrate.
And there's really no better way to do so than by taking a trip down Olsen memory lane, starting with their Full House days all the way up to styling lessons we've picked up from The Row and Elizabeth and James. "Gimme Pizza" slowed down? Check. All of the girls' NYLON covers? Duh. Investing in a good pair of overalls inspired by It Takes Two? Of course, it's all here. 
So get schooled in Olsen 101 here, then tell us your favorite MK and A moments on Facebook. 
Go all the way back to the twins' early days with their (in)famous "Gimme Pizza" video...bonus points if it's the slowed-down version.
Reread our 2008 cover story with Mary-Kate.
Blast Weezer and pretend like you're on vacay at Atlantis.
Find your celeb sibling match (fingers crossed you're the fourth Olsen!). 
Start saving up for a really, really expensive backpack from The Row.
Smell like an Olsen with the new fragrance, Nirvana.
Invest in a good pair of overalls. Because obviously.
Take a style cue (or ten) from the Elizabeth & James resort lookbook.
Wear your obsession loud and proud with this T-shirt. Hey, no shame...
See who's really the cute one here.
So practicing your weekend makeup routine, Olsen-style, this weekend.
Find out who's messier and who got kissed first on Ellen.
Flashback to our 2011 cover with little sister Elizabeth.
Channel a really chic version of Angela Chase with Elizabeth & James pre-fall.
Grab your best friend and throw your own #twinparty. Yolo?
There's never been a better time to re-watch every episode of Full House. Just saying.
Go vintage shopping for floor-length dresses.
Watch Switching Goals, if only for the Michael Cera cameo.
Go on a city-wide hunt for man candy (preferably foreign).
See the twins explain how "their hobo style happened because they were cold," plus more stuff we learned from their Net-a-Porter profile.
Remember that time they did a fashion movie with Brad Goreski? Yeah, we didn't either.
Live the teenage dream with Olsenboye (aww). http://www.nylonmag.com/articles/olsenboye
Watch It Takes Two, mostly because it showcased MK as the "tomboy" and Ashley as the "princess." Also, that food fight scene.
"Advanced style" gets a whole new meaning with The Row's understated, chic lookbook.
Bring back the hair jewels for spring a la Passport to Paris (they are a major trend, after all...).
See how to get their perfect hair, straight from the man behind it him.
Copy Ashley Olsen's glowy skin....which, while it might be an Olsen original, anyone can pull off (we swear!).