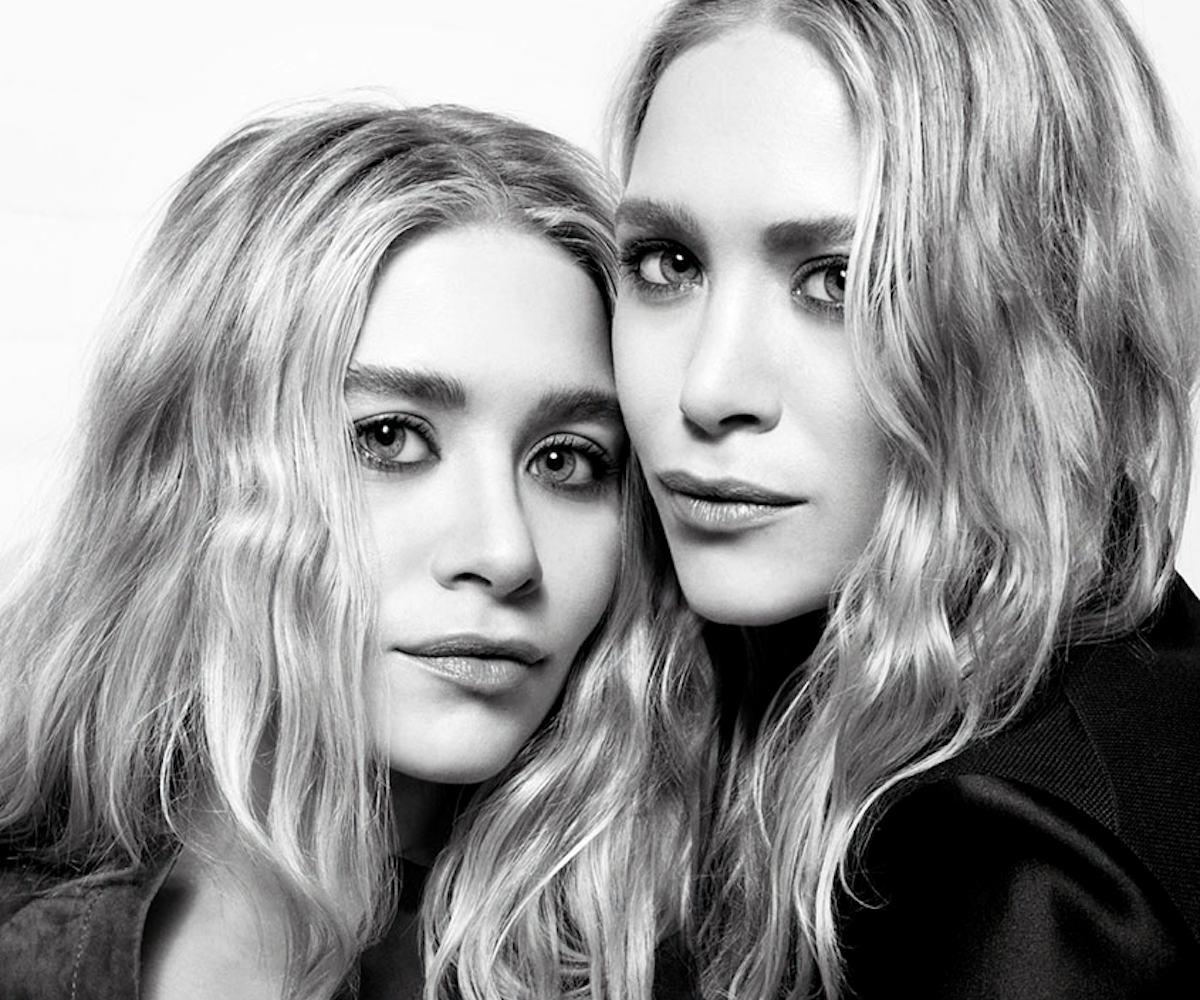 photographed by Miguel Riveriego for net-a-porter.com
more mary-kate and ashley
10 things we learned about the twins from their net-a-porter profile.
Think you're Mary-Kate's and Ashley Olsen's biggest fan? Well, if you are, you probably know about the twins' latest profile in The Edit, Net-a-porter's online magazine.
As this week cover stars, MK and A were photographed by Miguel Riveriego and styled by Morgan Pilcher in gorgeous creations from their brand The Row and jewelry by Ileana Mahkri and Ana Khouri. The pictures are pretty Pinterest-worthy, but it's the article by Kay Barron that has us reeling. The duo discusses their rise to fame, aspirations of anonymity, and maybe hint at a designer partnership in the future. [Insert Mary-Kate and Ashley Olsen take over Louis Vuitton rumors here.]
Here are the 10 things we learned from the profile, Facebook or Tweet us what you learned from the full Net-a-porter article here!
1. At A The Row Presentation, Every Seat is Front Row One:  "If people are coming to see our collection," said Ashley, "we want them to actually see the collection."
2. Little Girls Don't Cry: They reportedly got the role of Michelle Tanner on Full House because they were the only toddlers who didn't cry when the TV executives picked them up. 
3. Their Full House Outfits Were A Lot Chicer Than You Thought: Ashley told The Edit, "[On Full House] we'd be in six-hour fittings three times a week, because we had to wear 12 different outfits. The majority of the wardrobe was made up of adult pieces, including Chanel and Marc Jacobs, cut to fit."
4. The Row Has 60 Employees... Want to make it 61?
5. ...And MK and A Are At The Office Every Day: When explaining why they're not the best paparazzi bait anymore, Ashley explained, "... we're at the office every day, then home or out for dinner, so there aren't the opportunities for them to take pictures."
6. They Really, Really Want to be Anonymous: When they started The Row they considered hiring a designer to be the face of the brand so that people wouldn't know they were the force behind it. 
7. Their "Hobo" Style Happened Because They Were Cold: MK and A told The Edit that their signature style of giant sweaters, maxi skirts, and massive wedges circa 2007 was all because New York City is way colder than Los Angeles, and they were just trying to stay warm. 
8. You Better Accessorize Your Chanel with The Row: It's what Ashley Olsen would do. She said,  "If I wear certain designer brands, or too much of something, I look crazy, and I need something to break it up. If you are wearing a Chanel jacket and you need an anonymous piece that will show just how special that jacket is, I hope that is what The Row gives you."
9. They Want to Help Young Designers: Mary-Kate explained why they enjoy helping out young designers they believe in; "It's nothing for us to pick up the phone, but it means a lot to do it."
10. ... And Maybe Some Older Ones Too: When asked if they've ever been approached to take over for a pre-existing design house the sisters are mum, though Ashley can't help but let out, "but we could probably help them a little..."