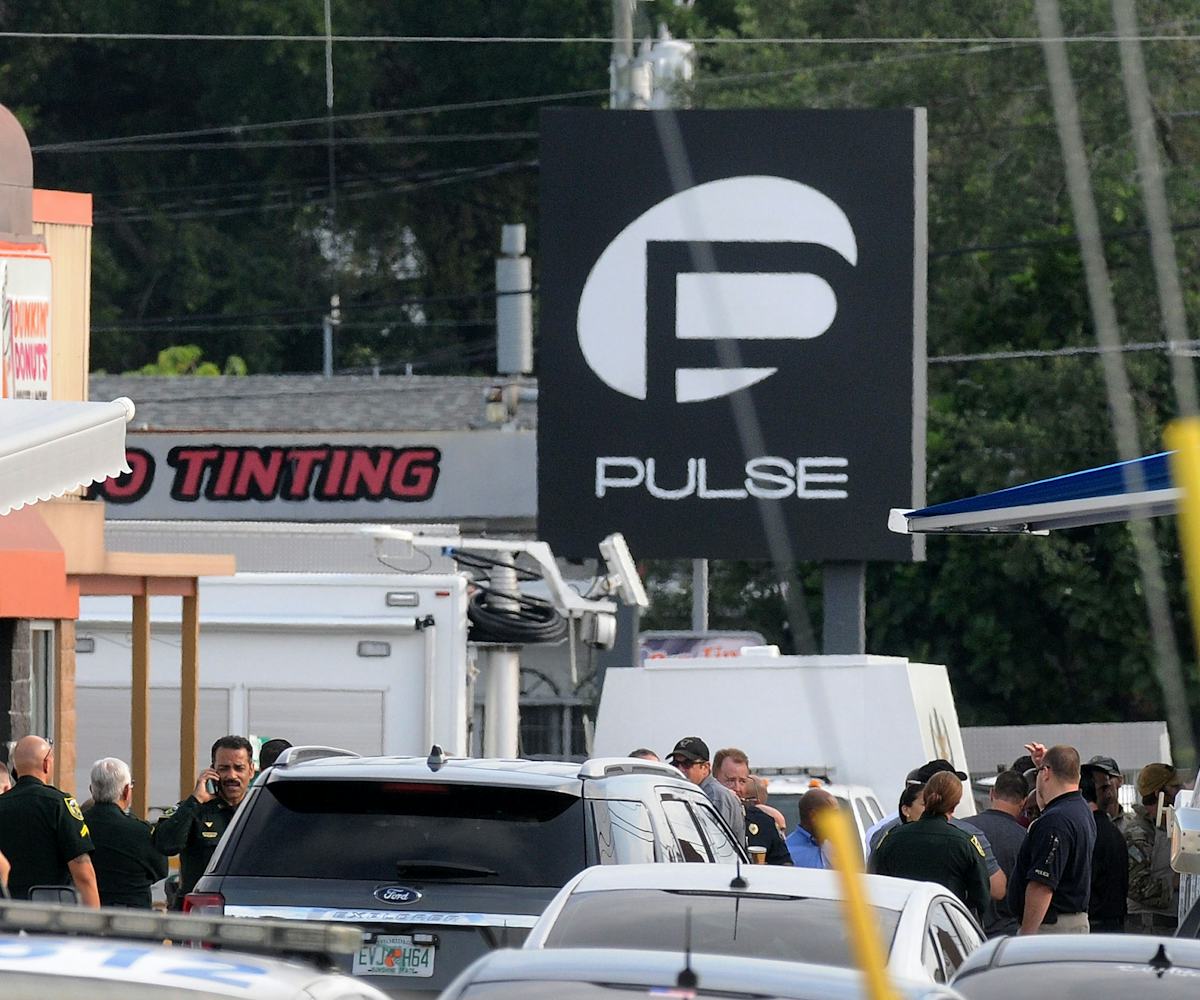 Photo by Gerardo Mora / Getty Images
At Least 50 People Killed In Mass Shooting At A Gay Nightclub In Florida
The deadliest mass shooting in U.S. history
Around 2am Sunday morning, a gunman opened fire at gay nightclub Pulse in Orlando, Florida, killing at least 50 people and injuring 53, including one police officer. The police officer who initially responded to the call engaged in a brief gun battle with the shooter, who was armed with an assault rifle and a handgun, before the gunman retreated back into the nightclub. The shooter took hostages inside the club before police raided the building at 5am, using a controlled explosion to distract the shooter as they entered. They managed to kill the gunman, who they say was well-prepared and organized for the attack, and had a "suspicious device" strapped to his body. 
Authorities are treating the mass shooting as a "terror incident" and President Obama has been briefed by homeland security. The White House released the following statement: 
"The President was briefed this morning by Lisa Monaco, Assistant to the President for Homeland Security and Counterterrorism, on the tragic shooting in Orlando, Florida. Our thoughts and prayers are with the families and loved ones of the victims. The President asked to receive regular updates as the FBI, and other federal officials, work with the Orlando Police to gather more information, and directed that the federal government provide any assistance necessary to pursue the investigation and support the community."
Multiple news outlets have reported that the shooter was 29-year-old Omar Mateen of Port St. Lucie, Florida. In a phone interview with CBS News, Mateen's father said he is "in shock, like the whole country." He added that religion has nothing to do with this crime, but that his son had been angered by two men he saw kissing in Miami a few months earlier. He believes this may have spurred the attack. 
Due to the severity and scale of the crime, Orlando Mayor Buddy Deyer asked the governor to declare a state of emergency. 
"Today we're dealing with something we never imagined and is unimaginable," Deyer told reporters Sunday morning. "Since the last update we have gotten better access to the building, we have cleared the building, and it is with great sadness that I share that we have not 20 but 50 casualties."
They are now focused on identifying the victims and notifying the families, which "may take some time," Deyer said. County fire officials said blood donations are urgently needed. Unfortunately, per the FDA, sexually active gay men can't donate blood unless they've been celibate for one year. 
"We have a very close-knit LGBT community who have been dramatically affected by this," Orange County Mayor Teresa Jacobs said. 
Pulse is the largest gay club in Orlando and hosts nightly themed performances, as well as monthly LGBT-related educational programs. Saturday night was Latin night, so this attack targeted queer people of color. 
Our hearts break for the young men and women who were senselessly killed in a place that was meant to be a safe haven.