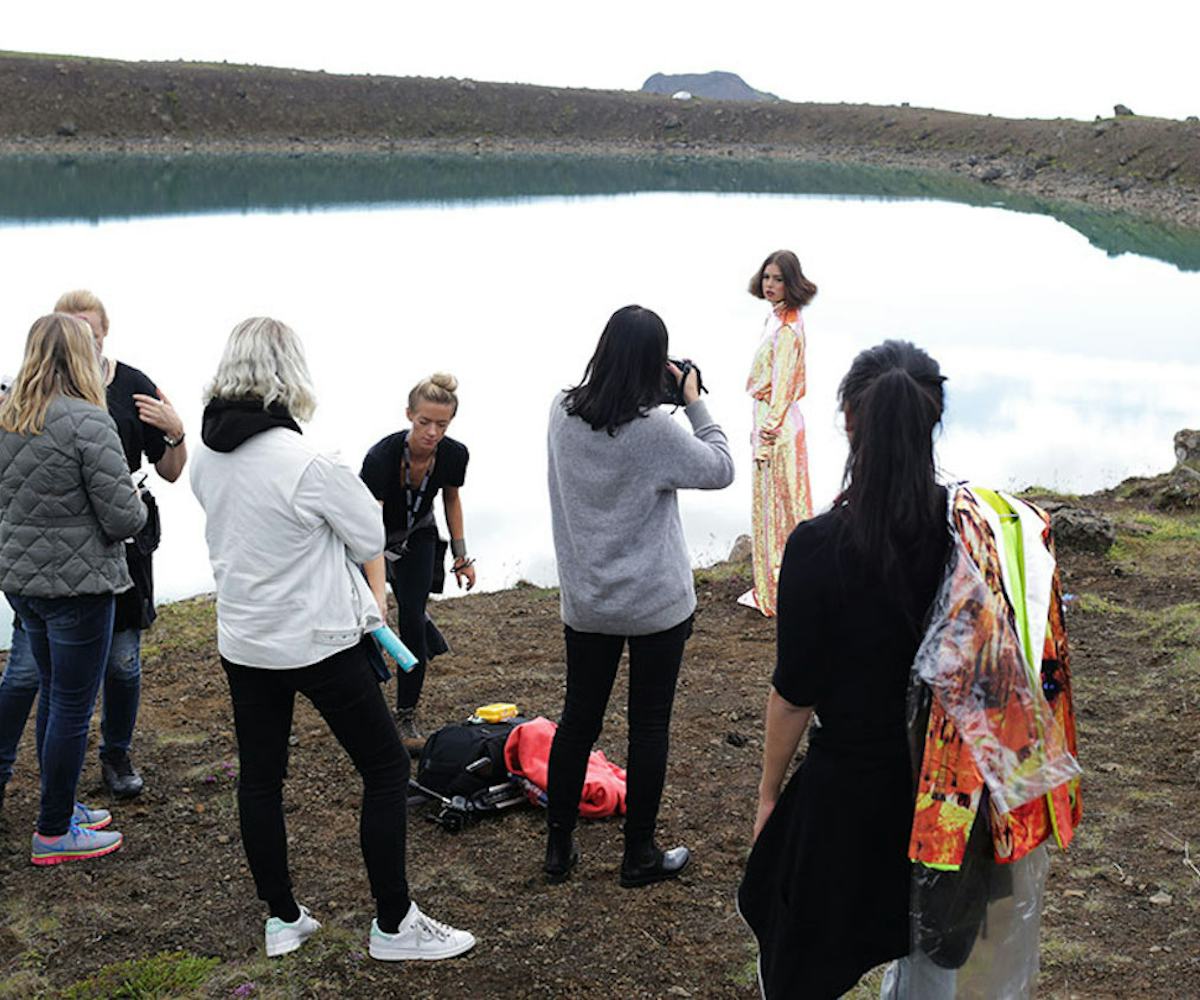 Photograph via Mastered.
London-Based Company Mastered Gives A Lesson In Fashion
Getting schooled in Iceland
By an abandoned barn in the secluded Icelandic countryside, ponies roam the wildflower-laden hills. A geyser belches enormous cumulous clouds of geothermal steam into the crisp Reykjanes air. The glasslike surface of a small lake—with its deep, almost unearthly sapphire hue—reflects the surrounding mountains. Here, amidst this stunning natural setting, some 100 emerging young fashion artists, specializing in everything from photography to hair and makeup to styling, have convened to collaborate, learn, and grow in their profession. This is the first-ever Mastered Live event.
A London-based online fashion education company, Mastered is an organization that offers programs aimed at up-and-coming fashion professionals, rather than beginners or undergraduates. Going forward, its courses—dubbed "accelerator programs"—will all be 10 months long starting in January, and feature some truly star-studded lineups of experts to impart their wisdom (designers Vivienne Westwood and Virgil Abloh, photographer Nick Knight, and even our own editor-in-chief Melissa Giannini have shared their industry knowledge with Mastered students in the past). Punctuating this digital learning will be in-person lectures and seminars in various fashion capitals around the world, as well as a Mastered Live event in the style of this debut Icelandic experience put on every year (future locations still in the works) to facilitate collaboration. The ultimate goal is to help develop what the company calls the "new breed" of fashion creatives: a collaborative, multidisciplinary, and global group.
And, seeing the inaugural Mastered Live firsthand, it seems to be working. The class in Iceland is an eclectic bunch from more than 20 different countries, all virtual strangers that manage to join together seamlessly in the matter of one weekend to create some really beautiful work and even more amazing connections and friendships. They collaborate in workshops that hone their skills and resourcefulness (think: crafting a DIY lightbox shoot and building zines/mood boards), they hear a range of talks on how to overcome the particular challenges of the industry, and they ultimately undertake a full-on fashion editorial shoot in small groups that quickly become tight-knit. By the end, the whole thing feels a little like an awesome fashion summer camp, complete with lifelong bonds, tearful goodbyes, and invaluable experience.
Mastered's 2017 programs have just launched. So, if this sounds like it could be for you, check it out. Because really, who knows where it might take you.