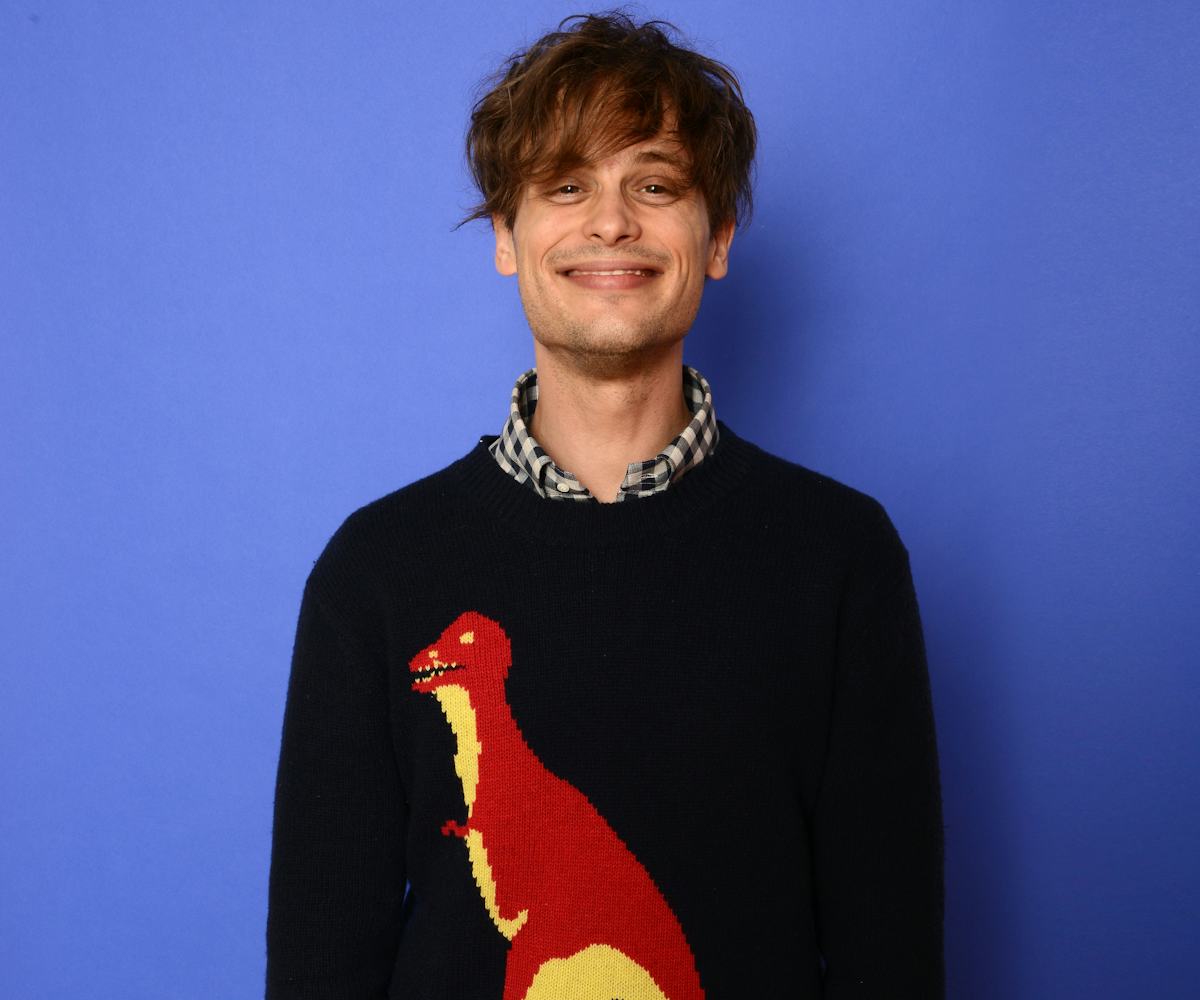 Photo by Larry Busacca/Getty Images
Matthew Gray Gubler Explains The Dark, Bright Side of "Dirt Sledding"
All the gritty details on his christmas collaboration with The Killers.
Every year, we look forward to the day that The Killers reveal their annual Christmas jingle to restore holiday cheer to people all over the world. For the past 10 years, the band has released an original, traditional single as a way to raise money to fight AIDS—all of the proceeds from the songs are donated directly to (RED). Back in 2007, Matthew Gray Gubler directed the music video for "Don't Shoot Me Santa." Impossible to forget, it featured the most terrifying version of Santa Claus we've ever seen, who had a mission to kill lead singer Brandon Flowers. 
This year, Gubler was called back to finish the trilogy with the video for "Dirt Sledding." If you've been paying attention to his Instagram, you know that it's been quite a process. In Gubler's own words, he's "obsessive-compulsive at directing." The video was filmed in Nevada over a two-day period and every frame is "completely colored with love and obsession." We caught up with the actor/director to find out more about the story behind his latest video and his connection to The Killers. (Fun fact: He's really good friends with the band and Santa Claus. They all used to hang out in cafes together before The Killers signed their record label.) You could say what happens in the desert stays in the desert.
So, this video is the final installment in The Killers' unofficial Christmas trilogy with Ryan Pardey reprising his role as Santa. How did you come up with the creative concept for "Dirt Sledding," following the "Don't Shoot Me Santa" video?
Before [The Killers] were a big rock band when we were all getting out of college, they had talked to me about directing a music video. A few years later, they sent me the song for "Don't Shoot Me Santa." When I heard it, I immediately had this vision of trying to take Santa and put him in the exact opposite world. Instead of being surrounded by snow and Christmas iconography, setting it during his off time from Christmas, and Santa not being jolly in the desert where he's dying of dehydration and losing his mind. I wanted ["Dirt Sledding"] to start with this horribly odd, sad, sort-of depressing beginning of Santa realizing that he's wasted his life being filled with darkness. I thought nothing would be funnier than starting a cheerful Christmas song seeing a man at the end of his rope beating teddy bears with flaming tomahawks and having an adult tantrum. I really wanted to show the difference between grimy, dirty Santa and a cheerful holiday band.
I always enjoy both in the videos and the songs themselves how The Killers have these obvious holiday jingles that are festive without screaming "Merry Christmas!" at you. It can be dark, but we still get it.
Exactly. I love the holidays—
any holiday
—but Christmas has always been sort of special because I grew up reading Charles Dickens. A lot of the Christmas iconography that I love, there is a sense of darkness. There's the
Ghost of Christmas Past
and interesting interplay between the merriment and the approaching winter, so I always try to capture that. Again, [The Killers'] music is so great, it makes it very easy. I think the key to directing a great music video is in making sure the song is great, and if it is, then it becomes really fun.
Is it safe to conclude that Santa is over wanting to kill The Killers?
I realize it didn't translate, but my vision was Santa Claus meeting the Easter Bunny, the Tooth Fairy, and other fictitious creatures in the desert and finding a sense of belonging in this inhospitable land. The beautiful part is that at the end, he realizes it's actually the man that he's been pursuing for all his life—will he kill Brandon or will he hug Brandon? He realizes that redemption is the most important thing, and he forgives him for whatever it is, and they become best friends.
I heard that you made
almost all of the costumes yourself. Could you tell me more about that?
I'm a control freak and anytime I direct something, I try to make it as homemade and handmade as possible. I feel like that's my favorite type of filmmaking, where you can see the seams and it doesn't feel like a swiftly produced, whole seeky-eyed event. With everything, from the fireworks to the animals, I wanted it to feel like a bunch of kids just having fun and to translate the feeling of being a perpetual child at heart. I wanted [the costumes] to look like things that didn't really exist anywhere else. We were a bit on a really frantic time crunch with this, so I found some fabric, re-appropriated it, and cut felt. I wanted to make these things look like they'd been living in the desert for decades as charmingly decrepit factions of the different holidays.
Is there any other insider info that you can share about the video?
I have to say, it was one of the most dangerous film shoots I've ever been a part of! We were literally holding fireworks in our hands, throwing flaming tomahawks... One of [The Killers] almost broke their tailbone going down dirt sledding. I don't think there's a single person in the crew or cast that wasn't bruised and beaten by the end of it. All in great fun, and there's no better way to make something. Everyone had a great time. I'm happy that people seem to like it, I can't wait to make some more.
Have you been working on anything else in film or television?
Yeah, I'm still in
Criminal Minds
and I direct episodes of that frequently. I have a really big one that I'm directing in February—it's a very special episode. I've been writing my feature film that I hope to make in the next year and finishing a kids' book that I've been writing. And sort of trying to make stuff and drawing a lot of monsters on paper, which is one of my favorite things to do.