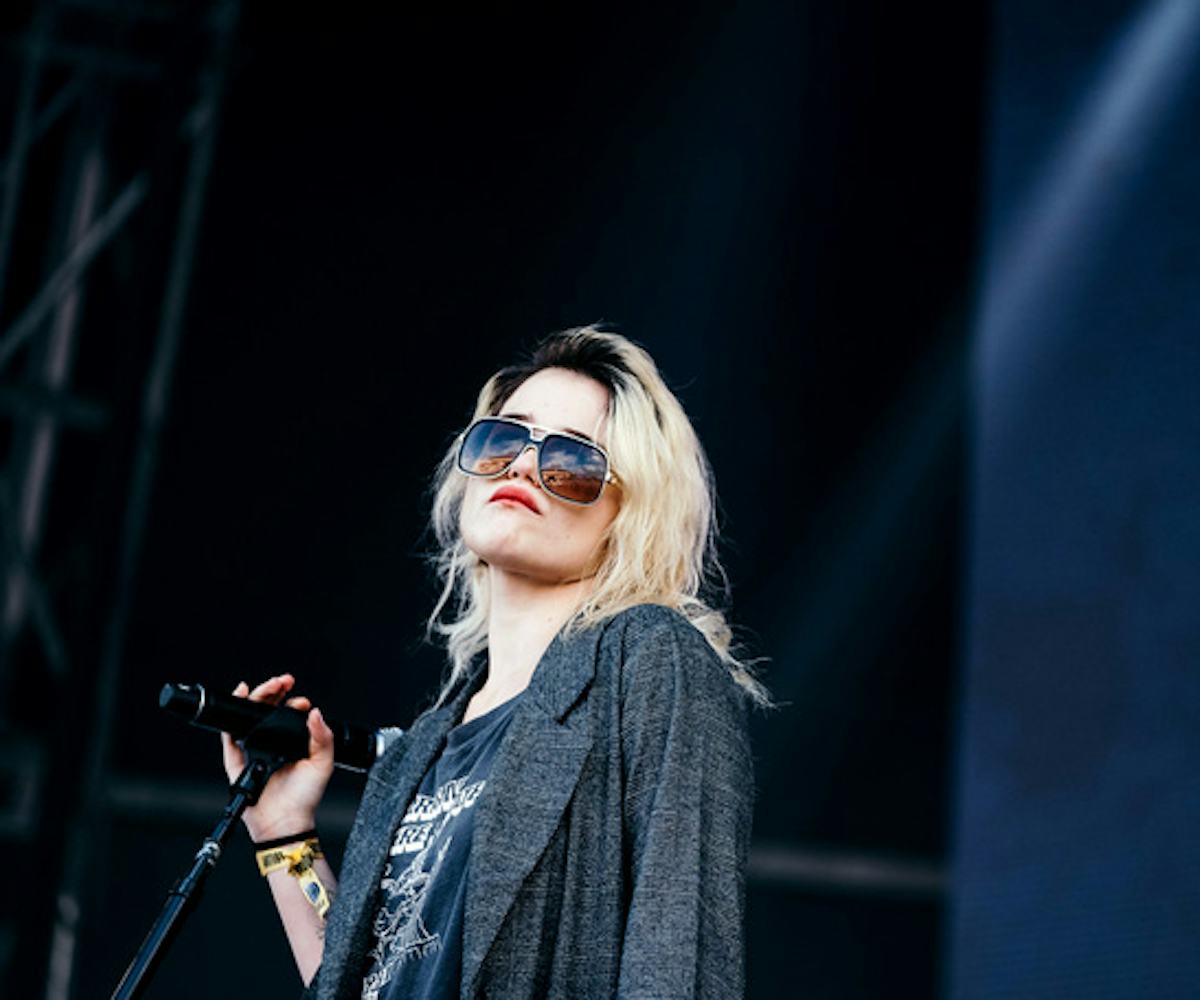 Photo by Nina Westervelt
The Coolest People We Saw At The Meadows 2017
Keepin' it chill even in the heat
Having a music festival just days after New York Fashion Week is a bold move. People are tired! The Meadows rose to the challenge, though, and succeeded tenfold. Credit it for being one of the most accessible festivals around, credit the robust and musically diverse lineup, credit the fact that it's just a damn good festival—the second annual Meadows Festival truly delivered a special experience, especially when it came to street style.
The crowd this past weekend was vibrant and excited, showcasing the best of what New York City has to offer when it comes to festival style and attitude. For three days, the parking lot around Citi Field became a playground for characters and individuality. Hell, it wasn't just a playground, it was a celebration. From Circa Waves' first songs to the final chord the Red Hot Chili Peppers played Sunday night, the Meadows evaded the sophomore slump with ease. See for yourself in our exclusive gallery, below.
Now, we finally (finally!) can get some rest.
This couple singlehandedly restored our faith in love.
HBA x NYC forever.
The patches know.
Queen Lizzo
Fukk it up!
Good to see ya, Sky Ferreira.
G-L-A-M-O-R-O-U-S
Suddenly the Koons is Jay Z.
Very rare: A fanny pack actually worn on the fanny.
Does he have the Force, or does he have the Force?
Thanks! You, too.
You'd be smiling that big too if you were rocking those shades.
Oh, Mickey, you're so fine!
Here is a photo of Erykah Badu to bless your day.
Disco heaven!
Nothing but respect for MY New York City ice cream truck.
Certified organic, too!
Get you a BFF to match your style.
A moment, please, to appreciate Tegan + Sara's denim jumpsuit and Pablo-inspired jacket.
Circa Waves
The power Blood Orange's backup singers convey, though.
Tiny backpack pack.
How we wanna be this season.
What's that rule about wearing white after Labor Day again?
Action Bronson woke up and felt the vibe.
Knot it to me.
Jacob Banks
Glitter freckles and butterfly hair. Have you ever seen anyone so magical?
Just a 2-D bag in a 3-D world.
Sup, Weezer?
Hell yeah, Hilfiger.
Party on, Wayne.
Do aliens PLUR, too?
The higher the platform, the closer to God.
Four!
This ain't her first time at the street style rodeo.
Live fast, die young, M.I.A. does it well.
NYLON's senior staff writer Hayden trying to look natural.
She painted that herself! (We asked.)
A very strong color story.
Red Hot Chili Peppers, is that you?
Get loose, Beetlejuice.
So, we're gonna need that Kate Spade bag now.
Them pineapples don't fall far from the tree.
Kamaiyah
Sleigh Bells
Wait, is butterfly hair a thing now?
Mellow yellow, hello!
Pssh, please.
The best side, honestly.