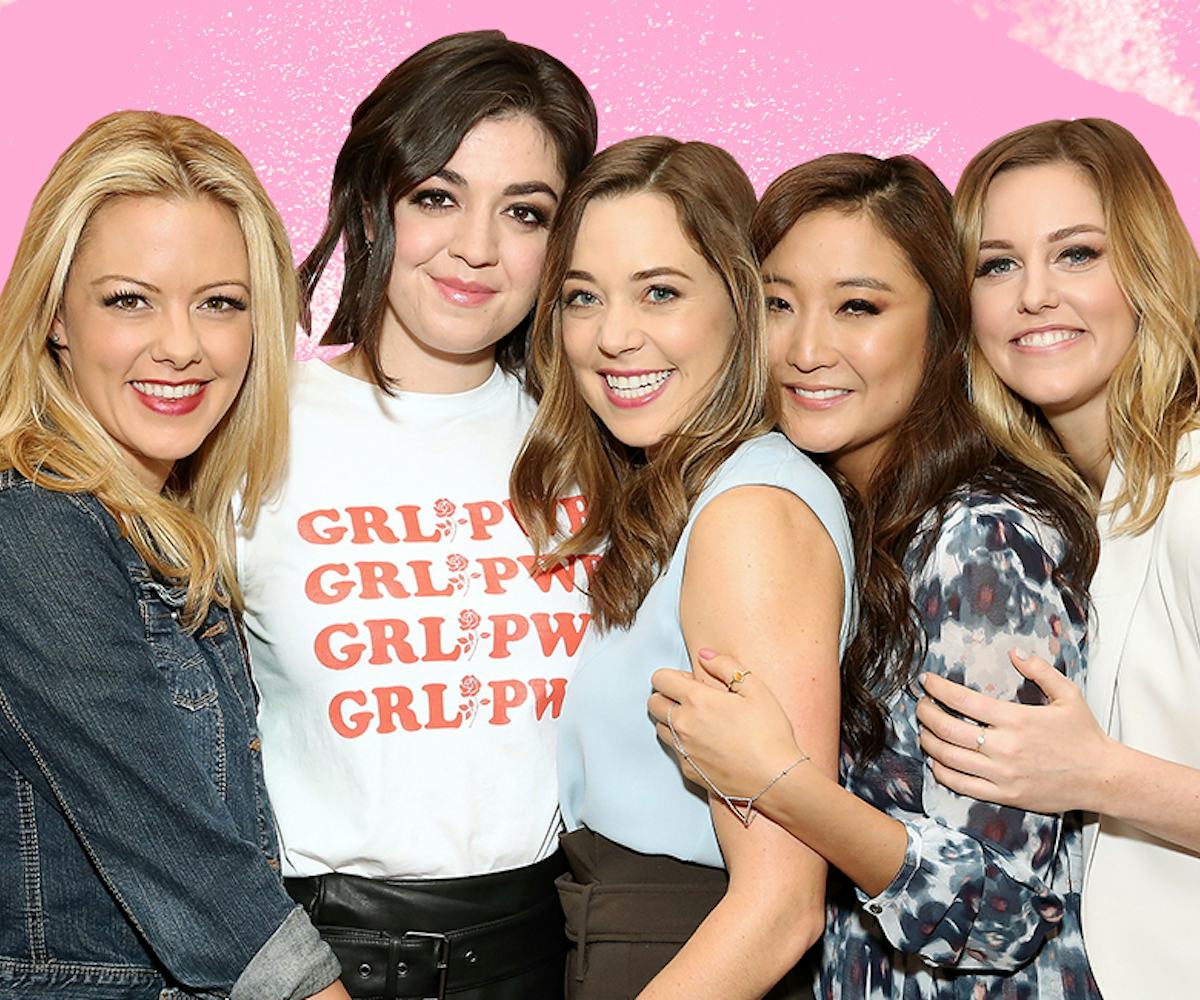 Monica Schipper/Getty Images
How 'Mean Girls' Was Modernized For Broadway
With a tighter focus on, like, the rules of feminism
It's been 14 years since the pink-clad Plastics first prowled the halls of North Shore High School, but Mean Girls still occupies significant real estate in the hearts of millennials today. Bursting with quotable moments, hilarious gags, and an unparalleled cast composed of SNL alums, a teen queen, and a future Oscar nominee, the 2004 comedy has endured the test of time to remain one of the most biting and beloved satires of 21st-century teenagedom. 
To capitalize on this persistent popularity, Mean Girls has been reborn on Broadway as a musical at August Wilson Theatre. This new adaptation, with a book by Tina Fey (who also wrote and acted in the film) and music by her husband Jeff Richmond, takes Cady Heron's turbulent immersion into girl world and sets it to song. 
Though still helmed by Fey, it's understandable that the musical was greeted with a little wariness, because while the tale of cliques, crushes, and cattiness has yet to fade from the teen angst narrative, the film so perfectly captured the very specific Zeitgeist of the early 2000s, it's hard to know how that will translate to the stage circa now. And, indeed, changes did need to be made to the original's flip phones, graphic tanks, and, well, inclusion of Lindsay Lohan in order to update this seminal story of the Juicy generation, but it does a fairly decent job in finding the 2018 equivalent to army pants and flip-flops. (Fear not: The Danny DeVito joke has been proven evergreen.)
The musical iteration says goodbye to sly three-way call attacks ("See Gretch? I told you she's not mad at you!") and says hello to Snapchat, Instagram, Twitter, and Facebook. Social media quite literally takes center stage, as the entire stage is outfitted with screens used to display online posts when a certain booty flashing scandal at North Shore's Winter Talent Show (with a tragic lack of the Kevin G rap) goes viral. Social media has even influenced the teens' insults, with one boy hissing "unsubscribe" to indicate his displeasure with another student. 
Modern pop culture references are also peppered throughout the show. A dance number sees Damien (Grey Henson) doing the now-famous Backpack Kid "Swish Swish" dance. The mall scene, in which Cady rocks her signature oversized pink polo, features a cart selling emoji pillows. A second act number, "Stop," is actually framed around the idea of thinking twice before sending an ill-advised text or Snapchatting a nude to a crush. Regina (Taylor Louderman) even makes a throwaway joke about tweeting Trump. 
Efforts to be a bit too earnest, however, often make the musical lose its bite. Regina George's meanness comes across mostly as her being excessively self-confident (her character is introduced singing that she's a "massive deal") rather than actual evil in human form. And Cady's attempts at sabotage are just as mellow. 
Too much time is spent on songs that don't progress the plot and that come across, well, cheesier than Regina's fries. The ultra-repetitive party song "Whose House Is This?" waters down the house party sequence, inadequately replacing Busta Rhymes' "Fire (Yes, Yes Y'all)" with a pseudo-rap led by Kevin G (Cheech Manohar). And "Stupid With Love," where Cady declares her adoration for the cute but bland Aaron Samuels (Kyle Selig, slightly less "grool" than Jonathan Bennett), dumbs down the character into a giddy schoolgirl. For a teen satire, it often plays into the very stereotypes it's trying to mock.
The musical cracks the code (say crack again!) of its relevance, however, by focusing on female empowerment, handled here much more eloquently and openly than in the film. Coming soon after the gym confession scene (in which Gretchen apologizes for telling everyone about Karen getting diarrhea on a Ferris wheel, not at a Barnes & Noble, which is potentially a reflection of Amazon's more recent world takeover?) is an anthem celebrating difference entitled "I'd Rather Be Me." Sung by Janis (an excellent Barrett Wilbert Weed), it would have served as a better conclusion to the musical than its actual conclusion, the corny, High School Musical-esque "I See Stars." And in one scene, Karen (the scene-stealing Kate Rockwell, captivating the audience with a single, silent spacey look) deftly questions why girls are warned not to send nudes to boys out of fear that they'll post them online when, really, shouldn't we just be teaching boys not to do this? 
Ironically, the musical's most poignant, peak feminist moment stems from a reimagined scene that actually got cut from the film. While the movie never gave Regina and Cady a final one-on-one moment, the musical does, letting us know what would happen if the two were given one last conversation, in the form of a bathroom run-in during Spring Fling. 
The scene opens with a joke that highlights the double standard of forthright women being labeled a "bitches," but truly reaches brilliance when Cady apologizes to Regina for trying to sabotage her. Regina (a bit drugged up on pain medicine) tells Cady: "Don't apologize for things that aren't your fault. And never apologize for being a boss." It's a sweet if not unexpected exchange, and it makes the ups and downs of the preceding performance feel ultimately worth it. 
No amount of Snapchat stories or retweets served to make the revival of Mean Girls more necessary than this scene, especially as we as a culture continue to establish such a strong sense of allowing women's voices to be heard. For all the sharpness the musical took out of the original, this scene establishes a refreshingly feminist approach to the typical narrative of female relationships fraught with jealousy and passive aggression. In a climate which continues to push for sisters to unite and amplify each other's voices, it's vitally important to avoid belittling them for the sake of a laugh. That's just, like, the rules of feminism. 
And so, the Mean Girls musical was saved in its final moments by a scene left on the 2004 cutting room floor. And if that can happen, maybe fetch can, too.