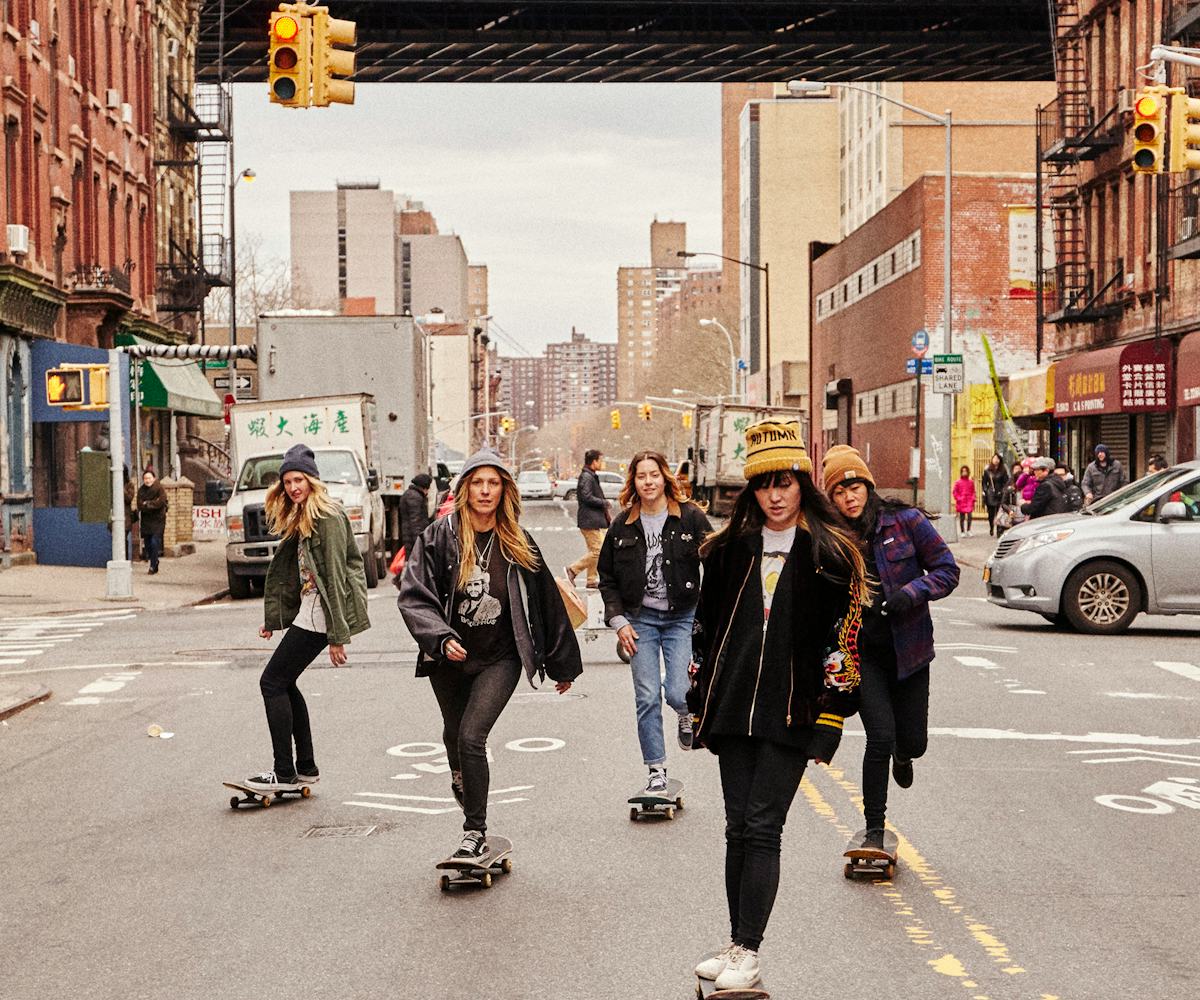 Photographed by Brayden Olson.
Meet The Coolest All-Girl Skate Squads In The Country
The following feature appears in the May 2016 issue of NYLON.
For women in a male-dominated sphere, it can be tough not just to forge their way in an environment that wasn't designed for inclusion, but also to carve out their own communal spaces within that world. And while women tearing up the scene in skateboarding is certainly nothing new, the history of the skate crew tradition—from the Z-Boys to the Bones Brigade—offers relatively little in the way of girl gangs. So here, get to know some badass squads of skater girls as they sound off on sisterhood and the sickest spots to shred in their cities. 
Click through the gallery to continue the feature. 
LOS ANGELES
One of only six women's skate teams worldwide, this largely Cali-based crew boasts some of the most notable names in competitive skateboarding. Spurred not only by the dearth of women in the industry but even more so by the notable absence of mainstream support, Lisa Whitaker launched the company in 2012 with only four members (Vanessa Torres, Amy Caron, Kristin Ebeling, and Jen Soto). A few years later, it's a formidable 11-lady squad and growing. REMY RAMIREZ
How did Meow come to be?
Whitaker: I was at a major contest, and I saw that out of the top 10 girls, only one or two had a board sponsor that promoted them or included them on the team—and these were the top girls in the world. I had pro boards on my wall, but none were from any of these women. I wanted to start something where we could make boards with these girls' names on them, something they could be a part of, to grow together.
Tell me about the sense of community within the group.
Savannah Headden: I'm from the East Coast, and when I came to L.A. and saw the connection—how stoked they are off each other—it immediately felt welcoming. It's fun skating with dudes, but a crew of girls is going to be more encouraging. It feels good knowing there are girls who do exactly what I do, who don't care what other people think. It's empowering.
How do you build the team?
Whitaker: Everyone has to fit together and fit the style of the company. Savannah is one of the newest team riders. She came out from Virginia recently to film a video, ended up skating with the team a lot, and it just clicked.
Headden: I took a leap of faith and bought a one-way ticket. I had a good feeling about it.
Torres: The truth is there aren't many of us, so it's not hard to make those decisions. 
What local skate shops do you love?
Lacey Baker: Pawnshop Skate Co. in Covina, where I grew up.
Headden: Lisa's garage. Seriously.
Where are the best places to board in L.A.?
Baker: There are a lot of plazas popping up all over the place, and those are good places to learn tricks. There are great spots everywhere in L.A. for street skating. Just today we got lost driving in Atwater and pulled into this warehouse that had ledges all over the fucking place. It said no skateboarding, so you know you have to go.
How has being in Meow impacted your skating?
Baker: Personally, it inspired me to keep skating. There was a time when I was really struggling. I was trying to ride for companies that didn't give a shit about my skating, and my fire was dying out. Being a part of Meow re-lit it in me, because it's bigger than just joining a team—we have a purpose, a goal. We support each other. That's what I needed.
How does an all-girl skate team benefit the skate world in general?
Baker: We need a community. The most important thing is creating a space for girl skaters to exist. At 10 years old, I thought Elissa Steamer was the only other girl skater in the whole world. This company brings us together and gives us a way to reach out to other girls so our community grows. 
BROOKLYN
Jilleen Liao, Brandy McDonald, Desiree Billett, Tracy So, Katie Plassche
Huddled around a bag of microwave popcorn, this band of boarders polishes off their Sunday morning skate session in the most chill way imaginable: with a few beers (and a steamed artichoke, for good measure). While none of them are skateboarders by profession, many have been on the scene for as long as 15-plus years. As they bounce back and forth between tales from their '90s skate upbringing, Robstock (the infamous, now-defunct skate party hosted by Lowcard zine's Rob Collinson), and the Bob Ross-themed arts-and-crafts nights they've shared, it's clear that their long-lived crew-dom has far surpassed a regular friendship. "It's not necessarily skateboarding that makes the community strong," Liao explains of their special bond. "It's the spirit of it." YASMEEN GHARNIT
How did you all come together?
Liao: Ten or more years ago, it was a very strong community. It was an era where you kind of just knew who skated. 
Plassche: It was such a small culture.
So: It just kind of trickled down through word of mouth, like, "Oh, you don't know this person? Well then, you're going to get introduced."
McDonald: You were a weirdo if you skated, so you instantly connected with everyone else. 
Was there a natural camaraderie as women in a male-dominated space? 
So: We already stick out like a sore thumb. 
McDonald: You walk into a skate park and every head turns: "Is that a girl over there?"
Liao: We're talking about back then, but it's still sometimes like that. 
Plassche: It's getting less like that, though. Now there are a lot of young girls who are skating, and they're ripping. 
McDonald: The reason I started skating street in the '90s was because I was too embarrassed to go to a skate park. I didn't want anyone to watch me skate.
Plassche: I was the same way. 
Liao: And that's one of the differences between some of the generations of girl skaters now. I think for us and other girls that started in the '90s, people always assumed that you were a "skate betty" and you just wanted to fuck dudes, or you were a mega-tomboy. That's what I got when I was a teenager, because I used to skate at Pier 7, a really male-dominated skate spot where Lennie Kirk and all these grimy SF dudes would skate. I used to skate every day after school during high school wearing my headphones, because you have to just block it all out. But then you start to realize how people view you. And so I'd wear really baggy clothes. I used to wear, like, size 33 carpenter jeans and hoodies.
McDonald: It was your way of disguising you were a chick.
How has skating culture changed through the years?
McDonald: Back in the late '90s or early '00s, it wasn't very easy to find skateboards or parts. Now it's so accessible and everyone wants to skate.
Skating is historically an independent, "outsider" activity, so why do you think it also fosters such a strong sense of community?
McDonald: As a skateboarder, you have to want it. It can come naturally, but you eat so much shit. In order to even land a trick, you don't do it in four tries. You do it in four months, over and over, and it physically and mentally kind of beats you up in a way, but that's what also feeds you to keep going. 
Liao: It makes you feel like you're fucking 16 again. Every time we come together and skate, it's like a clubhouse.
What are the best skate shops in New York?
Liao: Autumn [which closed in 2011] will always be the best skate shop to me, in the world. If you're in Philly, Exit is good.
McDonald: 2nd Nature is not well-known at all, which makes it cool. We grew up with skate shops that were just holes in the wall.
Liao: But with certain generations, skate shops aren't even a big thing, which is sad. Everyone's buying shit online.
CHICAGO
Chanelle Rezko, Hope Christerson, and Liv Seidel are disrupting the status quo with their online skate mag Get Born, a platform that both integrates a female perspective into the world of skateboarding journalism and explores skate culture as a wide-ranging, multidisciplinary movement. The site is packed with meaty interviews, a blog feed full of skate-related art, videos, and photo journals, and a "Homies" page that documents scenes from the daily lives of their friends on the skate scene. And sure, there are haters, but these ladies don't give a damn. NORA MALONEY
Tell me about your crew's background.
Rezko: Being involved with our local skate community was really the base of our friendship. As we grew older, we realized that the skateboarding companies and publications we looked up to were all founded by men. Not only that, but women who tried to get involved in skateboarding were, and still are, often sexualized and viewed as groupies. We had way too much genuine love for the culture to buy into that stereotype, which is why we decided to work to change it and to create a voice for ourselves. 
Where'd the title come from?
Rezko: When we were just starting out, I would play Bringing It All Back Home by Bob Dylan out loud while we worked. Once we were listening to the song "Subterranean Homesick Blues," where Dylan says "get sick, get well," then proceeds with "get born," and we all looked at each other like, "Shit, that needs to be the name." It just felt kind of perfect. 
Have there been any big obstacles since the mag's launch?
Rezko: There were times of major discouragement, for sure. One time we walked into this party in Chicago and some dude had our stickers up everywhere and wrote "real whores" on them. That was pretty gnarly. But hate is so little when you compare it to the big picture. 
How does having an all-female team influence Get Born's content?
Christerson: The fact that we're women isn't the main point of Get Born—it was created first and foremost as a platform for showcasing the creativity of core skateboarding. Nevertheless, I think we may be more attuned to the way skateboarding can be problematically exclusive—and not just to women—and we hope to change that in whatever way we can.
What have been some of your favorite topics to feature?
Seidel: We really like to cover skaters who fuel their creativity not only through skateboarding but also through art, music, or creating their own skate company.
Christerson: For example, recently, we've been featuring a lot of photo journals by skaters, filmmakers, and photographers such as Greg Hunt, Daniel Lutheran, Cole Slater, and Kate Green. 
What other skate publications inspire you?
Rezko: Our main influences are Jenkem, Theories of Atlantis, and Big Brother. 
What are your favorite defining moments in skate culture history?
Christerson: I'm very interested in the transitional period between the 1980s and 1990s, from Powell-Peralta to World Industries and the various projects that sprouted out of it, like Blind, Plan B, Girl, and Big Brother. This was a time when skateboarding graphics became extremely subversive and street skating was on the rise. Transgression and anti-capitalism were the norm, which is something I respect.
Tell us about the skate scene in your home city.
Christerson: Chicago and Montreal [where we also spend part of our time] both have insanely long and cold winters. The skaters are pent up for half of the year, so once the summer comes around, the skate scene just blows up—the creativity is palpable. This gives both cities a more underground, original style of skateboarding that you won't necessarily get in a place like California.
PHOENIX
The ladies of Las ChicAZ are living. When the Arizona-based crew isn't shredding parking garages or outlying skate ramps, the partially sponsored squad (four of the seven have sponsors) can be found drive-by mooning fellow denizens or road-tripping to San Diego for surf trips. But dubbing these girls "blithe" would be a mistake. Even more substantial than their love for a night of throwing back Tecates is the crew's dogged camaraderie, rooted in some serious girl power. RR
Why form your crew?
Natalie Krishna Das: We started Las ChicAZ specifically because we wanted to skate with girls. The guys can be so competitive.
Laura Logue: When you're with the boys, you're the odd one out and sometimes they're rude or disrespectful. When it's the girls, you're building each other up and having fun. We're all best friends.
Where do you all love to skate locally?
Nicole Pothen: My two favorites are Desert West Park and Paradise Valley Skate Park. I grew up skating there with Natalie and Courtney [Ramos].
Logue: A lot of us really like Rio Vista Skate Park. That's where I learned how to skate and where I met the rest of the girls. Another skate park where you can find Las ChicAZ quite a bit is Tempe Skate Park. We also love skating downtown—there are tons of ledges and parking garages.
What are your favorite Arizona skate shops?
Logue: Cowtown, Sidewalk Surfer, and Starr Skates Tucson are the best.
How has being in Las ChicAZ impacted your skating?
Logue: I've gotten way better. With the boys, sometimes it's discouraging.
Hailey Villa: The worst is when you're working on a trick for hours and then some dude comes over and smashes your trick right in front of you. It's like: "I get it. You can skate."
Logue: When you're skating with other women and they're all giving you pointers and encouraging you, you realize it is possible to reach that level, so you don't give up.
Tell me about the bond in the group.
Pothen: One time a dude broke my board just to be a douche, and Natalie went to take his so I could have it. He tried to push her, and she kicked that fool in the shin—twice. That's our thing—we have each other's back no matter what. Also, some of us have known each other for 17 years; we know when someone's in a mood, and we'll be more sensitive. When it's just us, we won't give shit to anyone who's going through a hard time.
Who are some skaters who've inspired you?
Courtney Ramos: Patti McGee, Hailey's mom!
Villa: My mom was the first women's professional skateboarder. She paved the way. She was on the cover of Life magazine in 1965 doing a handstand on a skateboard.
Jean Rusen: I used to have that cover up on my wall!
How are all-girl crews beneficial to the skate world as a whole?
Logue: I think women offer a new perspective to the skate world. We bring [a different] artistic vision.
Can you elaborate on that?
Pothen: Arizona once held a crew battle that Courtney, Natalie, and I competed in. We knew we couldn't lay hammers like some of the dudes, so we choreographed a synchronized skate with tricks that were timed. It was awesome—we got first place.
Rusen: I think we add grace to the art.
Logue: Also, we add the art of overcoming. Skating in general is about overcoming obstacles, but as a female skater, you're overcoming even more. You're overcoming yourself, stereotypes, all of it. 
THE BRONX
Those who doubt the power and influence of sisterhood have clearly never met the Brujas. In a few short years, the Bronx female collective and skate crew has grown from two women into a revolution in and of itself with around 15 total members. Social issues like gentrification, the abolition of patriarchal social norms, and racism are at the forefront of its collective consciousness, meaning that the Brujas have been challenging not just skate culture, but the evolution of New York itself. And at the end of a rough, productive day, the tight-knit clique turns to each other and keeps pushing off, both literally and metaphorically. "Having a girl gang, we're explicitly here for emotional support," the group's co-founder Arianna Gil says. "The cool guy crews will never willingly admit that they come to skateboarding for community, emotional support, and love." YG
How did the Brujas form?
Gil: We all started skating at the 157th Street skate park in the Bronx because skating uptown is way more pure, supportive, ill, and raw. Brujas is explicit about us being dually native—we're all Latina women with Native American roots, and we're also native New Yorkers. Street culture thrived in the blight of New York, and now as it's gentrifying and getting bougie, it's not only that we're feeling like we're at the periphery and margin of the culture because we're women, but we're also being pushed out because we're low-income. Housing and anti-gentrification is something that we really want to support each other through.
A lot of you met at the Brujas-run Sucia parties. Tell me about them.
Coz: Essentially, the Sucia party was created to be a safe space for young women to be able to dance and express themselves. "Sucia" in Spanish means "nasty girl," and it's supposed to be an ironic title. In society, if we were to express ourselves freely—to express ourselves sensually and dance and embrace movement—we would probably be labeled a "sucia." But we can go to a Sucia party and express ourselves and be a young girl and be celebrated. 
Kayla Morricone: I never used to dance at parties—ever. I never felt comfortable, but I went to a Sucia party and danced for the first time ever. Now I can't stop dancing wherever I go. We dance to the music that no one can hear.
Rafaelina Sanchez: We grew together through the parties.
What does it mean to be a member of the Brujas?
Coz: We're a very multifaceted group. Arianna's a wonderful musician, and Rafa and I are professional dancers. We all have our outlets.
Nesa Guzman: I also draw and do photography for the guys, but it doesn't really help because they exclude me. I feel more comfortable in the Brujas scene because it makes me feel like I'm around sisters.
Gil: Urban cultural industry is completely dominated by men and that's the reason why it's cool for us to throw parties and have a group of women together. It's an economic practice of justice, we feel. We are explicitly an anti-capitalist, anti-racist, and feminist group. We're committed to educating ourselves and becoming "conscientized" revolutionaries.
Coz: Being the best versions of ourselves, and being the best at what we do is our own revolutionary act.