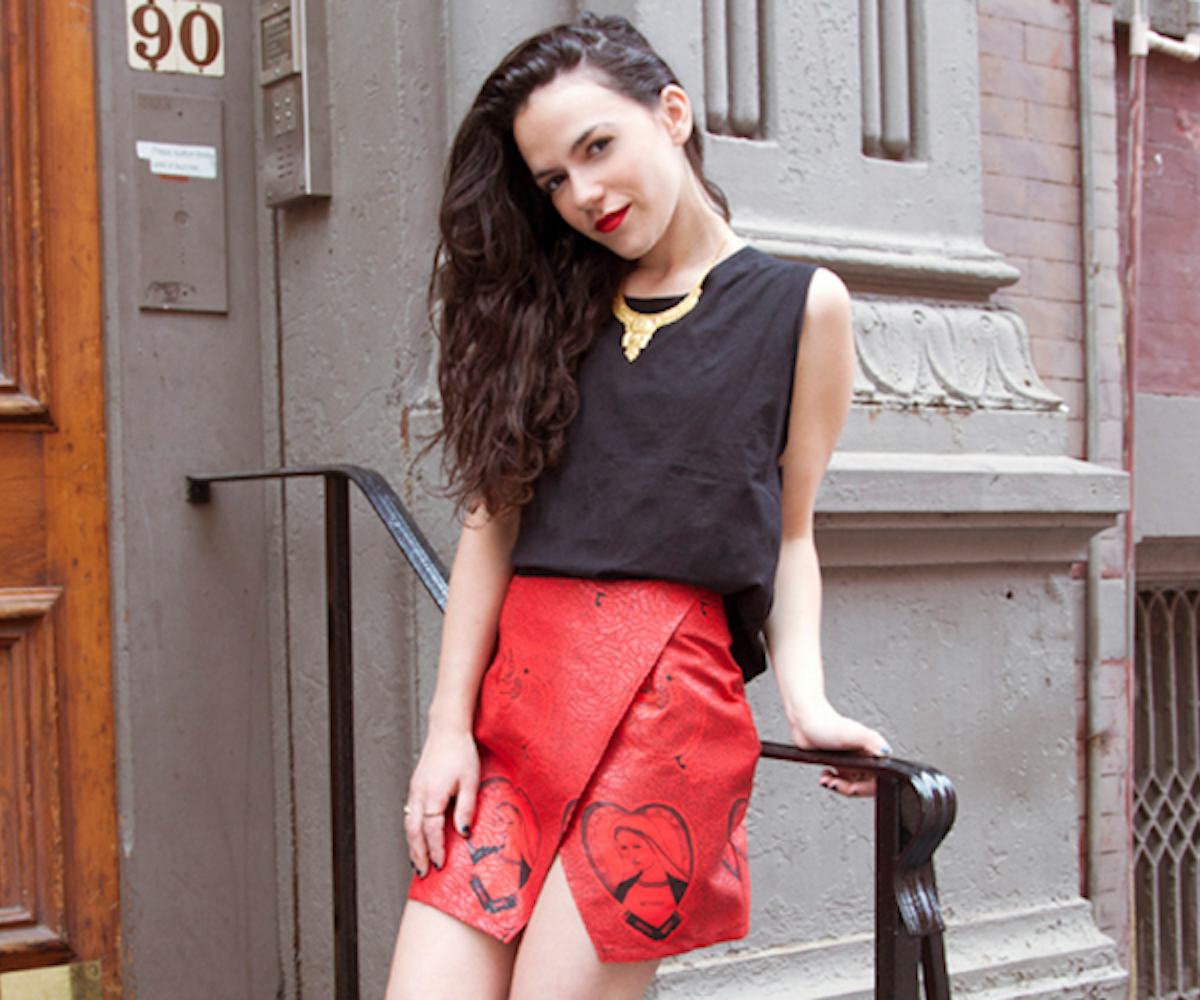 samantha giordano shot by vivian loh
meet the designer: samantha giordano
get to know the creative force behind dolores haze.
Name/ Brand Name:
Samantha Giordano /
Hometown:
West Orange, NJ
Current City:
New York, NY
1) How long have you been a designer/ how did you get started?
I have officially been a designer for four years. Art has always been my first passion. I grew up learning how to draw and paint through courses at the Metropolitan Museum of Art as a child and took art classes at the Fashion Institute of Technology over the summers in high school. This lead me to land my high school senior internship in the design department of Nicole Miller where I hand dyed and embellished tank tops. After my internship, while shopping on vacation in LA, I wound up seeing one of the tank tops at a boutique - after that I knew I wanted to be a designer. That same year I finished reading the book Lolita and told myself that one day I would have a fashion line named Dolores Haze. Two degrees later, a bunch of internships in the industry and after landing my dream job at Urban Outfitters and talking incessantly about Dolores Haze the entire time I decided to stop being all talk. 
2) Favorite current item from Dolores Haze?
It would have to be a tie. I'm partial to the Theadora Dress, I named it after my kitten, but I also love the Denim Karen Dress. I searched all over for the perfect color and weight of denim.
3) Tell us a little about your inspiration for fall---- we're loving these oversized moto-jackets!
Each season I always seek to the sentiment of nostalgia for inspiration. For the Fall '14 collection the color pallet and tartan fabrics were inspired by the time I spent in my youth hunting with my father surrounded by men's hunting fabric. Traditional menswear textiles were used to drape flirty dresses and separates styled with oversized moto jackets. I needed a bold print to offset the dark plaids and after finding the Mother Mary print while visiting my father's family in London I knew it was the perfect addition. My Italian strict catholic grandmother worked in the fashion industry and the print is an homage to her.
The oversized moto-jackets are my favorite items from this collection! I was over only being able to wear box cut jackets of former boyfriends and decided a feminine version with an edge needed to exist.
4) If you could design for anyone (alive or dead), who would it be?
The French New Wave film star Anna Karina in her prime. I am obsessed with her 1960s European prep-style and overall vibe. Karina is feminine and sassy, while always adorning perfect cat eye makeup.
5) What's next?
More heartbreaker styles for next Spring and Summer!
Shop the latest from Dolores Haze on 
samantha giordano shot by vivian loh, donna shorts - $155, harriet button down organza - $180, dolores haze. (available here.)
theadora dress - $365, dolores haze. (available here.)
samantha giordano shot by vivian loh, eyelet lydia tank - $125, rita shorts - $225, dolores haze. (available here.)
denim karen dress - $315, dolores haze. (available here.)
samantha giordano shot by vivian loh, mother mary skirt - $245, dolores haze. (available here.)