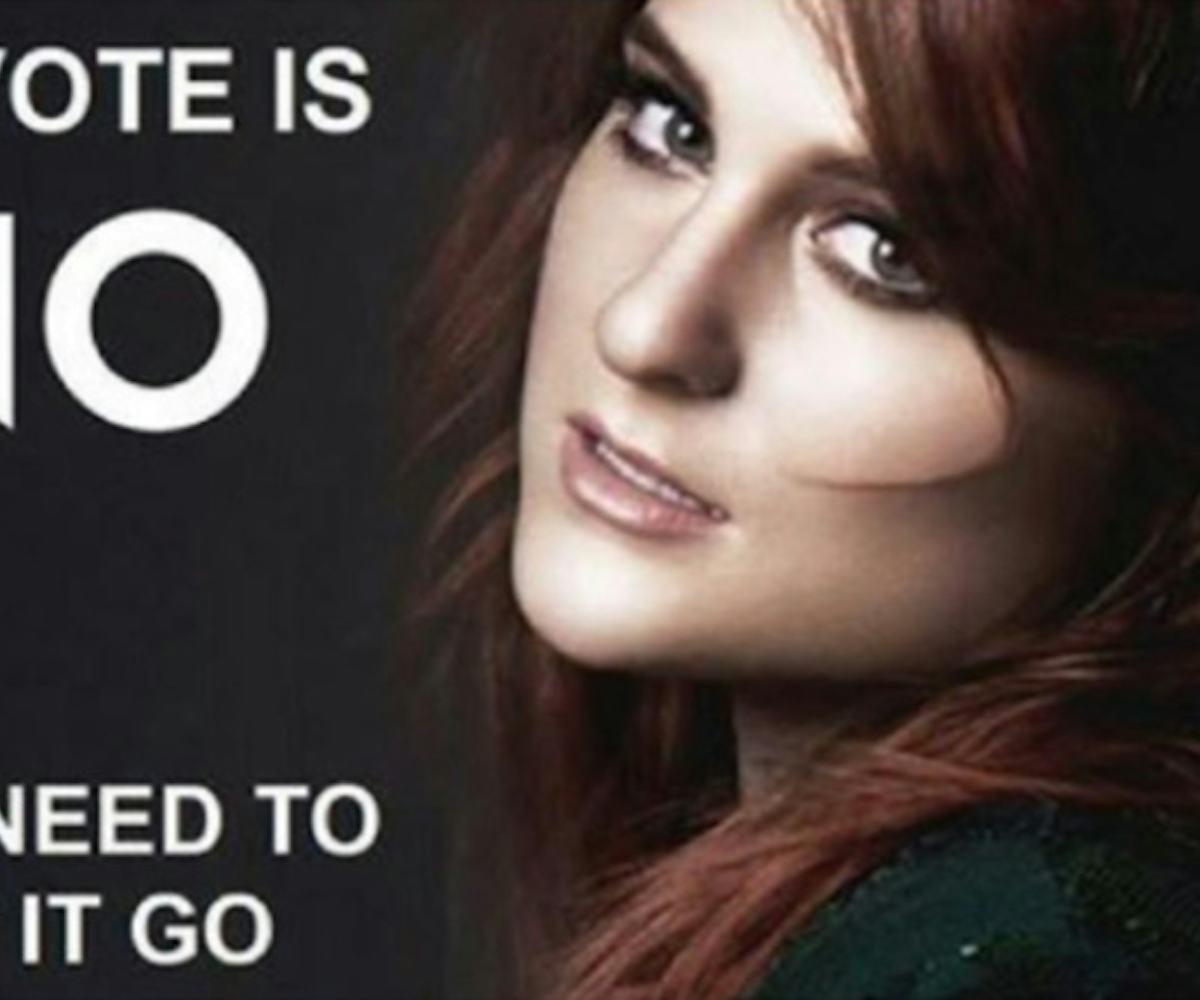 Image via Twitter/melanie_mogs
Meghan Trainor Somehow Became The Face Of An Anti-Gay Marriage Campaign
It's 2017 and, shockingly, gay marriage is still illegal in Australia. The country is currently holding a nationwide postal vote on whether or not same-sex unions should be legalized, and, naturally, the homophobic campaigns have come out in full force. Recently, one of those campaigns, Vote NO Australia, was caught illegally using Meghan Trainor's image in their ads—and the singer is not cool with it.
After one of her fans brought the ads to Trainor's attention on Twitter, she was quick to clarify that she had nothing to do with them. "I SUPPORT MARRIAGE EQUALITY!" she wrote. "Someone in Australia is illegally using my picture for a campaign against marriage equality. So wrong. Not okay."
The images were a play on the lyrics of Trainor's song "No." "My vote is no," the ads read. "You need to let it go." 
"I've said it before," Trainor continued. "Everyone should be able to love who they want. I support equality, period." 
Then, she posted a photo encouraging Australians to vote "yes" for marriage equality. 
Trainor has been a vocal advocate for the LGBTQ community. She told After Ellen in 2015 that she often dedicated her song "Close Your Eyes" to her LGBTQ fans, "and I tell everyone that they should love whoever they want. I have a lot of gay friends and they're such an important part of my life. I'd definitely consider myself an ally. Love is love and everyone should be able to have it in their lives no matter who it is they choose."
This weekend, more than 20,000 people took to the streets of Melbourne to advocate for same-sex marriage, CNN reports. There was also a "mass illegal wedding," where a celebrant married two Australian women, Jane Mahoney and Josie Lennie, who'd been together for more than four years. Mahoney told CNN, "We just want to be able to make it official in the future."