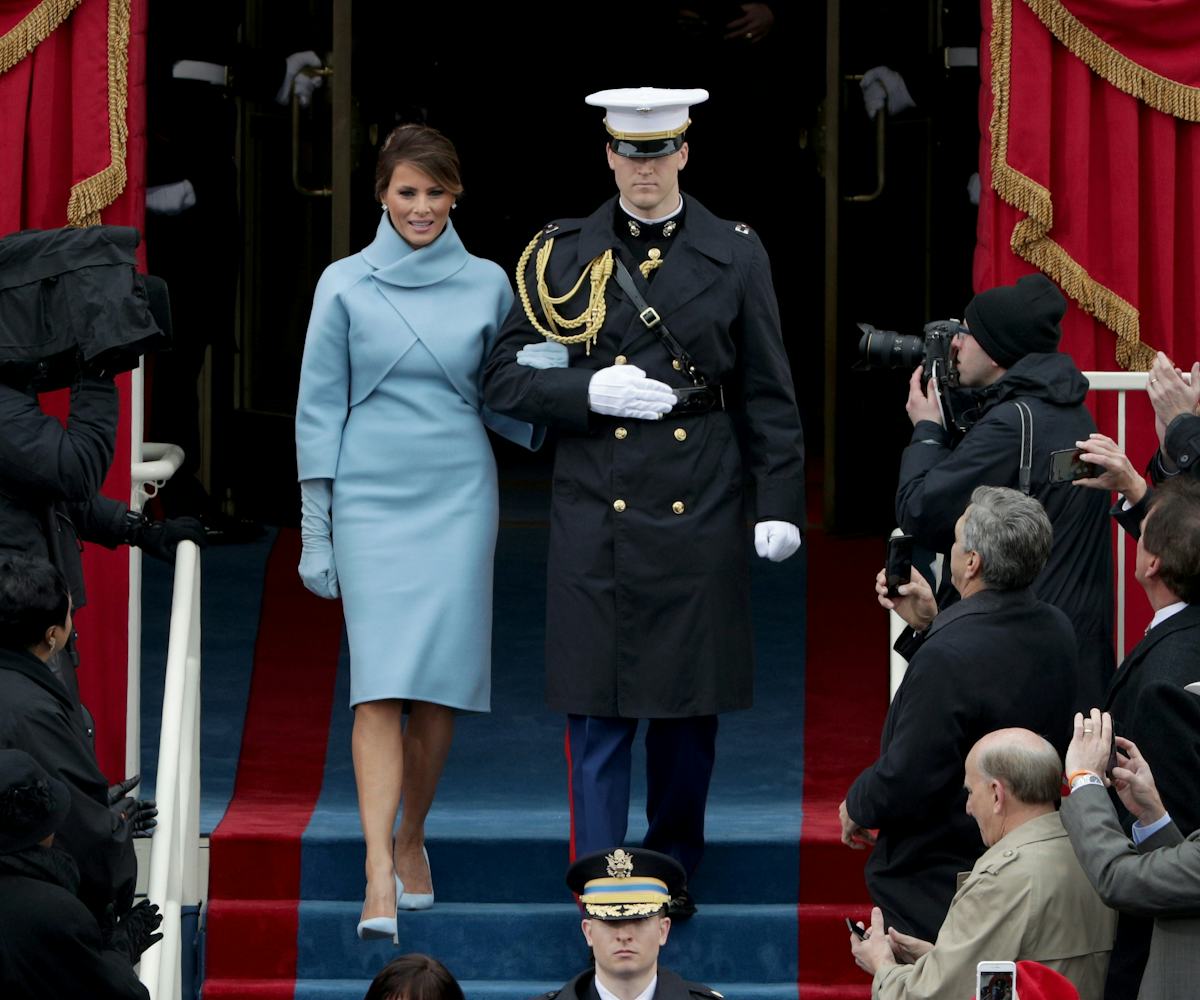 Photo by Alex Wong/Getty Images
What It Means That Melania Trump Channeled Jackie O's Style
In the weeks leading up to today's inauguration, the whole world speculated who would dress Melania Trump. While many designers openly voiced their opposition against dressing the presumptive First Lady due to their disagreement with and refusal to normalize Donald Trump's views, not all followed suit.
In the end, one of the most all-American fashion designers of today, Ralph Lauren, ended up doing the deed (while also dressing Hillary Clinton in a totally empowering white pantsuit, may we add). When Trump stepped out this morning in the above sky blue dress and coat, viewers and reporters were quick to compare her retro-inspired ensemble to that of Jackie Kennedy, seen wearing this blue coat to JFK's 1961 inauguration.
However, this isn't the first time a first lady paid homage to Jackie O—in fact, it seems like the unofficial tradition was adopted by recent Democrats, like Clinton back in 1993 during Bill Clinton's inauguration. Clinton wore this vibrant blue coat and hat, which was quite similar to Kennedy's blue checked suit worn during an international visit back in 1961. When our next Democratic first lady, Michelle Obama, stepped out in Washington back in 2009, she also channeled Kennedy's sophistication and elegant style, wearing the below graceful chartreuse dress and coat combo. 
Photo via Getty Images Pool
While it's clear that Trump is trying to similarly channel one of the most poised first ladies of all time, something about it doesn't feel very authentic. Those outdated gloves, that particular shade of light blue, and just the overall retro-ness off the look doesn't quite fit with her typically "corporate" style. All in all, it seems pretty forced on her part. Obama and Clinton wore modern interpretations that fit well into their normal fashion choices, while this is something totally out of Trump's realm. We also can't help put point out that while Clinton and Obama wore pieces inspired by Kennedy's overall style, Trump went about replicating an exact inauguration look in a flat-out uninspired manner. 
While we can say Trump following the tracks of first ladies past may be a good sign, we just hope it trickles into more serious matters, beyond fashion and already established traditions.