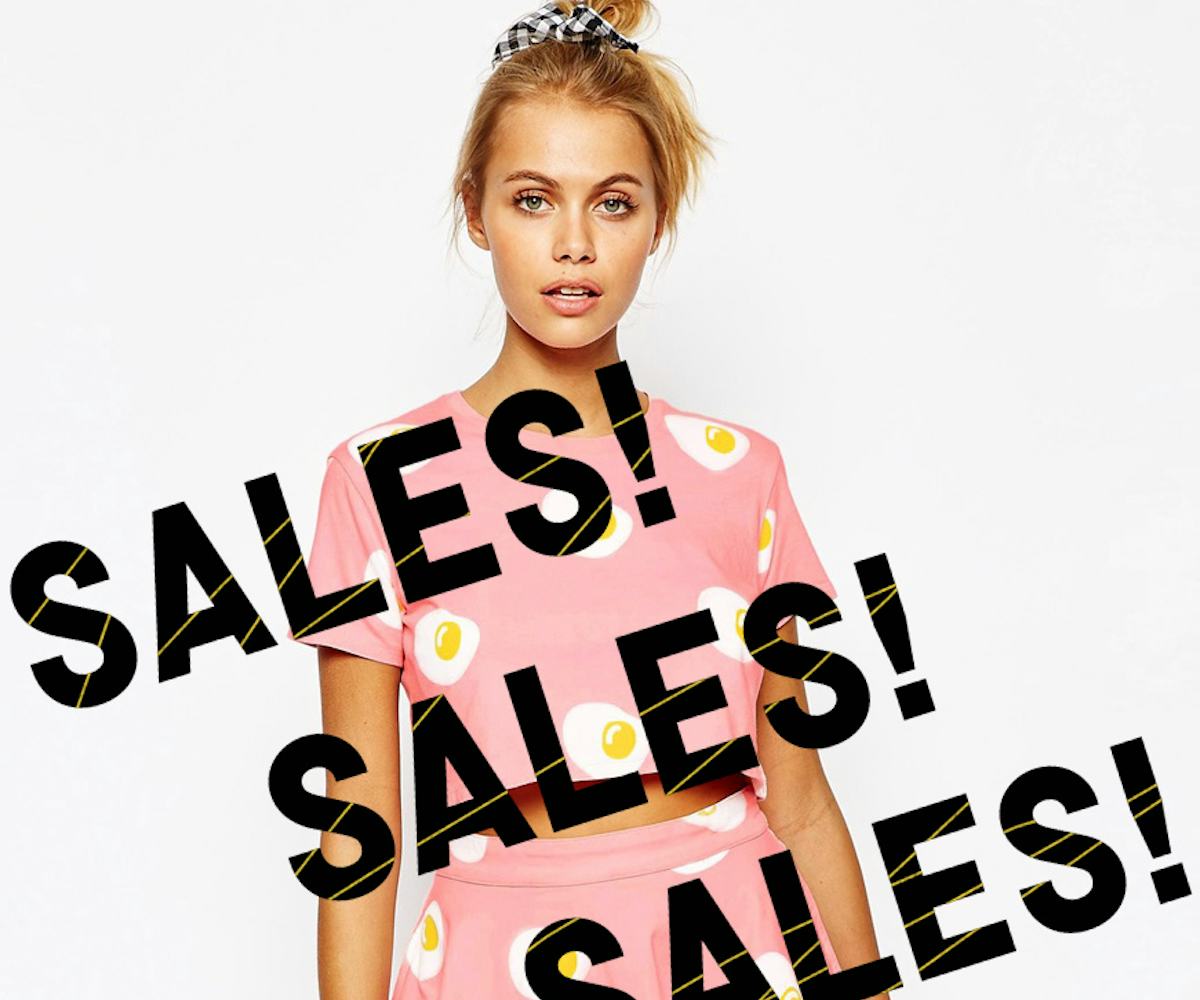 your ultimate memorial day sale guide
the weekend's long so you can shop more
by yasmeen gharnit + marissa smith
For most, Memorial Day is a time meant for family bonding, BBQs, rooftop hangouts, pool parties, and good old-fashioned outdoor American fun. And while we do partake in most of the aforementioned activities, we always make sure to set a bit of time aside for online shopping. Camped out in front of our computer screens, we find our own version of solace in the form of major discounts. We already shared our favorite Aritzia sale finds with you on Friday and now we're presenting you with our bible of sorts. Click through the gallery for your ultimate Memorial Day sale guide, filled with the best shopping deals tomorrow has to offer. 
GiejoTake 50% off everything giejo.com with the promo code mdw50 through Tuesday, May 26th.
Giejo, halter tie bikini top, $62.50, available at Giejo; Giejo, black & white stripe mixed boy brief, $52.50, available at Giejo.
NordstromTake up to 40% off select items through May 31.
Elizabeth and James, Vivi shift dress, $113.98, available at Nordstrom.
TheoryTake up to 40% off select styles.
Theory, Seblyn D top in stonemarl, $153, available at Theory; Theory, Holeen G skirt in stonemarl, $171.50, available at Theory.
Take 40% off everything with the promo code summer.
Gap, 1969 a-line denim skirt, $29.99, available at Gap.
Pixie MarketTake up to 70% off sale items.
Pixie Market, fringe black shorts, $24, available at Pixie Market.
ShopBopTake up to 70% off sale items.
Elizabeth and James, cynnie haircalf mini bucket bag, $346.50, available at ShopBop.
Forever 21Buy one get one 50% off select styles using code b1g1500ff.
Forever 21, pleated woven cami, $19.99, available at Forever 21.
TopshopTake 30% off key summer items through Thursday, May 29th.
Topshop, cloud flower print pelmet skirt, $45, available at Topshop.
Nasty GalTake an extra 40% off select sale styles, as well as 40% off select regular-priced styles with promo code HOTSTUFF.
Nasty Gal, net worth mesh dress, $29, available at Nasty Gal.
ASOSTake 20% off all full-priced items with the promo code LONGWKND through May 26th.
Lazy Oaf, cropped t-shirt with all over egg print co-ord, $43, available at ASOS.
MIANSAITake up to 60% off the brand's online private sale until May 25. 
Miansai, silver tone hook sea foam leather bracelet, $50, available at Miansai.
BloomingdalesAs part of the brand's "Big Brown Bag Sale," save 20-70% off just about everything.
Burberry Brit, Johanna check shirt dress, $396, available at Bloomingdales.
CourtshopTake 30% off sale and full-priced items with the code SUMMERJAM.
Courtshop, Jill tank, $87, available at Courtshop.
CURRENT/ELLIOTTTake an extra 20% off sale items using promo code MD2015 through May 25.
Current/Elliott, the skinny mini, $105, available at Current/Elliott.
Macy'sTake an extra 20% off using code hooray.
Calvin Klein, reversible hooded jacket, $100.99, available at Macy's.
Urban OutfittersExtending their sale through the long weekend.
Project Social T, School Yard Tee, $29.99, available at Urban Outfitters.
AldoTake 25% off select sandals.
Aldo, glori, $37.48, available at Aldo.
UniqloSpecial promotions on select styles.
Uniqlo, women les toilet du soleil sleeveless dress, $19.90, available at Uniqlo.
Levi's40% off if you spend $250+ and 20% off if you spend $125.
Levi's, 501 shorts, $58, available at Levi's.
Take 15% off everything over at NYLONshop now through Monday with the promo code MEMORIAL15.
Illustrated People, wavey cut away dress, $72, available at NYLONshop.
Robert Lee MorrisTake 20% off all items through May 25.
Robert Lee Morris, double phantom cuff, $500, available at Robert Lee Morris.