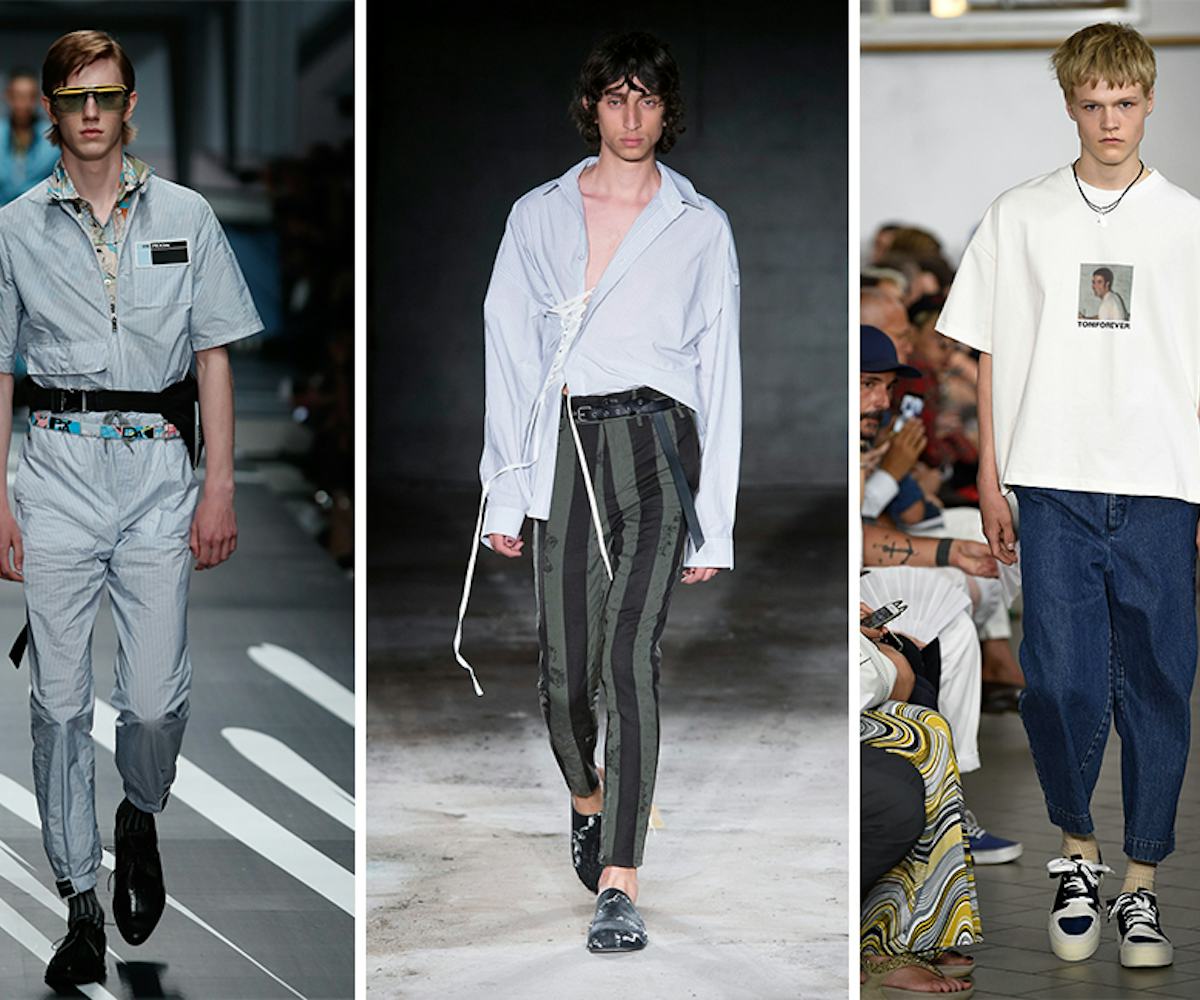 Photos courtesy of Prada, Damir Doman, Sunnei
Borrowed From The Boys: The SS18 Menswear Looks We Want To Steal
Our favorite looks from the European shows
There's no denying that gender lines in fashion have become more and more blurred over the past few years. Designers have consistently shown a willingness to take a more androgynous approach to their styles, while also becoming more inclusive all-around when it comes to incorporating different colors, fabrics, and cuts into their designs.
This type of experimentation and innovations means that we now get as much fashion inspiration from the men's collections as we do from the women's ready-to-wear shows. For the past few weeks, as menswear designers showcased collections in London, Milan, and, most recently, Paris, we couldn't help but find some of them totally drool-worthy for us, girls, to wear. While we wait for New York's installment of Men's Fashion Week to come to town in mid-July, we just had to round up some of our favorites so far from Europe.
From the wildest of coats to the jumpsuits of our dreams, spring 2018 has a lot in store for the boys—and for the rest of us. Below, our 10 favorite looks to hit the runways that we want to wear right now.
Prada
We're all for a good utilitarian jumpsui-fanny pack combination.
Astrid Andersen
One cannot deny the luxury of a good hoodie robe, and this floral silk goodness from Astrid Andersen is just what we need.
Chalayan
We'd like to wrap ourselves up in this look right about now.
Damir Doma
We've been seeing deconstructed shirtdresses on the women's runways for some time now, but we're totally in love with this off-center corset lacing on this Damir Doma top.
Dolce & Gabbana
Meet the Dolce & Gabbana bomber jacket of our dreams.
Dsquared2
Who ever said tropical florals and animal prints couldn't be mixed?
Fendi
This pink-, beige-, and-brown number from Fendi is our dream office-casual look.
J.W. Anderson
We love you too, J.W.
Sunnei
Does this even need an explanation? #TomForever.
Versace
You can call this Versace tracksuit the answer to our lazy day prayers.