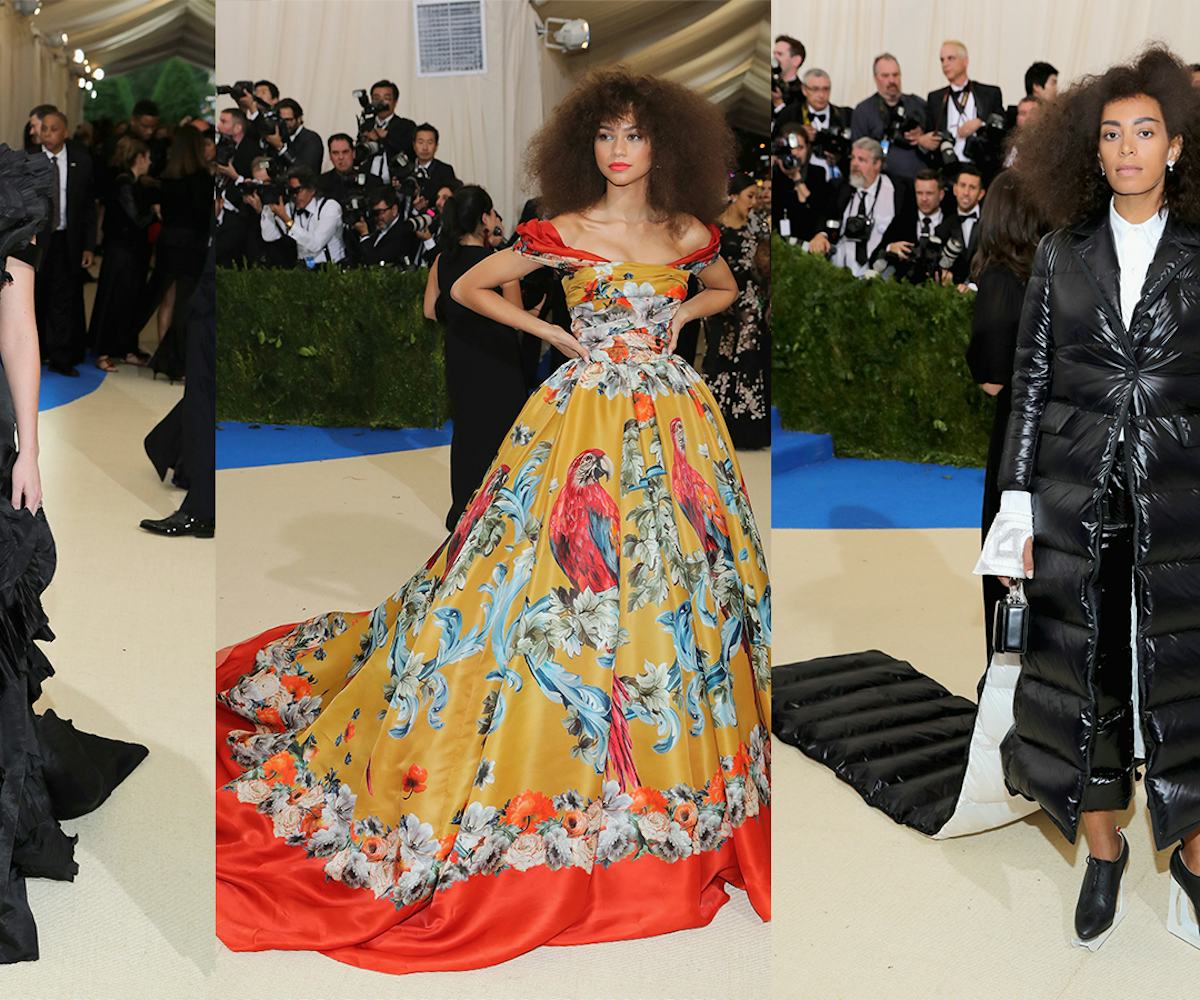 The 18 Standout Looks From Tonight's Met Gala
Check out the otherworldly gowns and getups that rocked our world
Every year, we anticipate the first Monday in May for a couple of reasons. For one, it's when spring finally beings to feel like spring. It's when April's showers actually start to bring May flowers. Oh, and, of course, it's the night of the annual Met Gala.
It just so happens that this year's soiree may possibly be one of the most highly anticipated Met Galas in some time. As soon as it was confirmed that this year's theme was Rei Kawakubo, we just knew we were going to see some of the most outrageous, artistic, and otherworldly red carpet looks possibly ever. Known for her avant-garde designs that challenge conventional fashion and beauty, we saw Kawakubo's style reinterpreted by our favorite celebrities, whether in the form of vintage Commes Des Garcons or modern Gucci, Thom Browne, and even H&M. I mean, it is fashion's party of the year after all.
Below, we rounded up the 16 looks that totally slayed, from the evening's co-host Katy Perry's dramatic Margiela look to Lily-Rose Depp's simple and sleek, yet slightly off-kilter structured Chanel gown. Click through the gallery below to read on.
A black puffer trench and boots that resemble ice skates at the Met Gala? Leave it to Solange in Thom Browne. Also how cute is that Mark Cross mini bag?
Cara Delevingne was a cosmic knockout in this sparkling Chanel suit.
Gowns aren't always required at the Met Gala, and Claire Danes is proof. The actress paired chic black trousers with an incredible deconstructed ruffled blouse by Monse for tonight's look.
Priyanka Chopra wore this extreme gown interpretation of the classic trench coat by Ralph Lauren.
Allison Williams was as elegant as ever in Diane von Furstenberg.
Katy Perry was a vision in red (and, well, also a little bit terrifying) in this insane Maison Margiela getup.
Tracee Ellis Ross totally killed it in this vintage Commes Des Garcons coat dress.
Allover sequins can still be subtle—just ask Riley Keough in Louis Vuitton.
Lena Dunham wore this gorgeous custom gown by Elizabeth Kennedy. What made a bigger statement than her giant gingham skirt was the Planned Parenthood pin she proudly attached to the bodice.
Kendall Jenner has become pretty known for unexpected slits on the red carpet, and this sheer dress (lingerie?) by La Perla doesn't disappoint.
While this dress may be one of the simpler styles on the list, we're super in love with this fuchsia gown by Chanel that Lily-Rose Depp wore tonight.
Have you ever seen Janelle Monáe not kill it? This giant Ralph Russo gown she wore tonight was pure magic.
Jourdan Dunn was all about the deconstructed look in this off-the-shoulder white blouse paired with a ruffled pinstripe bottom by H&M.
Zendaya was a tropical vision in this parrot printed Dolce & Gabbana gown.
Keri Russell went for a sporty striped tux and David Webb jewelry for tonight's gala, proving that simple is sometimes the way to go.
Halle Berry's sheer tiered Versace gown was absolutely breathtaking.
Just the sight of Rihanna gives us hope for humanity and makes us think that there must be a divine being out there, because Rihanna is clearly made in her image. But so also, in a night when many people walking the red carpet failed to explore the possibilities of celebrating the avant-garde work of honoree Rei Kawakubo, Rihanna actually wore Comme des Garçons. Well, she didn't just wear it, she owned it; she was a vision, like a cherry blossom tree come to life, like that Neruda poem made real. Thank you, Rihanna. Thank you.
Dakota Johnson was pure gothic elegance in ruffled Gucci.