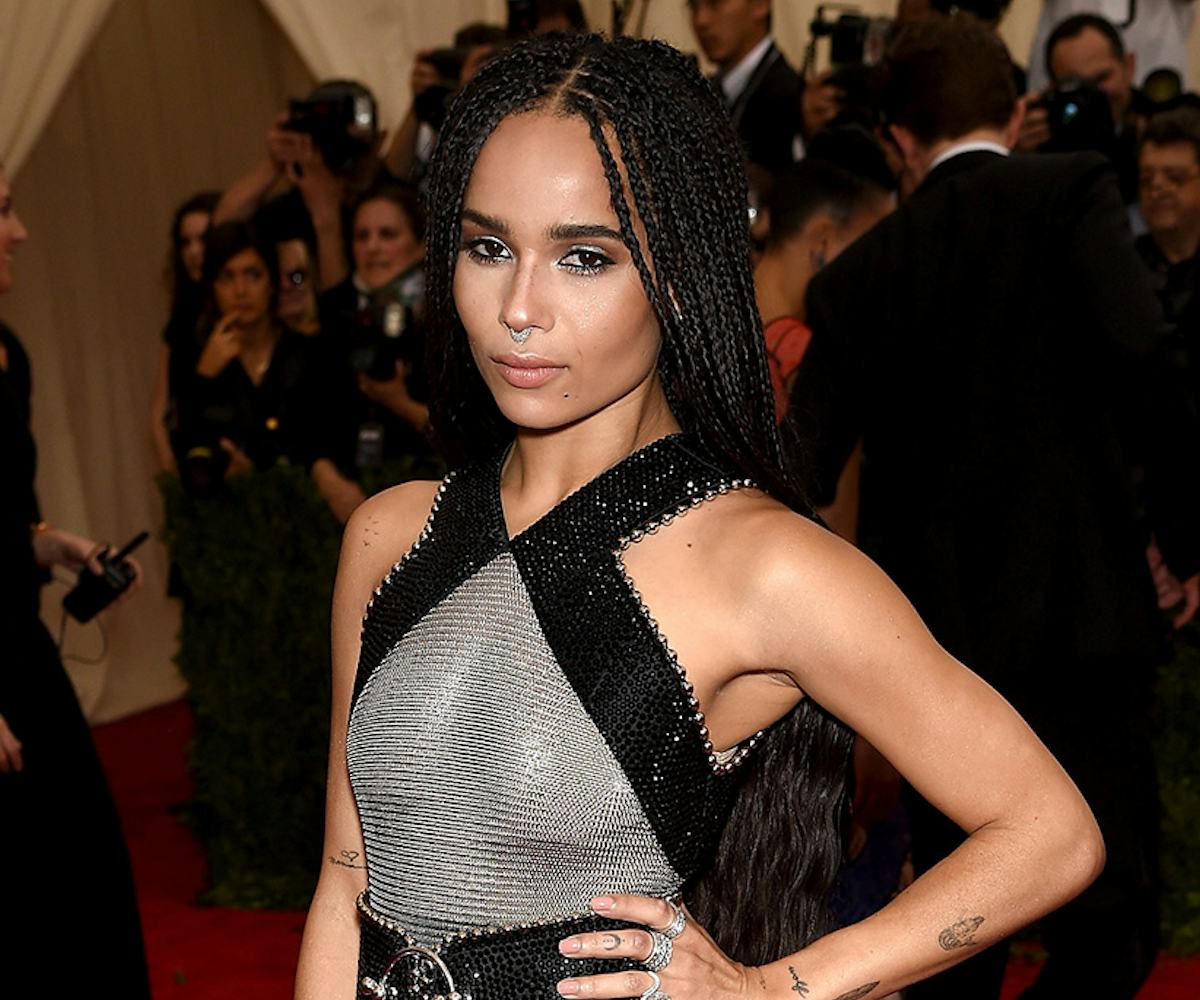 Photo by Dimitrios Kambouris/Getty Images
the met gala's 10 most stunning beauty looks
we're copying all of them, stat
It's no secret that red carpet beauty tends to be somewhat predictable. Red lips, Veronica Lake waves… Sometimes it feels like we could write an awards show beauty roundup without even seeing the stars. That's why the Met Gala red carpet is always so fun: Give celebs a theme and permission to go the distance and they will turn it out.
This year did not disappoint: From goth-glam lipstick to pink eyeshadow to pastel hair, the theme "China: Through The Looking Glass" led to some of the most aspirational beauty we've seen on a red carpet in recent memory. Click through for our favorites.  
Dakota Johnson
Look at that cat-eye! It is so enthusiastically flicked. This is how all cat-eyes should be. Not a tiny delicate kitten; not a soft smudgy line, but a huge mountain lion of an eyeliner and it is not sorry.
Janelle Monae
This is not just one of the best beauty looks of the night, but one of the best braids we have ever seen, period. It's like this enormous creature draped elegantly from her forehead to her hip, in a kind of French-Mohawk-braid meets warrior-princess way. Can we live in it?
Claire Danes
This deep dark lipstick—and corresponding plum eyeshadow—is serving up '90s goth babe in the best way possible. (Hold, please, while we run to the mirror to copy it.) It's made wearable by the fact that her hair is a casual, blow-dried affair with Leonor Greyl Mousse au Lotus Volumatrice by celebrity hairstylist Peter Butler.
Behati Prinsloo
Behati's block eyeliner is straight from Suno's NYFW Fall/Winter 2015 show, and it's even more elegant on her than it was on the runway. For how to recreate the look, head over to our review and teach yourself, stat.
Keri Russell
Makeup artist (and NYLON friend) Tina Turnbow created Keri Russel's smokey eyes and flawless skin. Everything on Keri was luminous, and that's what makes this look so awesome: The iridescent metallic greens, silvers, and blues in her eyeshadow play off her gorgeous feathery dress, and her skin is glow-y and radiant.
Imogen Poots
Pink eyeshadow isn't necessarily the first thing we want to wear, but that's because we hadn't yet seen Imogen Poots rocking it. Talk about unexpected. Combined with her bright red lip and that lacy black dress, she's got grownup goth vibes that feel very relevant to our interests.
Alexa Chung
This is maybe the prettiest beauty look of the bunch—pretty in that traditionally soft, ethereal sense. With double-lined eyes (and white eyeliner on her lower waterline to make her eyes pop), shiny pink lipstick, brushed-out brows, and hair elegantly falling out of her updo, Alexa is like the ballerina princess of our dreams.
Jourdan Dunn
Another stunning cat-eye moment, Jourdan's makeup is perfect for the red carpet and the after-party. Also can we talk about her gorgeous cornrows? While we loved her baby bob, this look is awesome, too. 
Zoë Kravitz
Honestly though, is there anyone cooler than Zoë Kravitz? She's all metallics here, like a hot robot. The copper and silver on her eyelids is playing off her dress and septum piercing in a daring yet effortlessly aspirational way. Her nude lip helps: By balancing her makeup like that, it gives that "not trying" vibe.
Miley Cryus
Miley rolled up with blue hair, because she's just doing Miley and she won't stop. Adding to her coolness is the fact that it's slicked-down, preventing it from looking too boho (as pastel hair tends to do) and keeping it super-modern.