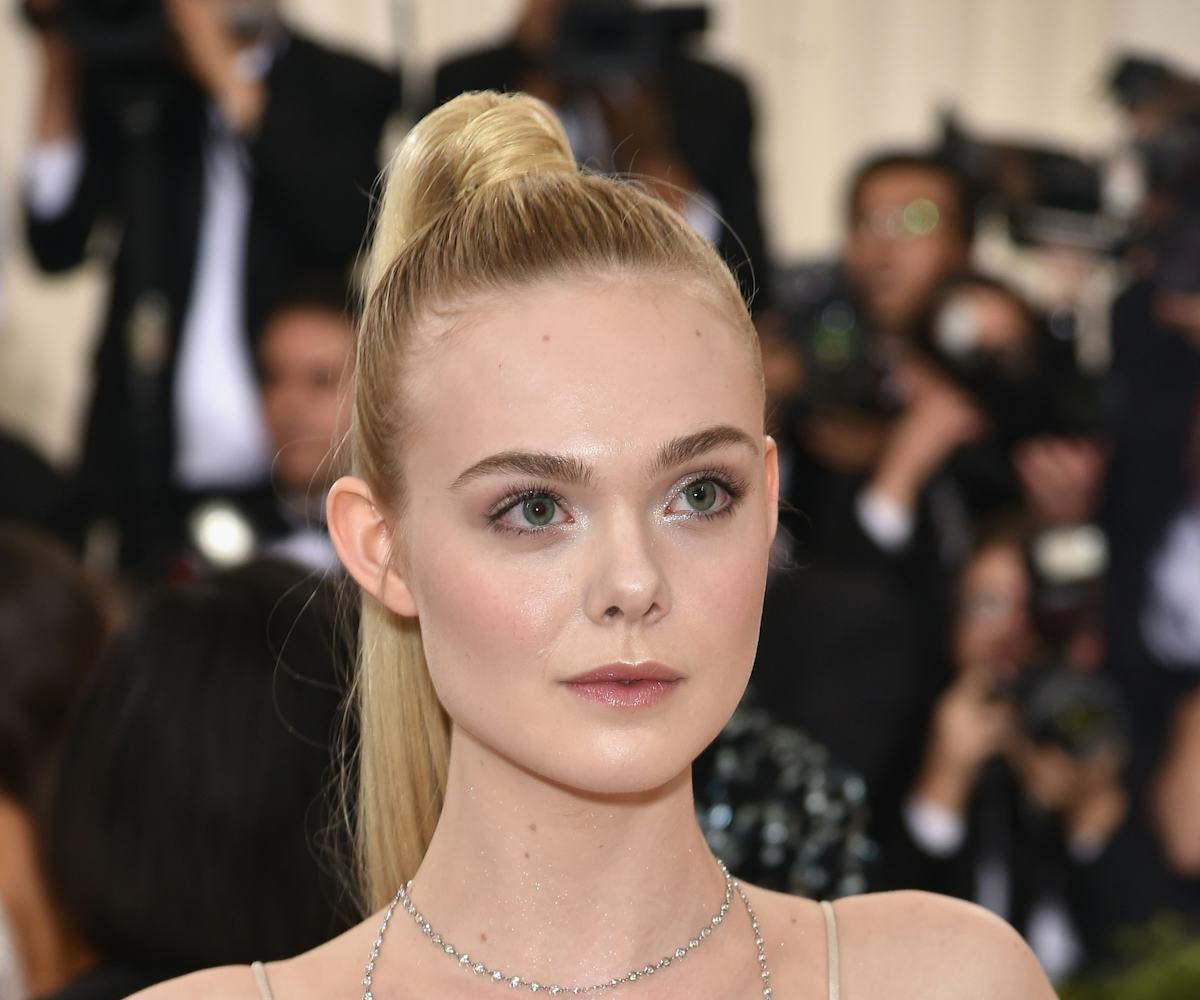 Photo by Dimitrios Kambouris/Getty Images
The 13 Coolest Beauty Looks At The Met Gala
Dark lipstick, gray hair, and all the shimmer
One might think that beauty is an afterthought if you're dressing for the gala of an exhibit that celebrates fashion. But the celebrities rolling up to this year's annual Met Gala proved that a bold lip and a daring 'do are totally core to a complete look. The theme of this year—"Manus x Machina: Fashion in an Age of Technology"—leant itself to a red carpet filled with sparkling chain metals, architectural shapes, and plenty of techy vibes. The hair and makeup, then, followed suit, with futuristic-looking colors, gravity-defying locks, and otherworldly glows.
Interestingly, our favorite looks of the night were—if not actually goth—at least goth-adjacent, with startlingly super-dark lipstick paired with white-blonde hair like on Taylor Swift and Poppy Delevingne. Other notable beauty moments included Kate Bosworth looking as angelic as a Snapchat filter, Ellie Bamber's sparkly pink eyeshadow, and lots and lots of gray hair. 
The rest of our favorite beauty looks are in the gallery—the intersection between technology and beauty has never looked so cool.
Aja King
Oh hello, glossy vamp lipstick and soft, touchable mermaid waves, and skin that's shimmering like starlight. Though this look aired on the more traditional side of red carpet beauty, we couldn't stop staring at how dramatic and luminous her makeup was. 
Poppy Delevingne
Hold up. We'd say that Poppy's beauty look here was Taylor Swift-inspired if they hadn't shown up at the same time. Looks like bleached locks and goth lipstick are officially a thing, though we're loving how sleek her hair looks here compared to Swift's. Oh, and if you want to copy that lipstick, it's Charlotte Tilbury's Lip Cheat Lip Liner in "Berry Naughty," followed by the deep berry Matte Revolution in "Glastonberry."
Taylor Swift
Behold, the photo that made our entire Met Gala coverage team gasp at once. Her ultra-deep berry lipstick and messy platinum locks are straight out of the NYLON editor's uniform (no, but, really—this is how we most of us show up to work). Paired with that little robot dress and some space-age jewelry, this is one look that's destined to become iconic.
Elle Fanning
Now that's how you do a red carpet ponytail! Elle Fanning's sky-high style wrapped in hair to hide the elastic is the definition of sleek. Plus, the sparkly eyeshadow on the inner corners of her eyes—and that all-over luminous glow—are equal parts classic and futuristic. Slow clap.
Hailee Steinfeld
Another dark lip, this time of the very glossy variety. What set this lip look apart from the others, though, is that she chose to rock a smoky eye alongside it, making her whole face way more dramatic. Also, those brows. Can we just look at them for a second? Okay, thanks. 
Grimes
Ever our favorite alt girl, Grimes made this list because of how well she pulls off minimalism. With just a strong brow, fresh skin, and cotton candy hair to guide her, she made a splash—no over-the-top makeover needed.
Rita Ora
If you can tear your eyes away from those metallic feathers for just a moment, you'll notice that the inner corners of Rita Ora's eyes are shining with a silvery blue eyeshadow that looks like moonbeams. It's a small detail that pulls the entire look together. We'll take two, please. 
Jessica Hart
With her hair twisted up into a Mohawk-inspired shape and translucent, iridescent eyeshadow applied generously around her eyes (from the inner corners all the way up to the brow bone), Jessica Hart's look was otherworldly—and still super pretty.
Ciara
Ciara is, apparently, the queen of dystopian beauty, with metallic silver hair fit for the robot who will either save humanity or end it.
Kate Bosworth
Hey, have you seen that Snapchat filter that looks like—wait, it looks like Kate Bosworth at the Met Gala. How can skin glow like that and still be actual skin? Anyone know? Her glow, of course, comes from a facial courtesy of the one and only Joanna Vargas. The only thing more breathtaking here is that matte brick red lip, which balances her shine and keeps it modern.
Ellie Bamber
Okay, so, sparkly pink eyeshadow for a redhead might be a controversial choice, but Ellie Bamber is here to prove that it is definitely, 100 percent, the absolute right choice. We are positively mesmerized. 
Lupita Nyong'o
Holy shit, Lupita's hair. Where is it going? Where has it been? Is it functioning as a satellite to the beautiful, mystical, whimsical aliens of the great beyond? Clearly we have nothing but questions about this. Maybe someday we will have answers, but until then, just… look at it.
Kristen Stewart
K Stew's eye makeup was perhaps the best of the night. Where the starlets around her chose to wear their silver shadow in a subtle way, she opted for a totally cool, bold graphic shape, and kept it feeling punk with the addition of heavy black liner. Her hair is also punk-inspired, with a tiny French braid amidst that tousled, root-heavy bleach.