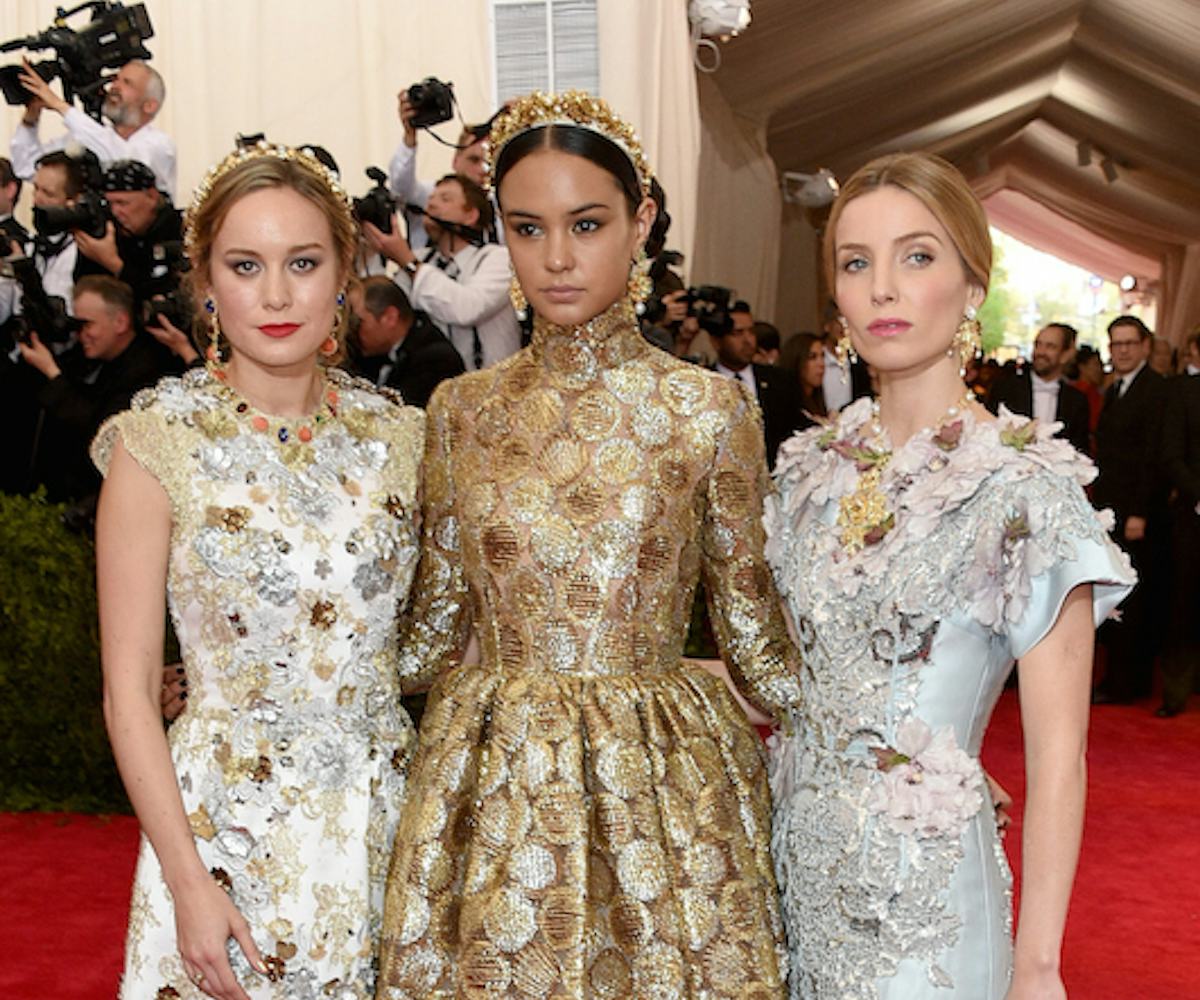 Photo by Larry Busacca/Getty Images
the 24 best looks from the met gala
by leila brillson + yasmeen gharnit
Yes, it is true: The Academy Awards is the most important night of red carpet fashion. But the Oscars are televised and relatively tame, and not exactly a place for experimentation and quirk. It is, to simplify the matter, the night that Hollywood invites fashion to its table. 
The Met Gala, on the other hand, has fashion opening its hallowed halls to Hollywood. A-listers like Jennifer Lawrence and Rihanna learn about the CFDA and rub shoulders with fashion editors, and the biggest star of the night isn't George Clooney, but Anna Wintour. In other words, for fashion, the Met Gala is bigger than the Oscars because it's fashion's night to shine, and stars are just really well-dressed eye-candy. Our favorite looks from last night were beyond breathtaking, especially when you see red carpet pros like Lily Aldridge and Solange next to tinseltown bigwigs like Jennifer Lawrence or Jessica Chastain. Plus, you get the magical weirdness of Lady Gaga, and the grandeur of Rihanna—making it the most glamorous red carpet in the whole damn world. 
Kristen Wiig—Prabal Gurung
This season's new look: Matching your dress to your hair.
Amal Clooney—John Galliano
It's as if the salsa dancer emoji went to law school and became one of the most beautiful human beings on the planet. Also, let's not forget that this John Galliano design choice is a political statement in its own right.
Jennifer Connelly—Louis Vuitton
Volume, definition, a slit, and an ear cuff: This look covers every possible base.
Rosie Huntington-Whiteley—Atelier Versace
It's as if this angel being dusted off her Mad Max character only to reveal a stunning jewel-encrusted gown. Part dystopian, part super sexy, this is how you make a nude gown look like a show stopper.
Jessica Chastain — Givenchy Haute Couture by Riccardo Tisci; Piaget high jewelry
Listen, when you find your signature look, you don't just abandon it—not even for a themed event. We respect that.
Janelle Monae—H&M dress; Jack Vartanian diamond earrings; Le Vian rings; Carla Amorim diamond bracelet and diamond rings; Casa Reale diamond ring
Leave it to Janelle Monae to make a two piece look regal.
Brie Larson—Dolce & Gabbana
It's hard to stand out when you are doing a group costume (see Courtney Eaton), but this Dolce & Gabbana look is completely realized, head-to-toe. And the earrings, crown, and heavy detailing certainly do make it feel like there is a lot going on—but Brie balances it all out with a simple shoe and a feeling of opulence, which echoes China's history of fine embroidering.
Solange—Giles
This dress is art in and of itself.
Lizzy Caplan—Donna Karan Atelier
You know what this? This is what happens when you have a concept and it is executed
precisely. 
Everything here derives from high art: The gorgeously thematic tailoring (which is a nod to the night without going over the top), the simple clutch, the Jack Vartanian earrings...plus the fact that she is a living statue. 
Jessica Hart—Valentino
This design should look gaudy and over-embellished, but the variation in tones makes it look sophisticated. And that kitty clutch—meow.
Elizabeth Banks—Michael Kors
Color! Finally!
Anne Hathaway—Ralph Lauren
There isn't anything anything particularly thematic about Hathaway's Met Gala look, but it is delightful, because it has a hood. Call us suckers, but slap a hood on something, add some shine, and put a fork in us—we're done.
Allison Williams—Giambattista Valli
She almost looks like a '90s Sky Dancer toy, blooming straight from the red carpet. She could fly away at any moment—and just the thought of that is exhilarating. 
Keri Russell—Altuzarra
Oh, don't worry, it's just a head-to-toe gown made out of feathers. Keri Russell is literally and figuratively a bird.
Diane Kruger—Chanel
The Chanel spokeswoman obviously wore the label, but instead of doing a sweeping dress or on-trend cut-outs, Diane rolled up in a freakin' pantsuit like, "WHAT?"
Courtney Eaton—Dolce & Gabbana
Before this, I did not know who Courtney Eaton is, but Google tells me she is in the upcoming
Mad Max
movie, so her star is clearly rising. Along with Brie Larsen, Eaton was one of the gals who wore Dolce's brocade-heavy gowns, which were accompanied by delightfully matchy-matchy crowns. Not totally sure if this is particularly "Chinese" 
per se
, but matching your golden crown to your outfit is just the best. 
Alicia Keys
The hair may not be the best of the evening, but there is something about the structure-meets-pouf vibe that just is a lovely balance. A lacy skirt of that size is always appropriate for the red carpet.
Sophie Turner—Burberry
Please
see this for any further proof
of this perfect angel's perfect outfit.
Jennifer Lawrence—Dior Couture
After having her on heavy rotation for the
Hunger Games
, we miss JLaw's antics on the red carpet. And while it would have been great to see the evening's ambassador actually wear a, you know, Chinese designer, the Dior contract reigns supreme. The floral halter top was a nod to everyone else's flower-heavy ensembles, but with her own, Jennifer Lawrence twist.
Rihanna—Guo Pei
If for some reason you thought that Rihanna wasn't going to make a grand entrance, well, you'll never forget it after this. The large gown (with an even longer train) will definitely be hard to navigate, but when you're the real Princess of China, mountains will be moved for you.
Lady Gaga—Balenciaga
She looks like a cutthroat evil villain queen and we would totally bow down. Yaaassss Gaga. YAAAASSS.
FKA Twigs—Christopher Kane
Twigs, serving you corporeal realness since '88.
Joan Smalls—Roberta Cavalli
This look screams '90s gothic mermaid.
Ziyi Zhang—Carolina Herrera
Traditional and on-theme.