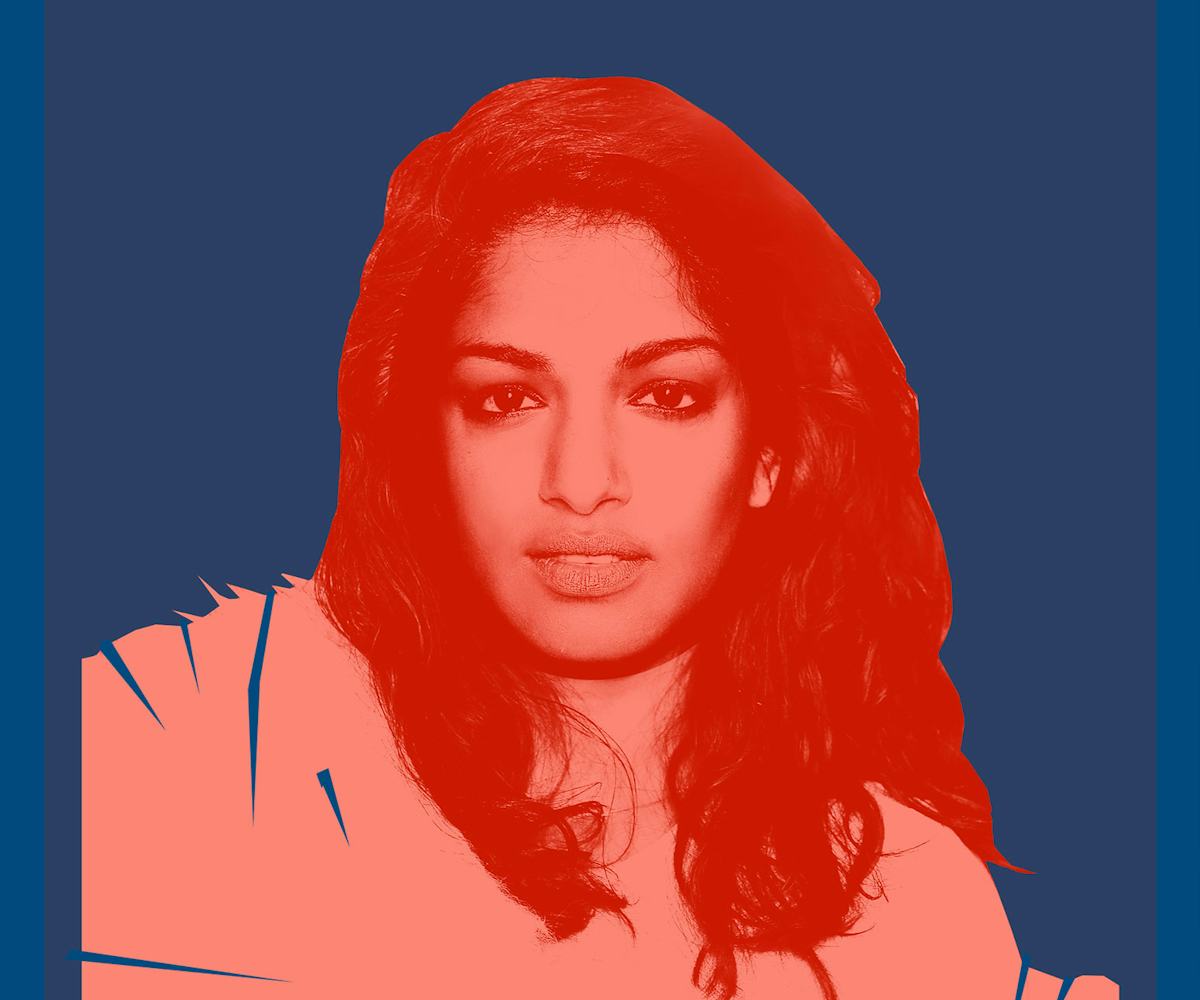 Photo by Pascal Le Segretain / Getty Images
Did M.I.A.'s Music Career Live Up To Its Initial Promise?
The pop star claims 'AIM' is her final album
It's hard to take everything that the notoriously wily M.I.A. says at face value, but if we're to believe her, there's a distinct possibility that her fifth album, AIM, out today, will be her final one. "It's my last record so I wanted it to be happy. There's no complains on it," she told BBC Radio 1 DJ Annie Mac in July. Yet after spending the better part of the last decade beleaguered by lukewarm album reviews and Twitter spats, it's understandable why the Anglo-Tamil rapper, born Mathangi Arulpragasam, would announce her retirement. When your harshest critics aren't just disgruntled Pitchfork reviewers but Black Lives Matter activists and French soccer corporations, bowing out to focus on other creative pursuits might not seem like the worst idea. 
In recent years, her abrasive online persona and divisive comments on race and geopolitics have often drawn more attention than her musical output. But for a short, glowing period in the mid-2000s, M.I.A. was untouchable. Her Piracy Funds Terrorism mixtape (co-produced with then-boyfriend Diplo) and debut album, Arular, garnered considerable critical acclaim for their cosmopolitan hybrid of bhangra, booty bass, and baile funk. But it was her sophomore effort Kala, released in 2007, that made her a global superstar. The punchy, addictive single "Paper Planes" dominated the airwaves, while experimental album cuts like "XR2" energized her blog-reading base. 
So why have her subsequent releases failed to grip audiences in the same way? To answer this question, it's worth taking a moment to recognize what made consumers and critics alike fall so hard for her in the first place, and how she strayed from that successful template.
When she first emerged in the early 2000s, M.I.A. was thrilling on two fronts: her electrifying beats and her smart interweaving of underground music and radical politics. While her mentor (and ex-lover) Diplo was often criticized for appropriation, flitting from country to country to harvest local sounds, M.I.A. swerved charges of dilettantism by openly professing her love and admiration for the dancehall and baile funk artists who informed her sound. A potent blend of Jamaican riddims, Bollywood maximalism, and Brazilian bass lines, the songs on her first two albums reclaimed the genre "world music" from the WOMAD set's earnest white curators. "Weird, playful, unclassifiable, sexy, brilliantly addictive," as Rolling Stone's review of Arular put it, they were also fiercely, if non-specifically, political. 
Despite being born in London, M.I.A. grew up in the midst of the bloody Sri Lankan civil war. Her father, whose wartime alter ego lent her debut album its name, agitated against the government on behalf of Tamil revolutionary groups, causing her family to go into hiding. Her childhood experiences of conflict, which eventually led to her fleeing back to the U.K., informed her anti-imperialist discourse in and out of the studio. More often than not, however, she astutely paid lip service to political ideology without getting into its more granular elements. References to guerrilla warfare and images of militants peppered her early songs and artwork, but her purposeful lack of specificity meant that listeners could feel part of a revolution without subscribing to any distinct movement. The initial transmission of her music through MySpace and file sharing sites also added to the transgressive feeling of being outside the system, minus any actual transgression.
By the time she released Kala, critics were beginning to cotton on. Pitchfork's Mark Pytlik described her lyrics as "half-baked agit-prop" and "empty sloganeering," redeemed only by the sheer excellence of her instrumentation and ear for a catchy hook (nonetheless, the album received an 8.9 rating out of 10). By and large, critical consensus was overwhelmingly positive, with many viewing Kala as surpassing its predecessor. The album's effortless fusion of global sounds, cutting-edge underground beats, and retro rock samples highlighted its creator's savvy ear for, as Prefix's Dan Nishimoto put, "the confused fabric of contemporary life." And, of course, there's the small matter of "Paper Planes," whose sheer infectiousness has led to over four million track sales to date. In 2009, nine months pregnant, she performed "Swagga Like Us" (which samples the song) at the Grammys opposite Kanye West, Lil Wayne, T.I., and Jay Z. She was at the center of the Zeitgeist. 
But, as that iconic Clash sample began to fade from radio playlists, so too did the public's patience for M.I.A.'s delicate balancing act. As her pronouncements on geopolitical events, including the continuing conflict in Sri Lanka, became all the more strident, fans began wondering where a wealthy musician married to the millionaire son of a record exec got off on calling herself a revolutionary. A 2009 New York Times article revealed anger among Sinhalese Sri Lankans at her support for the Tamil Tigers, who were viewed by many as a terrorist organization, while a scabrous 2010 interview with the New York Times Magazine's Lynn Hirschberg that revealed her penchant for truffle fries led to her tweeting the journalist's phone number in revenge. Year 2012 saw her biggest controversy yet: flipping off the world during a performance with Madonna at that year's Super Bowl, which led to a protracted legal battle with the NFL.
While many of these so-called scandals were somewhat overstated (Who doesn't like a good truffle fry? Is flipping the bird really that obscene?), they represented a new era where M.I.A.'s music became secondary to the theater of her public and private life. 
In the wake of the Super Bowl, her third album ΛΛ Λ Y Λ's sludgy electronics, lethargic choruses, and conspiracy theory lyrics left audiences frustrated. Despite flashes of brilliance, such as the deliciously bratty "Bad Girls" track, 2013's follow-up record, Matangi, was similarly upstaged by external crises. Conflicts with her label resulted in the album being pushed back, while M.I.A. engaged in her own brand of guerrilla warfare, threatening to leak tracks if they continued to delay. When Matangi was finally released, listeners saw the sonic innovation of her earlier albums give way to dated YOLO references and self-indulgent Weeknd collabs. With the record at times seeming more like an extended middle finger to the suits at Interscope than an authentic work of art, it's understandable why its reception was lukewarm.
As this year's tussles with Paris Saint-Germain FC, over her use of their jersey in her "Borders" video, and black activists, over a statement that effectively boiled down to #AllLivesMatter, have shown, M.I.A.'s politicized public persona still draws more press than her actual songs. AIM, however, might just change that. The themes she addresses on the record, from refugee camps to state violence, have never been more relevant: the current migrant crisis shows no sign of abating, while anti-Muslim prejudice runs riot in Europe and the United States. As an album, it certainly bangs; the Skrillex-produced single "Go Off" sounds like DJ Snake and Omar Souleyman's freaky lovechild, while "Visa" shows off deadpan rhymes over a Panjabi MC-esque bhangra line. Most intriguingly, however, are signs of the new, "happy" direction she described to Annie Mac. On cuts like "Finally" and "Survivor," lush Bollywood synth pads cushion empowering verses about resilience, family, and success. It's a far cry from the sly, dexterous wordplay of her early work, but M.I.A. isn't half bad at making uplifting positivity anthems for a disaffected generation.
In a climate of increasingly safe pop and EDM, it's disheartening to see an artist as experimental and iconoclastic as M.I.A. hang up her mantle. In many art forms but especially in music, the medium is the message, and despite all her Twitter battles and legal predicaments, M.I.A. is still a master of it. As songs like "Paper Planes," "Sunshowers," and the better tracks off of AIM show, the best way to impart a political agenda as a musician is to write a great song. It's sad that after today, M.I.A. may no longer be doing that.