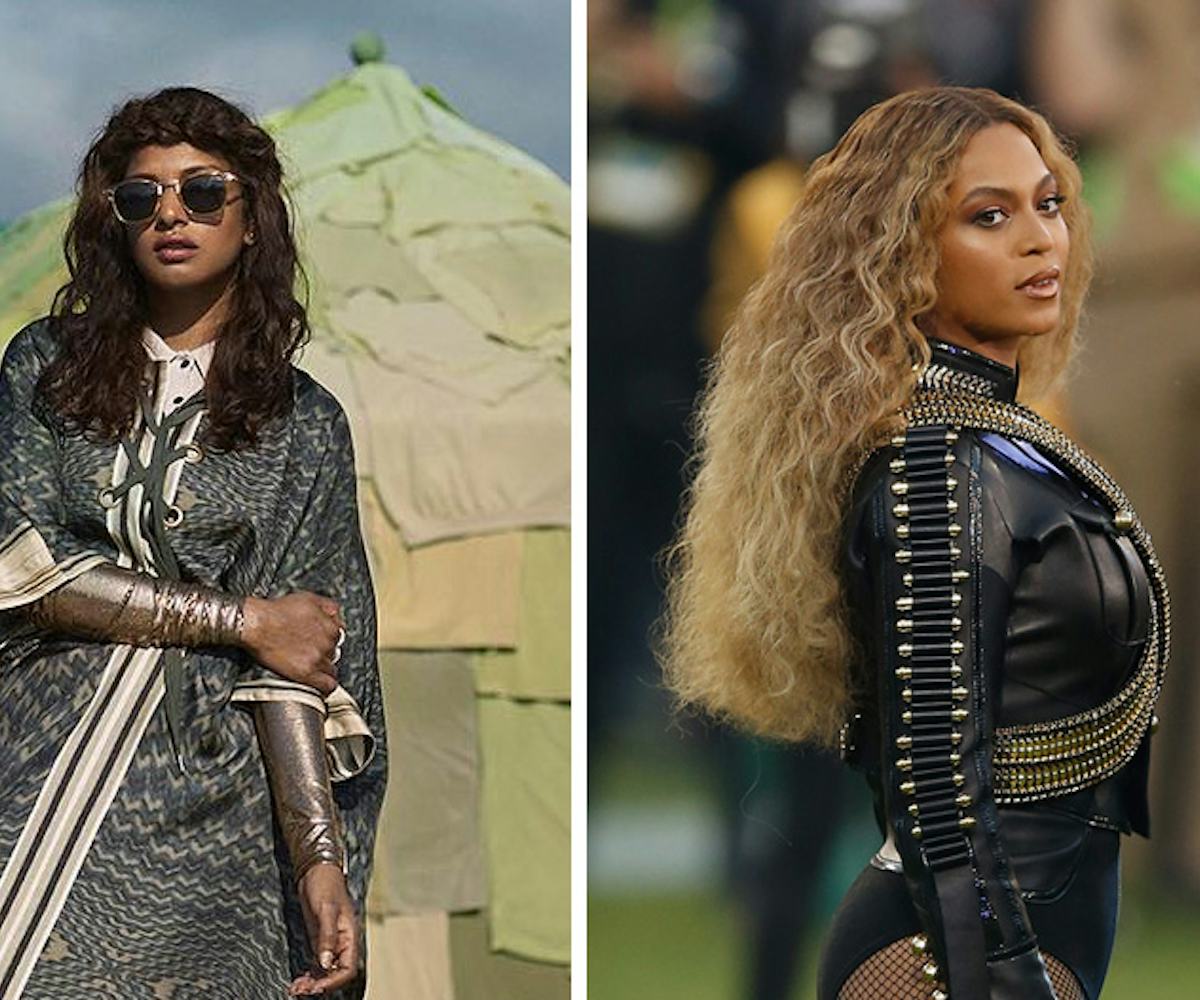 Photo via @miamatangi; by Ezra Shaw/Getty Images.
M.I.A. Clarifies Her Beyoncé Comment That Was Misinterpreted As Shade
"My criticism wasn't about Beyoncé"
M.I.A.'s was accused of criticizing Beyoncé in her most recent cover interview. In a conversation with journalist Richard Godwin, for ES Magazine, the "Rewear It" singer responded to a question about this year's Super Bowl halftime show, saying, "It's interesting that in America the problem you're allowed to talk about is Black Lives Matter." She goes on to say how the topic is "not a new thing to [her]" and lists various, prolific artists from the '80s and '90s who have spoken out on the same subject. The ire spurred from what followed. 
"Is Beyoncé or Kendrick Lamar going to say Muslim Lives Matter? Or Syrian Lives Matter? Or this kid in Pakistan matters? That's a more interesting question," she said. "And you cannot ask it on a song that's on Apple, you cannot ask it on an American TV programme, you cannot create a tag on Twitter, Michelle Obama isn't going to hump you back."
Twitter was having none of it, with folks criticizing M.I.A. for criticizing Beyoncé. What they saw, however, was Beyoncé's name in the middle of a critique and felt it was a jab at her. What M.I.A. was really doing, though, was using Beyoncé as an example and critiquing the system. She shared two tweets clarifying the matter Thursday morning, April 21:
It's also interesting how no one accused M.I.A. of criticizing Kendrick Lamar, and instead fueled the media's obscene love affair with female-to-female feuds. Now there are two conversations in dire need of being had.