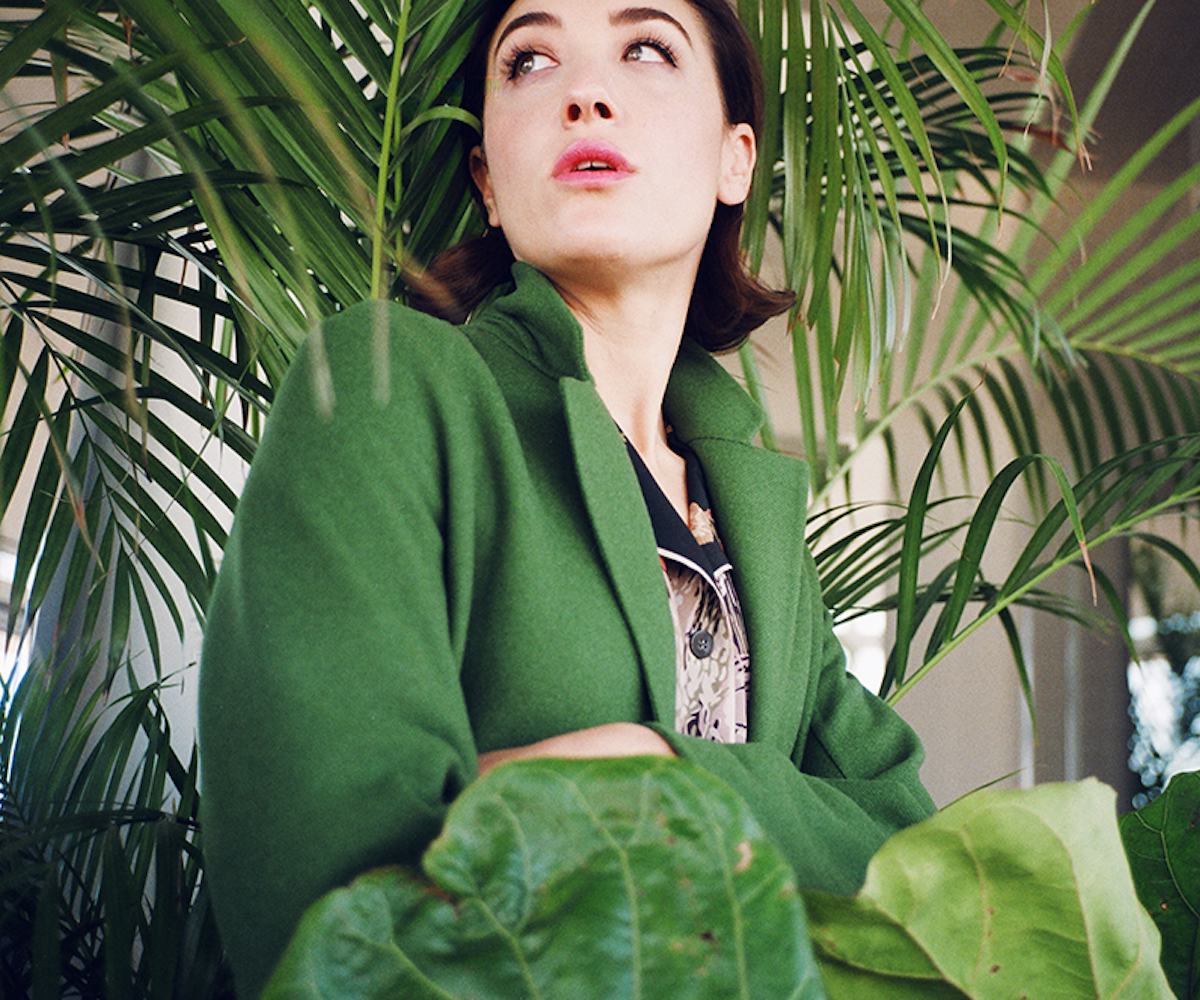 Photographed by Rebekah Campbell. Coat and top by Valentino.
Mia Moretti Is Making Noise On the Path To DJ Stardom
"I became a DJ stalker, really," admits Mia Moretti with a smile, huddled in a corner of Café Standard in New York's East Village and reminiscing on her early days in an industry that she has now come to conquer. "It was an amazing time for the music scene in Los Angeles. Tons of DJs from these French labels were playing. And there were a lot of really fun events that celebrated the DJ," she recalls of the years she spent in the city while studying at UCLA. "It was very special to watch this movement grow."
As she fostered friendships with some of her favorite tastemakers, like DJ AM and Cut Chemist, Moretti also grew her vinyl collection. "I started collecting records just for fun, because most of these DJs I was going to see were playing open format and mash-ups and across the board on vinyl, which is really incredible," she explains. Before long she was frequenting little-known record shops and even a secret spot where a man sold exclusively Ethiopian 45s from his storage unit. Her ever-growing stash was finally called into action when she landed a repeat gig playing music in the lobby of The Standard hotel in Hollywood, where the only rules were that she had to play vinyl and she couldn't spin any songs that made it to the Top 40, in any decade. Needless to say, it ended up being a crash course in the importance of sonic diversity.
Still, Moretti was apprehensive about labeling herself as a DJ. "I felt like such a tiny minion compared to a lot of these greats," she says. It turns out all she needed was a location change to kick-start her personal renaissance. "Moving to New York allowed me to shape that fear and step out of the box I was putting myself into," she says. "Sometimes you can be limited by the people around you if you let yourself be, so when I moved and I didn't know anyone, it was easy for me to just put myself out there and risk something without the pressure I was feeling from society to be a certain thing."
Moretti hopped from bar to bar, turntables in tow, to request nightly (or sometimes daily) gigs, and it wasn't long before crowds started to take notice of her. Her eclectic style—which plays on different eras, locations, and moods—and seemingly effortless attitude led many to dub her an It Girl. She soon found herself spinning for the hippest clubs, fashion parties, and even Chelsea Clinton's wedding. And that's not to mention the numerous brands that began seeking out Moretti to collaborate, most recently The RealReal, a popular e-consignment shop for which she now serves as the fashion and arts ambassador.
But perhaps even more impressive than partying with a former first family are the creative partnerships that she's built throughout her career. After her remix of Katy Perry's "Hot 'N Cold" made its way to the Billboard Top 10 dance chart, Moretti collaborated with the pop star on a remix of "Peacock," which can be found on Teenage Dream's deluxe edition. (Perry has even said that the DJ inspired the song "International Smile" from her fourth album, Prism.) Moretti has also teamed up with musician Margot (who frequently performs as her electric violinist), poet Cleo Wade, and artists Liza Voloshin and Kate Greer to form the female art collective Chez Conversations. "Women are put against each other a lot," explains Moretti, fidgeting with her napkin. "If you look at pop stars, people love that drama and competitive nature. Instead of competing with our friends, we want to push them to be the best that they can be and even better than they imagined."
It's a fitting message coming from Moretti, who wants her work to promote connection and dialogue, rather than simply set the mood at a trendy party. "There are hundreds of ways to mix a song," she says. "And I've always thought of DJing as a little bit like storytelling."
Stylist: Liz Rundbaken. Hair: Naivasha for Exclusive Artists Management using Hot Tools and Oribe Hair Care. Makeup: Andrew Colvin using Chanel Beauty.